Eastern US to warm up after a chilly start to the week
Milder temperatures will replace the chilly air over the eastern US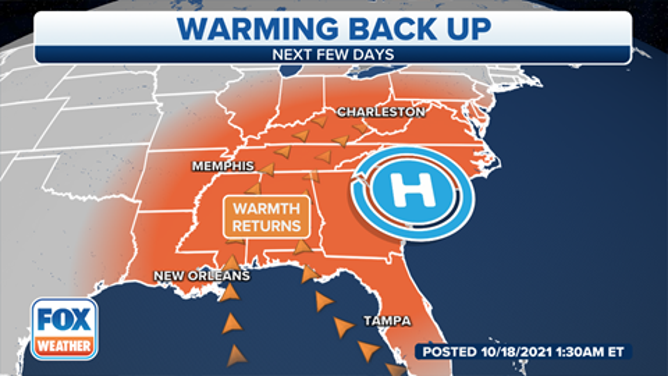 The coldest air since last spring has greeted the eastern United States to start the week, but a warming trend looms in the days ahead.
Temperatures were in the 50s Monday morning as far south as Central Florida and in the 40s in North Florida. Parts of North Georgia and northern Alabama were in the mid- to upper 30s Monday morning.
Farther north, Monday morning was the first time Philadelphia had dipped into the upper 40s since May 30, while some spots in the upper Midwest and northern Great Lakes woke up to near-freezing temperatures for the first time since last spring.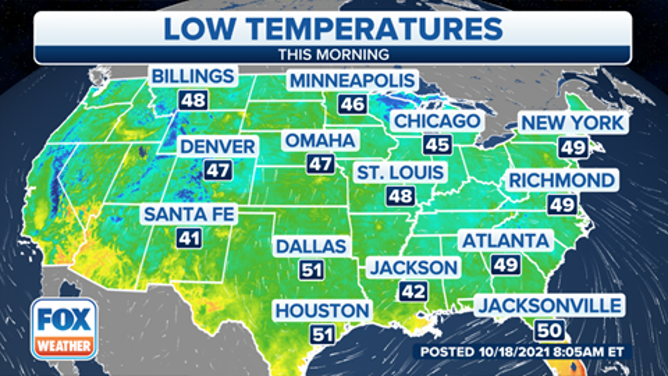 New York City finally dropped below 50 degrees Monday morning for the first time since May 31. According to the National Weather Service, this is the second-latest occurrence of the season's first sub-50-degree low at Central Park. The latest in the season it ever happened was Oct. 20, 2005.
The cool temperatures will remain in place through the day in the East, with highs Monday afternoon only topping out in the 50s and 60s across the Northeast.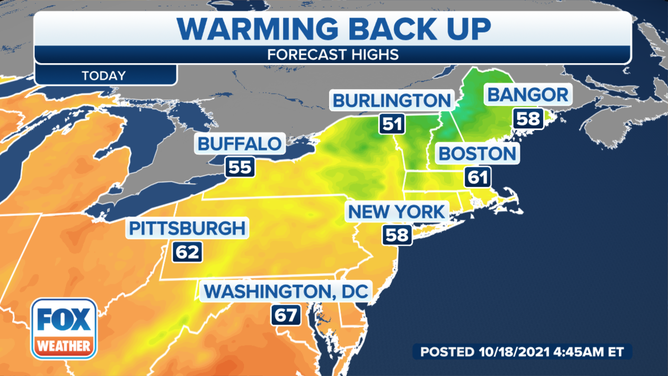 However, a warmup is ahead for Tuesday and Wednesday, as temperatures rise to 5 to 15 degrees above average from the Midwest to the Northeast.
For much of the region, that translates to highs climbing back into the 60s and 70s, yielding very pleasant weather for mid-October.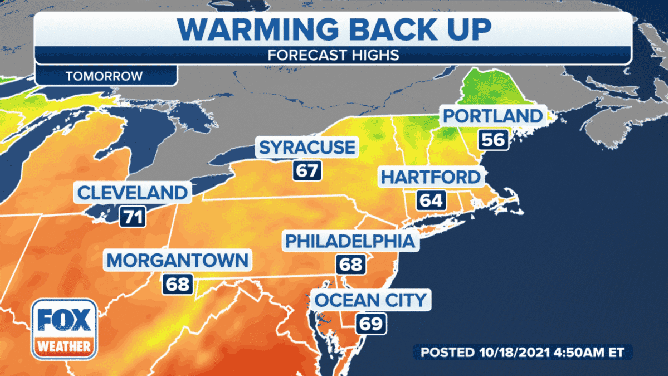 The mild temperatures will likely continue through the end of the week in the Northeast, but a cold front will approach the Midwest by Friday, ushering in rain showers and cooler air to the region.
This same cold front will then reach the Northeast this weekend, so temperatures will drop back below average, along with occasional risks for rain showers. The highest elevations of the interior Northeast could even see a few wet snowflakes this weekend, especially over New York's Adirondack Mountains.