New Orleans hit by several tornadoes over last 5 years, but EF-3s are rare
Since 1950, Orleans parish has seen 21 tornadoes, with eight of those ranked EF-2 or higher on the Enhanced Fujita Scale
NEW ORLEANS – The city of New Orleans is reeling after a deadly tornado slammed the area Tuesday evening.
The shock has still not worn off for the residents who felt the impact of deadly and destructive Category 4 Hurricane Ida, which has since become the second-strongest hurricane to ever hit Louisiana as measured by central pressure at landfall, behind only Hurricane Katrina in 2005.
And while the Big Easy has seen its fair share of severe weather events, strong tornadoes are rare in New Orleans.
Given the size of the city, the statistical likelihood of a significant tornado impacting the Orleans Parish is moderate, calculated at approximately 30% annually, the city estimates. Based on the past 25 years of NOAA data, the annual probability that New Orleans will experience a tornado is 36%.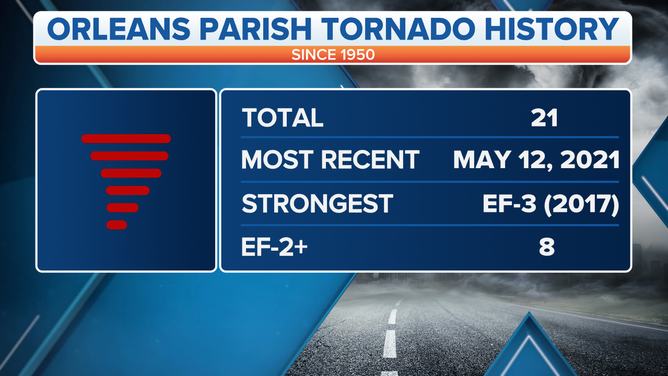 Before Tuesday, the most recent tornado to rip through Orleans Parish was an EF-0 on May 12, 2021. Since 1950, they have seen 21 tornadoes, with eight of those ranked EF-2 or higher on the Enhanced Fujita Scale.
The strongest on record was an EF-3 tornado back in February 2017 with peak winds of 150 mph, according to the National Weather Service. The storm destroyed 638 homes.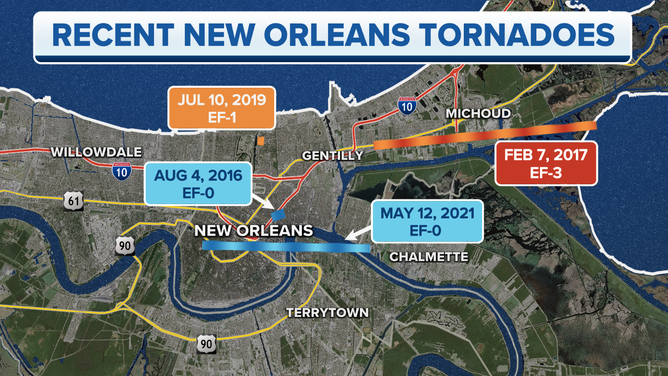 That 1,800-foot-wide tornado stretched for 10 miles, touched down just east of the industrial canal and moved northeast into the Evangeline Oaks Subdivision, where it quickly strengthened into a multi-vortex EF-2 tornado. 
Of the 33 injuries, a handful were considered serious. The maximum estimated wind speeds were around 150 mph. In total, the tornado caused moderate to severe damage to 638 homes, of which around half were considered total losses. At least 40 businesses also suffered moderate to severe damage.
The tornado that tore through a part of New Orleans on Tuesday evening left at least one person dead and a trail of damage in its wake. 
DEADLY TORNADO RIPS THROUGH HEART OF NEW ORLEANS
Witnesses and video from the scene showed a large, multi-vortex tornado that went into the Arabi and Lower Ninth Ward area. 
WHAT IS A MULTI-VORTEX TORNADO?
St. Bernard Parish President Guy McInnis said there was widespread damage that stretched a number of miles across Arabi from the Mississippi River to the levee on the neighborhood's north end. One home was blown off its foundation and into the middle of the street.
National Weather Service teams will be out in the area on Wednesday to look at the damage and verify how strong the tornado was exactly.