New Mexico wildfire almost as big as New York City
According to FOX Weather Senior Weather Data Specialist Shane Brown, the fire would cover 83% of all five New York City boroughs
LAS VEGAS, N.M. - The Calf Canyon and Hermits Peak wildfire burning outside Las Vegas, New Mexico, continues to grow and now covers an area almost the size of New York City.
HOW TO WATCH FOX WEATHER ON TV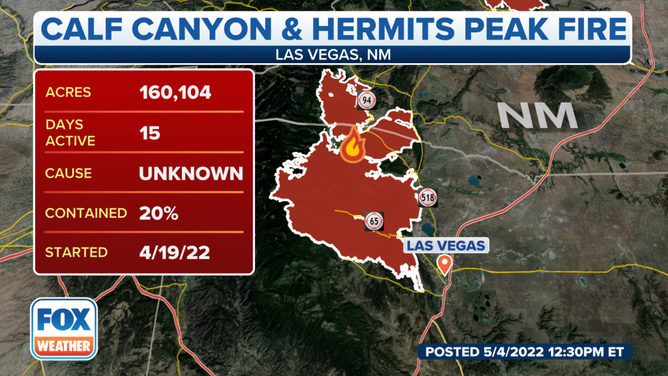 Officials now say the fire has burned 160,104 acres and is still 20% contained.
More than 1,000 firefighters have been met with high winds and extremely dry conditions, making it difficult to contain and extinguish the blaze.
Wednesday will be no different as fire conditions are critical and Fire Weather Warnings are in effect.
HOW WILDFIRE BURN SCARS COULD HAVE LASTING IMPACTS
Evacuations are also still underway in the region and include the following areas:
GO (Mandatory full evacuation):
San Miguel County: Big Pine, Canovas Canyon, Porvenir Canyon, El Provenir, Lower Canyon Road, Gallinas and Trout Springs. Also in GO are the areas of Hot Springs, Storrie Lake, Las Dispensas, San Ignacio, Lone Pine Mesa, Chavez, Canoncito, Pendaries Village, Pendaries Valley East, Rociada, Upper Rociada and Tierra Monte Canon, La Canada, Las Tusas, the area of 527-525 on Highway 518, East and West Sapello, Emplazado and Manuelitas. Mineral Hill, San Pablo, Ojitos Frios, San Geronimo, Camp Luna and Cinder.
Mora County: Penasco Blanco, South Carmen, Ledoux, Upper Morphy, Santiago Creek, Abuelo Puertocito, Rita Cebolla, Buena Vista, Golondrinas, North and South Mora, the area along 434 from Mora north to the State Pask and Rainsville.
SET (Prepare for evacuations):
San Miguel County: Bibb, Creston, Bull Canyon and Cow Creek
Mora County: Watrous/Fort Union, Holman West and Chacon
READY (Get ready for possible evacuations):
San Miguel County: West Las Vegas, East Cinder, Romeroville
Mora County: NONE
THE FUTURE OF WILDFIRE DETECTION IS HERE: ARTIFICIAL INTELLIGENCE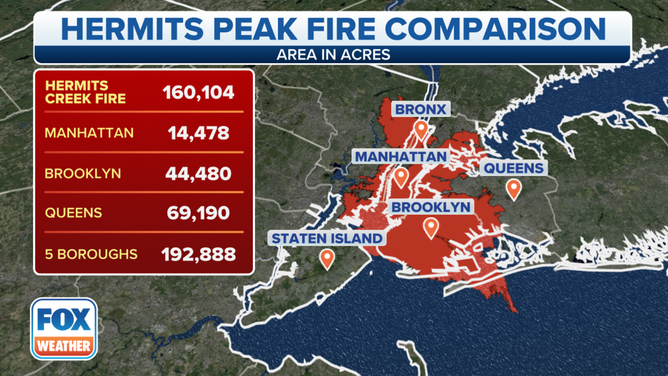 So, just how large is the wildfire?
According to FOX Weather Senior Weather Data Specialist Shane Brown, the fire would cover 83% of all five New York City boroughs. And at its current size, it would cover the Bronx, Manhattan, Brooklyn and Queens entirely.
CLICK HERE TO GET THE FOX WEATHER UPDATE PODCAST
Most of New Mexico, as well as parts of West Texas and the western Oklahoma Panhandle, will see elevated fire weather conditions on Wednesday.
But conditions will be critical in the central part of New Mexico. Cities included in the critical threat are Albuquerque, Tucumcari, Roswell, Carlsbad and Las Cruces.