Nearly 10 million people at risk of losing power during weekend nor'easter
Blizzard Warnings issued from Maine to Virginia as storm develops off East Coast
Nearly 10 million people along the East Coast are at risk of losing electricity during a powerful nor'easter set to batter the region this weekend.
Blizzard Warnings have been issued for coastal areas from Maine to Virginia, where winds could gust as high as 70 mph in some places.
That wind combined with the heavy snow that is forecast could lead to downed power lines.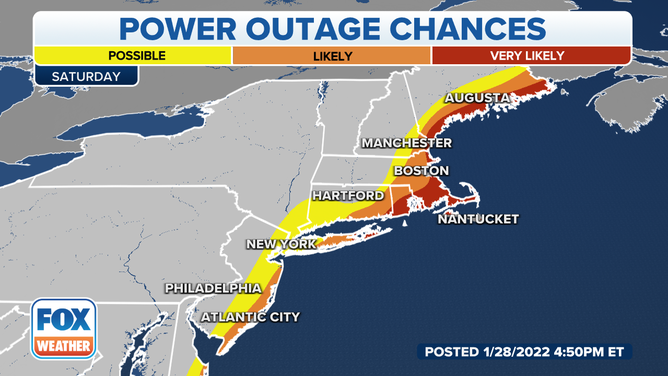 Officials at Con Edison, which provides power to much of the New York City area, said Friday they are closely monitoring the storm. They said another source of outages is road salt that mixes with melting snow and causes damage to underground electrical wires.
Eversource provides power to the Boston area. Company officials said that extra personnel and equipment from outside the region are being brought in to help respond to outages.
Officials at National Grid, which provides power to Rhode Island and parts of Massachusetts and New York, also said extra line and forestry crews are being brought to the area.
HOW WEEKEND NOR'EASTER COULD IMPACT 35 MILLION PEOPLE
All the companies said people who encounter downed power lines should stay away and call the power company to report them.
Make sure to follow FOX Weather on social media for more videos, photos and coverage of the nor'easter. Don't forget to tag us in your weather photos or use #FOXWeather.