Critical fire danger maintains grip on Southwest with no rain in sight
High fire danger will continue through Memorial Day weekend for areas in Nevada, New Mexico, Arizona, Utah, Colorado and Texas
With no rain in the forecast and several large wildfires still burning across the Southwest, critical fire danger is forecast to continue into the weekend.
Ahead of the unsettled and much colder weather across the West this weekend, there will be hot and dry conditions across areas of the central and southern Plains where high temperatures will warm well into the 90s and will locally exceed 100 degrees. 
HOW TO WATCH FOX WEATHER ON TV
The summer-like heat continues to build across the West with areas in West Texas and far eastern New Mexico facing the hottest and driest temperatures. 
National Weather Service offices across the Southwest have issued Fire Weather Warnings on Friday. The NWS in Salt Lake City has issued Fire Weather Warnings for St. George, Utah. The warning stretches into southern Nevada and in the Four Corners area.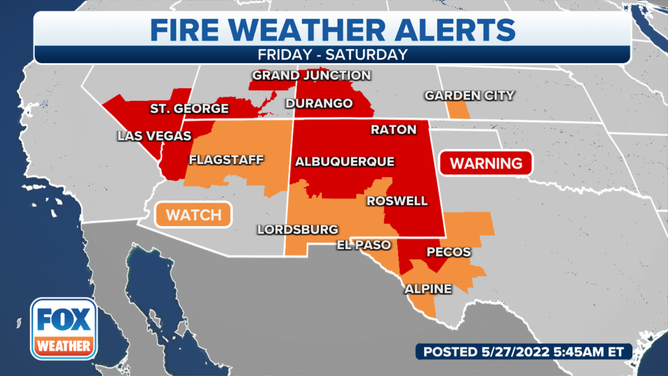 Much of New Mexico is also under a Fire Weather Warning Friday. At the same time, Fire Weather Watches are in place for Flagstaff, Arizona, southern New Mexico and West Texas.
These conditions will set the stage regionally for elevated to critical fire weather concerns. 
BIG WARMUP IN STORE FOR MIDWEST, NORTHEAST HEADING INTO MEMORIAL DAY WEEKEND
About 30 miles outside Truth or Consequences, New Mexico, the Black Fire has scorched nearly 180,000 acres with 13% containment. Calf Canyon and Hermits Peak fires, the largest fires in the state, have reached more than 312,00 acres with 46% containment.
The National Oceanic and Atmospheric Administration's Storm Prediction Center issued critical fire weather outlooks for areas home to more than 1.7 million people, including Las Vegas, Paradise and Henderson in Nevada. 
High fire danger will continue for Las Vegas through Sunday with a high forecast of 100 Friday.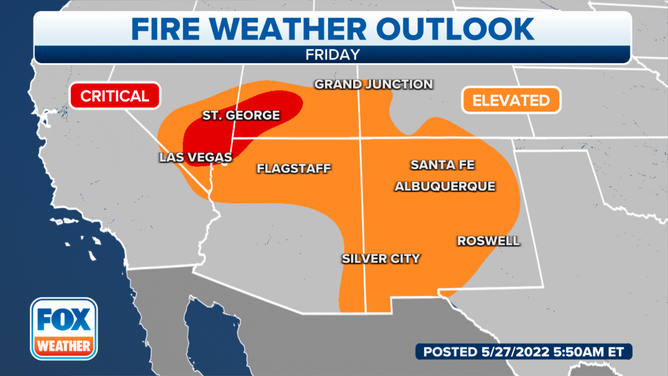 An Excessive Heat Warning is in place for the Grand Canyon, near Phantom Ranch, a warning only issued with temperatures expected to rise to dangerous levels. 
HOW TO TELL THE DIFFERENCE BETWEEN HEAT EXHAUSTION AND HEATSTROKE
The wildfire danger will remain throughout the southern Rockies and much of the Southwest through the weekend.
Relative humidity will be in the single digits in some places, and gusty winds will be conducive to driving a high threat of wildfire activity.
CLICK HERE TO GET THE FOX WEATHER UPDATE PODCAST
No rain is in the forecast for the region.
Into the 2022 fire season, the NOAA Storm Prediction Center has issued at least elevated fire risk advisories for the past 32 days.