Here's the 'sweet' forecast across the country on National Chocolate Chip Day
Strong to severe thunderstorms are expected in places from Texas to the Ohio Valley on Sunday
It's a sweet day, America!
Sunday is National Chocolate Chip Day, and what better way to celebrate than to get outside and enjoy a delicious snack - if the weather cooperates.
And if you're celebrating National Chocolate Chip Day with some cookies, check out these tips on how the weather near you affects baking by clicking here.
Here's a look at the forecast in cities across the country with a sweet name.
HOW TO WATCH FOX WEATHER ON TV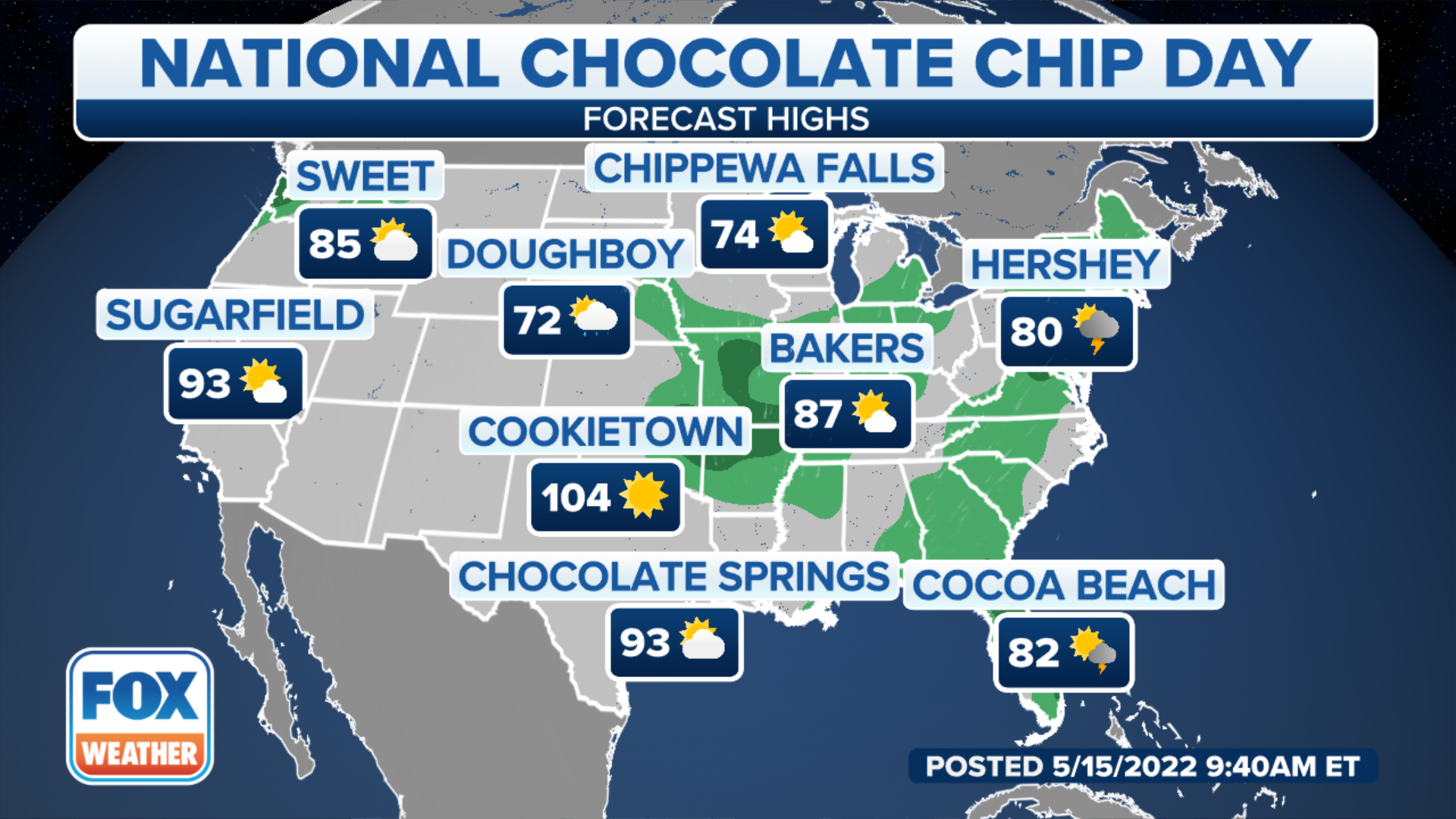 Sweet, Idaho
It's going to be partly cloudy in Sweet, Idaho, with a high temperature of around 85 degrees. There's also the chance for some strong to severe thunderstorms, so keep an eye on the sky!
Sugarfield, California
To the south in Sugarfield, California, expect a high temperature near 93 degrees with mostly sunny skies.
Doughboy, Nebraska
It will be a little cooler in Doughboy, Nebraska, with a high temperature of around 72 degrees on Sunday. There is the risk of some storms, so be sure to download the FOX Weather app and keep those notifications turned on!
Cookietown, Oklahoma
They're just baking down in Cookietown, Oklahoma, today! There will be plenty of sunshine with a temperature of a scorching 103 degrees.
Chocolate Springs, Texas
To the south in Chocolate Spring, Texas, it will be a little cooler with a high temperature of around 92 degrees with partly cloudy conditions.
Chippewa Falls, Wisconsin
There will be a mix of sun and clouds to the north in Chippewa Falls, Wisconsin, today. Expect a high temperature of 73 degrees.
Bakers, Kentucky
There's a chance for some thunderstorms in Bakers, Kentucky, on Sunday. Otherwise, expect mostly sunny skies with a high temperature of around 87 degrees.
CLICK HERE TO GET THE FOX WEATHER UPDATE PODCAST
Hershey, Pennsylvania
Storms are also possible in Hershey, Pennsylvania, on Sunday. The temperature should reach around 81 degrees later in the day.
Cocoa Beach, Florida
The Sunshine State? Not today for folks down in the Cocoa Beach area. Expect showers and storms today with a high of around 81 degrees.