Mother dies following lightning strike outside a Florida elementary school
There have been 14 deaths across the country through mid-August, which is more than what was seen during 2021.
SEMINOLE COUNTY, Fla. - Three people, including a mother and her child, were struck by lightning in Winter Springs Thursday afternoon.
The Winter Springs Police Department said the mother later passed from her injuries, though her daughter was expected to make a full recovery. 
"The City is respecting the privacy of the family due to the unfortunate passing of the mother," the Winter Springs Police Department tweeted. "City staff extends our deepest condolences to the family and will keep them in our thoughts and prayers during this difficult time."
Police later identified the victim as Nicole Tedesco. Her 10-year-old daughter was taken to Arnold Palmer Children's Hospital and was later released. The family's dog was also struck by lightning but survived, according to police. 
An 18-year-old woman was also reported to be in the area when the lightning strike happened. She originally said she was OK but later asked to be taken to a hospital.
LIGHTNING STRIKE NEAR WHITE HOUSE KILLS 3, INCLUDING WISCONSIN COUPLE
The Seminole County Fire Department said its crews responded to the area of Park Villa Place shortly before 2:30 p.m. and took the woman and child to the hospital. Seminole County Public Schools later identified the child as a student at Keeth Elementary.
"Shortly after the scheduled start of dismissal, a rapidly developing storm resulted in the immediate suspension of dismissal procedures. Unfortunately, the Keeth Elementary Cougar and their parent were struck by lightning at/near Trotwood Park," the school district tweeted, adding it was committed to safety precautions during storms.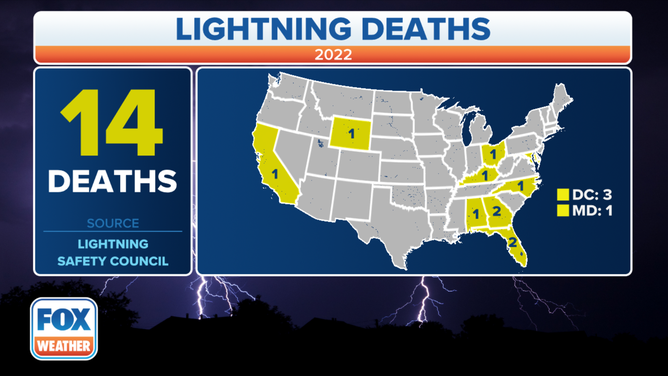 The distinct said it would be providing additional counselors at Keeth Elementary to support students and staff impacted. "Our thoughts are with the families, students, and staff," the district said.
Police told FOX 35 News the mother and child were in the area waiting for another child to get out of school.
HOW TO WATCH FOX WEATHER ON TV
Around the same time, crews also responded to a house fire on Partridge Circle in Winter Springs after lightning hit a nearby tree and a part of the house. No one was hurt, and crews said the fire was easily put out. 
Radar captured multiple lightning strikes in Winter Springs as strong storms moved across the area.
Florida is considered the "lightning strike capital" of the U.S. On average, 10 people are killed by lightning each year in Florida, the most of any state in the U.S. according to the National Weather Service.
Nationwide, there have already been more lightning-related deaths this year than all of last year. There have been 14 deaths across the country through mid-August, compared to 11 in entire year of 2021.