At least 10 injured after storms damage homes in Alabama, Florida
A powerful line of storms moving along northern Gulf Coast on Friday
At least 10 people were injured Friday after storms damaged several homes in southern Alabama and the Florida Panhandle.
The first reports of damage came in from the town of Atmore, Alabama, in Escambia County, nearly 60 miles northeast of Mobile. Damage was found to 17 mobile homes scattered across three parks. 
Ervin said at least five people were taken by ambulance to local hospitals after powerful winds swept through the Poarch community. Several others with minor injuries arrived at hospitals by private vehicle.
On Saturday, the National Weather Service in Mobile concluded that straight-line winds were to blame for the damage. 
"The survey team found no evidence of convergence with all damage laid out in a southwest to northeast swath suggesting straight-line wind damage," NWS Mobile said. "A narrow swath of intense wind gusts estimated at 90 to 100mph affected a mobile home park where several mobile homes were rolled/destroyed."
No fatalities have been reported.
A law enforcement official said one man reported that he woke up in a wooded area after the storm hit his home while he was sleeping.
Video from WALA-TV also showed crews were repairing power lines that were damaged in the area.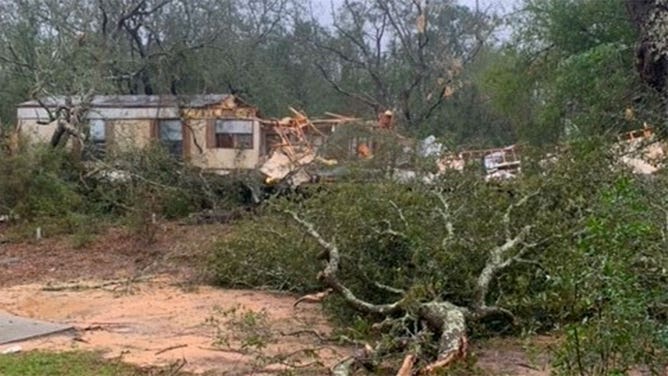 Later in the day, officials in Okaloosa County, Florida, reported damage to trees and homes in the town of Holt, nearly 40 miles northeast of Pensacola. At least four homes along Log Lake Road sustained significant damage, officials said. 
On Sunday, NWS Meteorologists in Tallahassee gave a preliminary rating of EF-2 for the tornado that affected portions of Panama City on Friday evening. Peak winds were estimated to be around 120 mph.
No injuries were reported.
Officials said they believe a tornado is responsible for the damage in Holt.
Then later Friday evening, an apparent tornado struck Panama City, Florida. Spotters report at least two homes with roof damage in the area.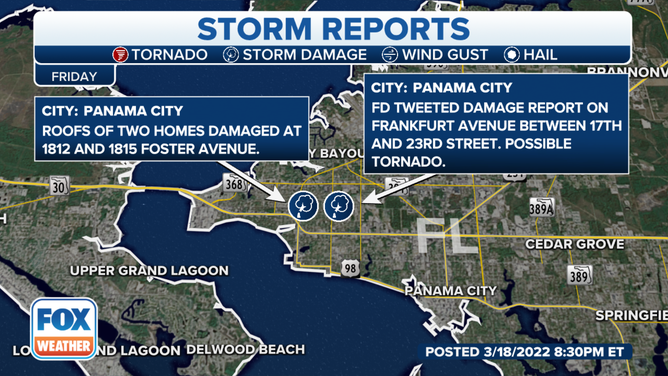 There were no immediate reports of injuries, but officials were setting up center for residents whose homes were significantly damaged.
Several roadways in Bay County, Florida were blocked by debris.
The threat of severe weather along the Eastern Seaboard lingers into Saturday before abating Sunday. 
Download the FOX Weather app for the latest weather alert and to watch the livestream on the go. Get started at foxweather.com/app.