Mild temperatures continue in the central US
Near-average temperatures return to the Northern Plains on Friday
Above-average temperatures will continue in the central United States, giving the region a little break from the frigid air before seasonable temperatures return along with a winter storm.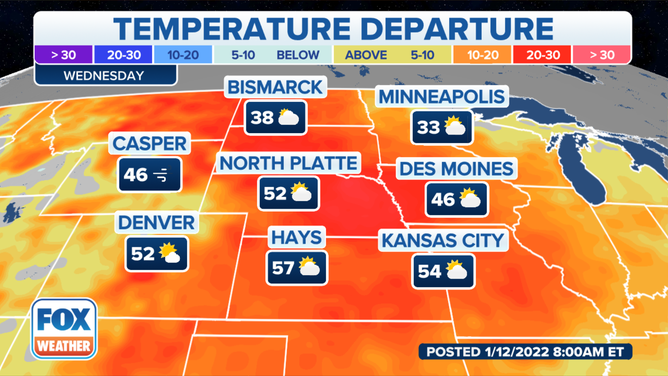 It's not exactly "warm," but temperatures will be higher than what is typically seen in January across the region. In Bismarck, North Dakota, temperatures are expected to reach 38 degrees, warmer than its average temperature of around 23 degrees.
Temperatures will be in the 40s and 50s farther south. North Platte, Nebraska, is expected to get to about 52 degrees on Wednesday. Some areas could even flirt with 60 degrees. Hays, Kansas, is projected to reach 57 Wednesday afternoon.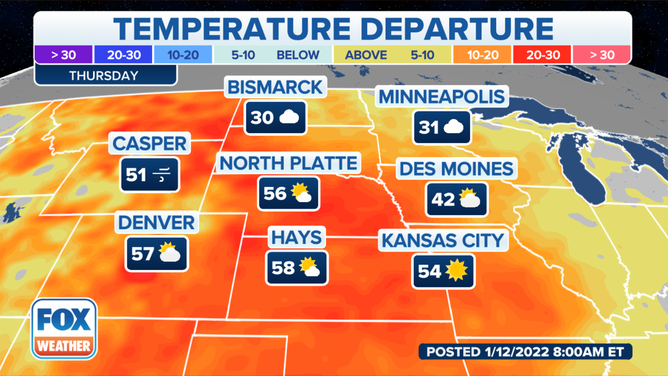 Thursday will be the last day the region will be enjoying the warmer temperatures, as they're expected to be near average on Friday.
Temperatures will be in the upper 50s in Colorado, Nebraska and Kansas. Even parts of Iowa and Missouri will be warmer. Des Moines, Iowa, will be around 42 degrees, and Kansas City will have plenty of sunshine and temperatures around 54 degrees.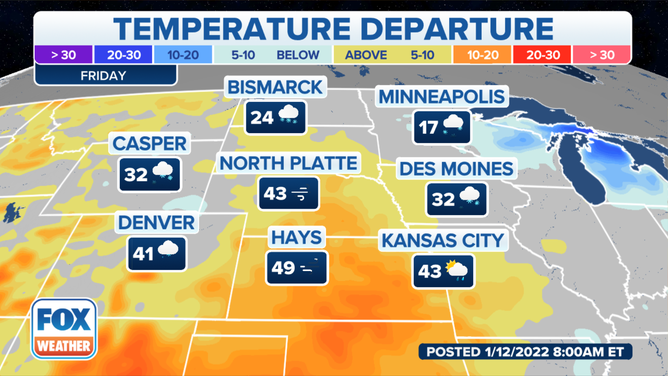 Friday is a different story. Winter weather is expected to return to the region, allowing temperatures to drop to about average for this time of year. Bismarck, North Dakota, is expected to see snow, with temperatures around 24 degrees. Snow is also expected in the Des Moines, Iowa, area, with temperatures around freezing.
The Central Plains will still be above average in some locations. North Platte, Nebraska, will be windy, with temperatures around 43 degrees. Hayes, Kansas, will also have windy conditions, with temperatures around 49 degrees.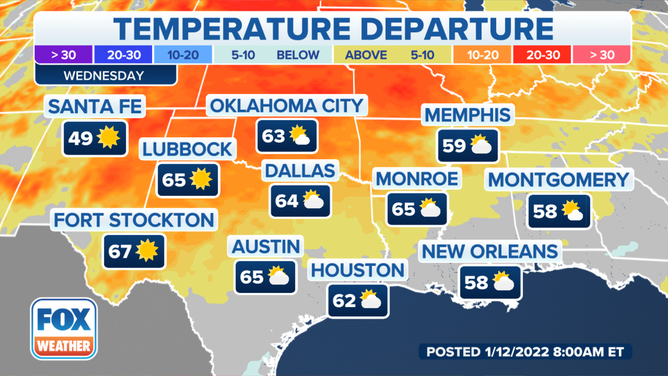 The above-average temperatures will continue to push southward on Wednesday.
Dallas and Lubbock, Texas, will enjoy temperatures in the mid-60s, which can also be expected into Austin and Fort Stockton, Texas. Memphis, Tennessee, will flirt with 60 degrees on Wednesday, while Monroe, Louisiana, will get to 65 degrees.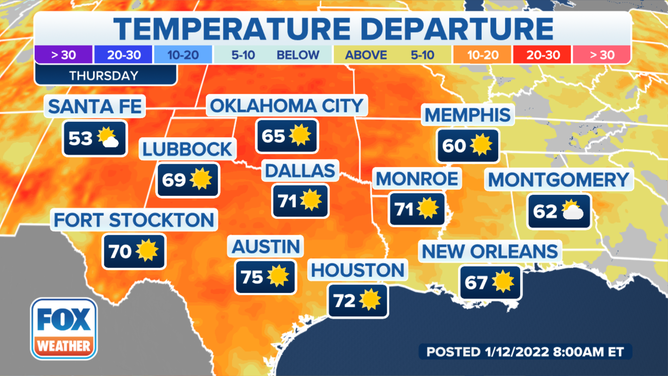 It will be even warmer across the Southern Plains on Thursday, where most places will enjoy sunshine and temperatures in the upper 60s and 70s.
Memphis, Oklahoma City and Lubbock will generally be in the 60s, while Dallas and points south will be in the 70s.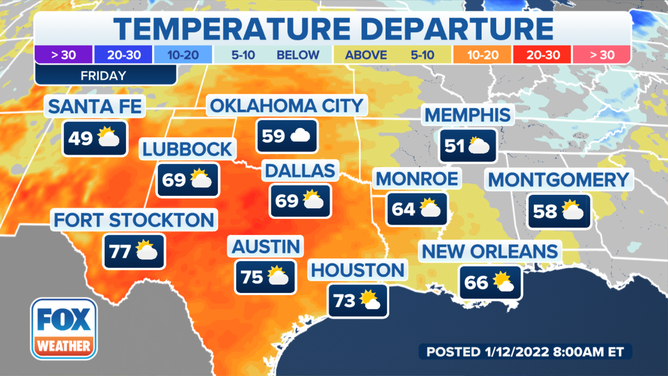 Most of the Central and Northern Plains will return to average temperatures on Friday, while many parts of the Southern Plains will remain up to 20 degrees above average.
Oklahoma City drops to about 59 degrees with cloudy conditions, and Lubbock and Dallas will be near 70 degrees.
The rest of central and southern Texas will stay in the mid- to upper 70s.