Late-week winter storm could impact Midwest travel; South, East could be next
Treacherous travel conditions are expected in the Midwest on Friday as roads quickly become snow-covered and slippery
A strong storm system barreling out of Canada will dump heavy snow across the Midwest late this week before becoming a potential snowstorm for the South and East this weekend.
The National Weather Service has already issued Winter Storm Watches for parts of northeastern South Dakota, southwestern Minnesota and northwestern Iowa from late Thursday night through Friday evening.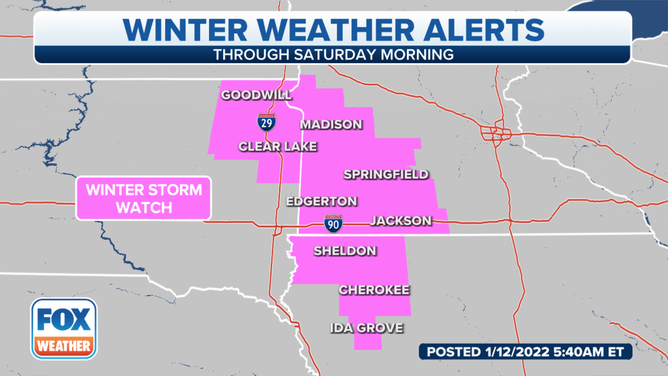 Snow will first develop Thursday night in the Northern Plains from North Dakota into eastern South Dakota and western Minnesota.
A band of heavier snow is expected to set up in central or eastern North Dakota overnight.
WHY DO PEOPLE BUY ALL THE MILK AND BREAD BEFORE SNOWSTORMS? HERE'S WHY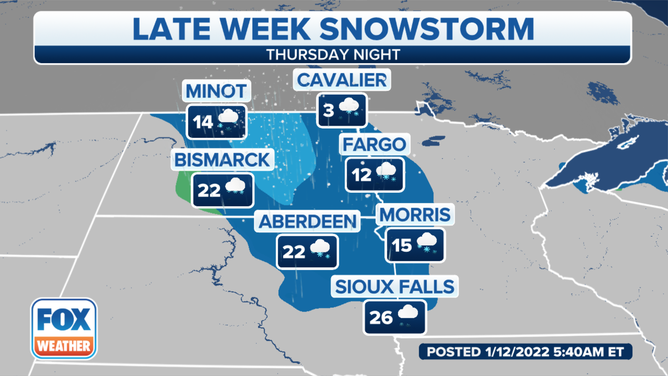 The snow will spread south and eastward on Friday, blanketing areas from the eastern Dakotas into the upper Midwest.
Snow will be heavy at times across this region, so treacherous travel conditions are expected as roads quickly become snow-covered and slippery.
On Friday night, this system will move toward the mid-Mississippi Valley and bring some light snow to the Kansas City and St. Louis metro areas into Saturday morning.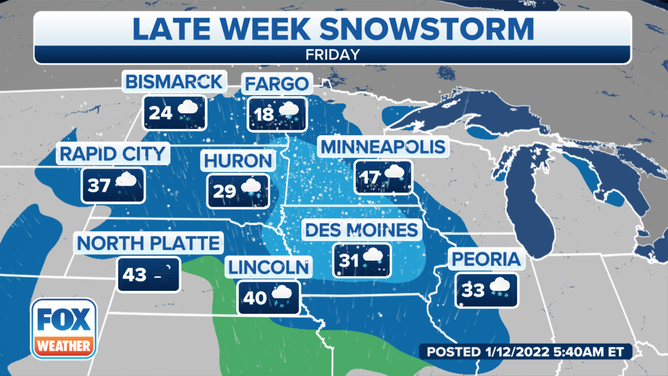 More than 5 inches of snow is expected across an area from central and southeastern North Dakota into northeastern South Dakota, southwestern Minnesota and northern Iowa. Locally higher amounts of 8 to 12 inches are not ruled out in some locations.
YOU WERE JUST INVOLVED IN A WEATHER-RELATED CRASH – NOW WHAT?
At least a few inches of snow is likely for many other areas of the Northern Plains and upper Midwest through late Friday.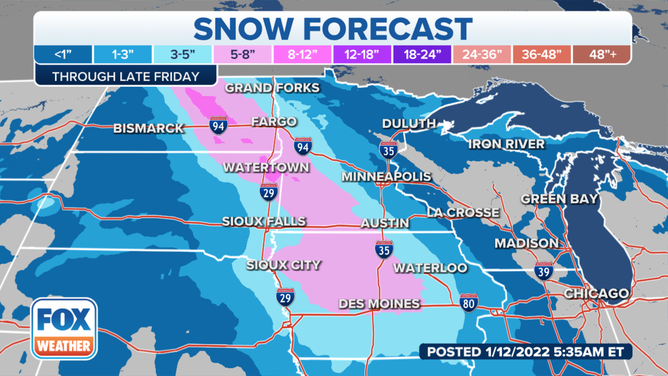 Weekend snow threat in South?
The same system responsible for the late-week Midwest snowstorm will move into the South over the weekend.
The FOX Forecast Center is confident an area of low pressure will slide across the South this weekend, bringing periods of rain to many areas.
However, there is a bit of uncertainty in how much cold air will be in place to support snow, sleet or freezing rain. Therefore, it's too early to make a reliable prediction for the exact location and/or impacts of any potential snow or ice in this region.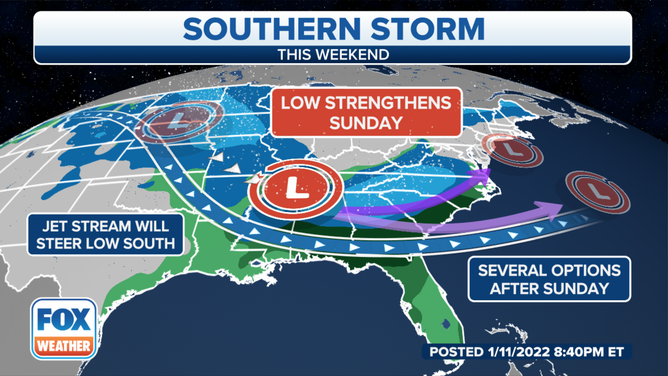 Computer forecast models suggest this potential storm will begin late Saturday or Saturday night, peak on Sunday, then wind down by Sunday night.
THESE ARE THE 7 SNOWIEST CITIES IN THE U.S.
Northeast snowstorm early next week?
This storm could also bring significant impacts up the East Coast Sunday night into Martin Luther King Jr. Day.
As plenty of cold air is ushered in from Canada, a favorable setup for significant snowfall will be in place across portions of the mid-Atlantic and Northeast.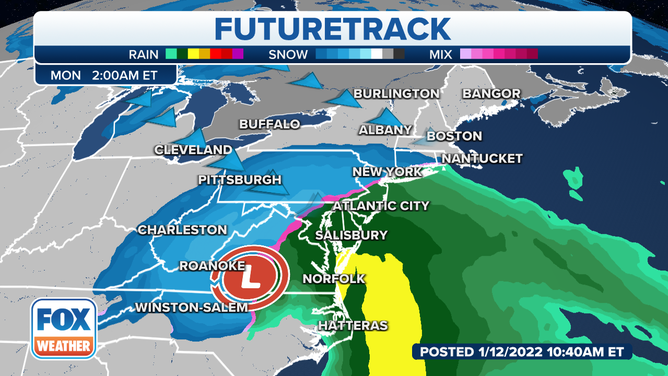 At this time, it appears most areas along the Interstate 95 corridor will be spared from the heaviest snow. Warmer air along the coast will likely result in more rain than snow, which may spare cities like New York and Philadelphia from seeing a major snowstorm.
Computer forecast models currently suggest interior sections of the Northeast will take the brunt of the storm.
WHICH IS THE SNOWIEST MONTH OF THE YEAR?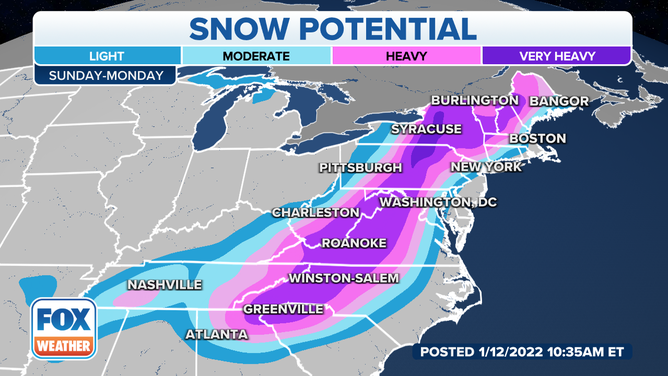 Since we are still about five days away from any Northeast impacts, it's important to note that small changes in the track of this storm will drastically change the outcome for heavily populated areas along the East Coast.
Check back with FOX Weather for updates over the next several days. Be sure to download the FOX Weather app to see more specific details for your current location.