Midweek storm in central US will be wet, windy and snowy
Wind gusts up to 60 mph are possible Tuesday night through Wednesday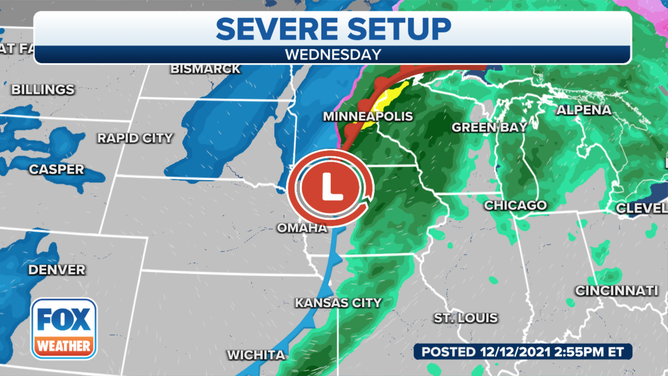 A storm system currently impacting the West will emerge over the central United States by the middle of this week, bringing another round of rain, snow and high winds Wednesday and Thursday.
Moisture from the Gulf of Mexico will begin to stream north into the Southern Plains and lower Mississippi Valley on Tuesday, then extend northward into the Great Lakes region by Tuesday night.
The Western storm will advance eastward into the Plains on Wednesday, spawning several rounds of showers and thunderstorms from the Southern Plains to the lower and mid-Mississippi, Tennessee and Ohio valleys late Wednesday into Thursday.
ONGOING ATMOSPHERIC RIVER IN WEST WILL BRING HEAVY RAIN, FLASH FLOODING, 3 TO 6 FEET OF SNOW TO SIERRA NEVADA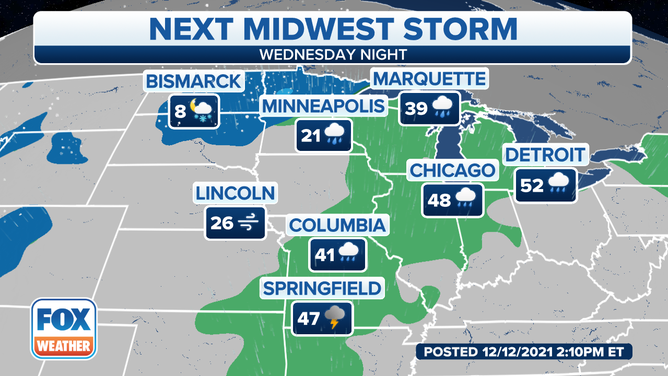 Meanwhile, colder air north of this system will allow the precipitation to fall as snow from the Central and Northern Plains into portions of the upper Midwest. Between 1 and 5 inches of snow is possible in parts of northwestern Minnesota, with lighter amounts expected elsewhere.
In addition to the rain and snow, high winds are expected to develop across much of the central U.S. Gusts up to 60 mph are possible Tuesday night through Wednesday.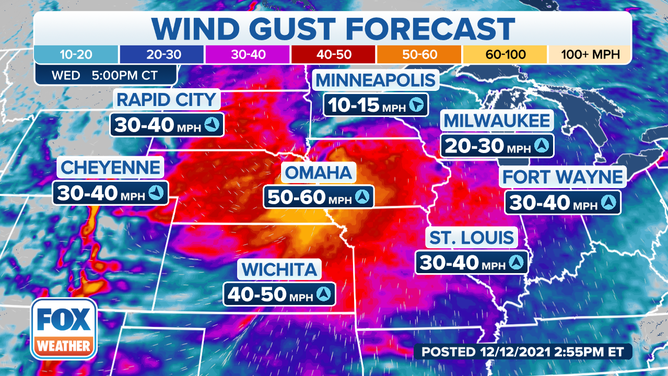 The National Weather Service has already issued High Wind Watches from the southern High Plains into the Central Plains and parts of the upper and mid-Mississippi Valley.
BATTEN DOWN THE HATCHES: WHAT YOU SHOULD KNOW ABOUT HIGH WIND WARNINGS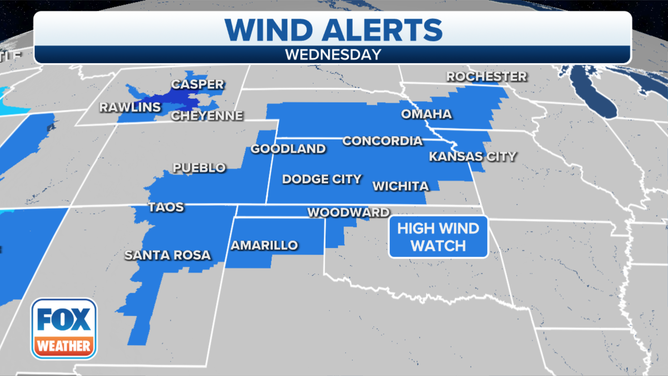 The threat for severe thunderstorms appears low, but an isolated severe storm is possible Thursday in parts of the Ark-La-Tex region and East Texas as weak instability peaks in the afternoon.
Check back to FOX Weather for updates on this storm system in the week ahead.