Wildfire raging in northern Michigan almost fully contained after scorching thousands of acres
Officials say the fast-moving Wilderness Trail Fire began around 1 p.m. Saturday about four miles southeast of Grayling, near Staley Lake, in Grayling Township.
GRAYLING, Mich. – A large wildfire burning in northern Michigan is now almost fully contained after the tireless efforts of crews working around the clock on fire suppression efforts.
Michigan Gov. Gretchen Whitmer activated the State Emergency Operations Center (SEOC) on Saturday, ensuring that state and local first responders would be provided with the resources needed to control and extinguish the blaze.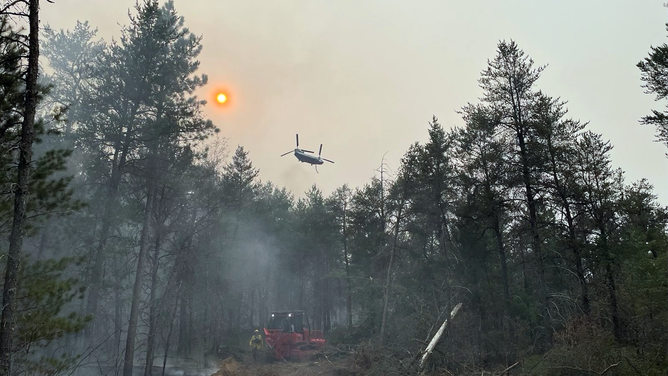 According to the Michigan Department of Natural Resources (DNR), the Wilderness Trail Fire began around 1 p.m. Saturday and resulted from a campfire on private land.
Fire crews from around the region, including a team of 10 firefighters from Wisconsin, worked to get a handle on the fire.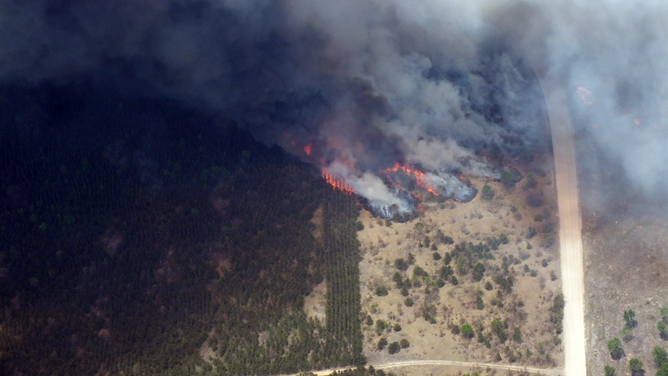 "We're grateful for the help from our neighbors in Wisconsin as well as the support from federal, state and local fire departments, emergency management officials and law enforcement personnel," DNR Incident Management Team leader Mike Janissee said in a news release.
According to the DNR, preliminary estimates showed that the fire threatened 35 homes, 38 vehicles, including 23 campers and three boats, and 58 outbuildings.
2 DEAD, 44 INJURED AFTER AN EF-3 TORNADO TEARS THROUGH MICHIGAN TOWN
At least three outbuildings were lost in the fire, the DNR added.
Smoke from the fire forced officials to close a section of Interstate 75 in the area, but it has since been reopened. The DNR said local roads near the fire remain closed, and residents and visitors are being asked to stay away from the area.

And while this blaze produces smoke, most of what is being smelled around the Great Lakes is coming from fires in Canada.
"The overwhelming majority of the smoke across northern Michigan is originating from wildfires across far eastern Ontario and Quebec," said the National Weather Service office in Gaylord, Michigan.
Locals said wildfires are not uncommon in the state, and blazes are usually compared to the 1980 Mack Lake Fire, which was the worst in recent memory. The fire burned more than 20,000 acres in just six hours, destroyed 44 buildings and caused at least one fatality.
A national look at the drought monitor.
(FOX Weather)
---