As Maui students return to school, 'many children' among 850 missing after deadly fires
Hawaii gov. Josh Green said over the weekend it's "possible that there will be many children" among the unaccounted for. With about 85% of the burned area searched by cadaver dogs and search teams, the number of dead will grow.
LAHAINA, Hawaii – Classrooms on Maui will have empty seats as students begin returning to school nearly two weeks after deadly brush fires broke out, consuming entire communities on the Hawaiian island. 
The brush fires broke out on Aug. 8 during the day, tearing apart families. The fires destroyed about 2,200 homes, displacing an estimated 4,500 people. 
President Joe Biden and First Lady Jill Biden arrived in Maui on Monday to meet with families and see the destruction in Lahaina firsthand. 
"It's one thing to know, but it's quite another thing to have to wait to wonder whether your family member is going to be OK," Biden said. "Imagine being a parent wondering whether your child is."
The exact number of people missing after the fires is still changing.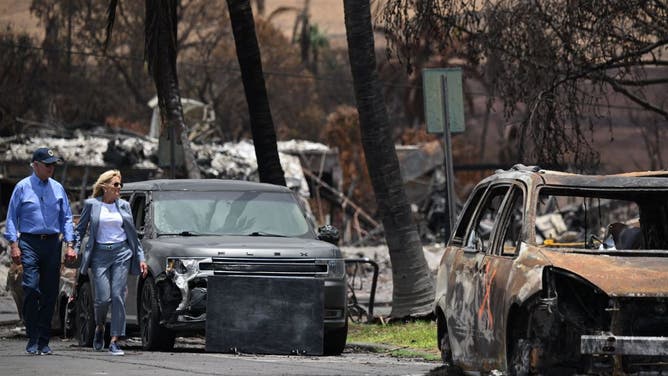 Hawaii Gov. Josh Green told reporters over the weekend it's "possible that there will be many children" among the unaccounted for. 
Maui County Mayor Richard Bissen said in a video that 850 names are on a list of missing persons. Bissen said the number of missing people dropped from 1,000 people after lists from the FBI, Red Cross and Maui police were combined.
Lawsuit filed against Hawaiian electric companies
Heading into a new week, the Olinda Fire is 85% contained at 1,081 acres. The Kula Fire is 85% contained at 202 acres and the Lahaina Fire is 90% contained with 2,170 acres burned. The Pulehu/Kihei Fire was fully contained on Aug. 12.
BEFORE-AND-AFTER SATELLITE IMAGES OF MAUI AFTER DEADLY WIND-DRIVEN BRUSH FIRES
A group of residents filed a lawsuit on Friday against Hawaiian Electric Industries, Hawaiian Electric Company, Hawai'i Electric Light Company and Maui Electric Company alleging the companies contributed to the Lahaina Fire when they did not cut power during hazardous fire weather.
"The lawsuit alleges that the fire was started when the electrical infrastructure and power lines owned by these companies came into contact with vegetation in the surrounding areas," law firm Morgan & Morgan said.
According to the lawsuit, "the electric companies knew that overhead power lines posed a significant fire hazard during adverse weather conditions, including high winds and drought."
The death toll stands at 115 people on Tuesday. 
With about 85% of the burned area searched by 41 cadaver dogs, the number of dead will grow, and those on the island are waiting for answers.
Maui County officials said 100% of the single-story, residential properties have been searched. Search teams are now searching multi-story residential and commercial properties. 

Maui County and the Maui Police Department have begun releasing the names of some of the identified victims. The seven victims identified ranged in age from 45 to 86 years old. All the victims were found in Lahaina. 
"MPD and assisting partners have been working tirelessly to ensure that proper protocols are followed while notifying the families of the victims involved," the department said. "Our priority is to handle this situation with the utmost sensitivity and respect for those who are grieving."
Maui's students return to class
Privateer CEO Alex Fielding has been working with other Maui companies since the fires to bring charging and WiFi stations to some of the most devastated areas in West Maui. In and out of Lahaina daily, he's heard from children who have lost their parents and many who lost everything. 
He told FOX Weather on Friday that it was a "tough day" as some students returned to class. 
"For the schools that started today, I can't imagine what roll call looks like … when one in every four is likely not going to be there in those classes, in those neighborhoods," Fielding said. "I don't know how you have enough teachers or counselors or therapists, or how you… there's no way to do justice to the real tragedy on the ground."
More than 3,357 students will be enrolled at alternative schools because of damages to campuses, according to the Hawaii Public Schools.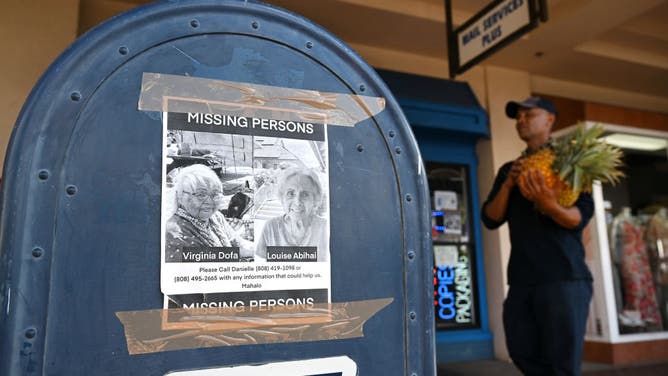 Three Lāhainā campuses -- Lāhaināluna High, Lāhainā Intermediate and Princess Nāhiʻenaʻena Elementary – sustained wind damage and require cleanup, but the overall structures and classrooms are in "good condition," Hawaii Public School officials said. Administrative leave for staff at Lāhainā schools will continue until Aug. 23 for additional cleanup and water testing.
Maui High School, an emergency shelter in the immediate aftermath of the fire, began a phased reopening last week. Other campuses across the island will resume classes this week. 
The search with cadaver dogs and using DNA from surviving family members continues with the estimated 850 unaccounted for and many presumed dead. 
Fielding said it's hard to remain missing on an island in the almost two weeks since the fires, even with communication outages.
"We do live on an island, and at this point, we're a week in. So there's a lot of assumptions about if you haven't reached someone yet, they're probably not with us anymore," Fielding said.
Maui companies team up with first responders to meet essential needs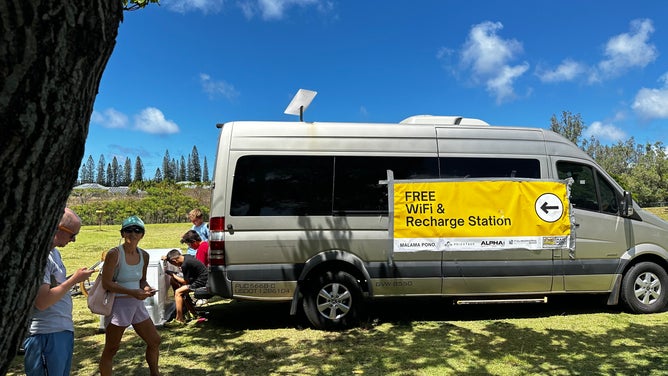 The charging and WiFi stations operated by Privateer and other Maui companies are running 24 hours a day in eight locations. Fielding said each station receives about 1,000 connections daily using space-based Starlink Internet. More than 650 Starlink terminals were delivered last week to the island. 
Fielding said they plan to keep the charging and WiFi stations going until they aren't needed.
Neighbors are helping neighbors, opening their garages and sharing supplies among communities. Volunteers are manning beaches and county parks and handing out meals to people.
Residents in Lahaina and Upper Kula do not have safe drinking water after the fires, and portable water tankers have been set up in those areas. Other dangers exist in the fire zones, including toxic ash and chemicals.
4 FAMILY MEMBERS DIE IN HAWAII WILDFIRE: 'IT'S LIKE A GUT PUNCH'
Fielding said Alpha Construction and agriculture company Mahi Pono have been trucking in food, fuel and supplies to West Maui every day with help from Maui police escorts. 
As FEMA, National Guard and Red Cross resources have been deployed by the thousands in Maui; Fielding said it's the local response that will carry residents through in the long term. Even with emergency housing from FEMA available, there are many living on beaches and in tents on Maui.
One reason is the trauma of what they have seen and experienced. The fires moved so quickly many only got out with the clothes on their backs.
"There's a lot of people who just watched an entire city burned to the ground," Fielding said. "They're traumatized. They don't want to be in a building. They just saw a bunch of buildings burn."