Major coastal flooding expected in Georgia, South Carolina as coastal storm develops
Parts of the Charleston and Savannah areas could be inundated by major coastal flooding
Major coastal flooding is expected from Georgia to South Carolina as low pressure off the coast of Florida develops into a powerful storm off the Southeast coast this weekend.
Tides are already higher than normal because of a new moon coinciding with the perigee of the moon, the point when the moon is closest to the Earth.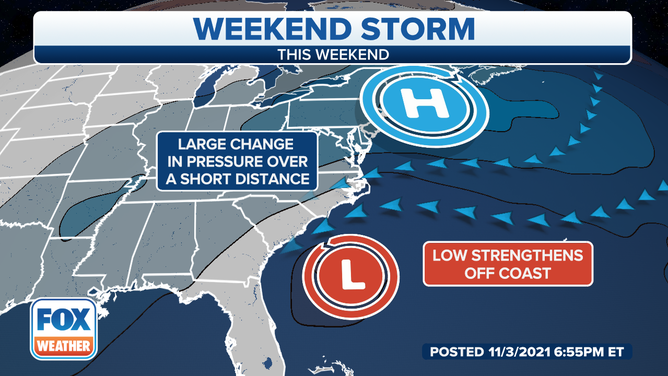 Combine these higher-than-normal tides with the developing Southeast coastal low, and the stage is set for major coastal flooding at periods of high tide.
WHAT IS A KING TIDE OR PERIGEAN SPRING TIDE?
Coastal Flood Watches and Advisories have been issued by the National Weather Service from North Carolina to Florida including the cities of Wilmington, North Carolina; Charleston, South Carolina; and Jacksonville, Florida.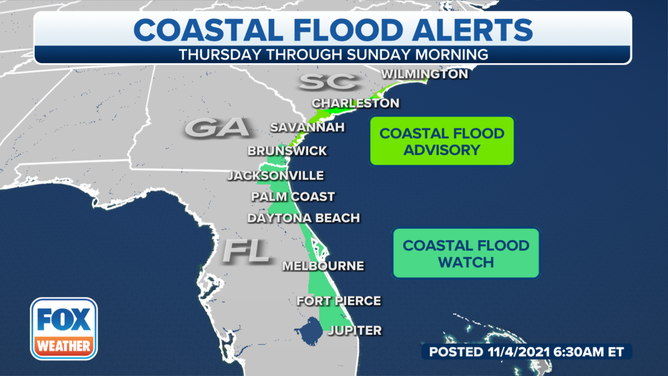 NATIONAL WEATHER SERVICE REVAMPS FLOOD ALERTS
Farther north, just some minor coastal flooding is expected in the mid-Atlantic, mainly with the Friday morning high tide between North Carolina and New Jersey – nowhere near the extent of last week's flooding triggered by another coastal storm.
Charleston-area impacts
(NOAA)
The Charleston Harbor tide gauge is forecast to reach 8.6 feet on Saturday morning.
At the expected level, widespread flooding will develop in downtown Charleston, leaving several roadways impassable at the time of high tide.
Minor to moderate flooding is also predicted in Charleston with multiple evening high tides into this weekend. 
Hurricane Hugo holds the record for creating the worst coastal-flood event in Charleston's history. On Sept. 22, 1989, the tide reached a historic 12.52 feet, flooding many areas of the city.
Savannah-area impacts
(NOAA)
The mouth of the Savannah River at Fort Pulaski, Georgia, is expected to peak at major flood stage on Saturday morning. If the levels reach the predicted 10.6 feet, major flooding could inundate parts of Tybee Island.
According to NWS data, tides could rival levels measured during a Category 2 hurricane in October 1947. This would likely force the closure of Highway 80 between Tybee Island and Savannah, isolating residents on Tybee Island. Widespread significant flooding on Tybee Island would impact numerous properties as well.
HOW FLOODWATER CAN MAKE YOU VERY SICK
In October 2016, Hurricane Matthew caused the Savannah River to reach its historic crest of 12.56 feet near where the river empties into the Atlantic at Fort Pulaski.
Jacksonville-area impacts
Parts of the northeastern Florida coast, including the Jacksonville area, will also have to contend with significant coastal flooding.
The NWS said moderate to possibly major coastal flooding is expected with Saturday morning's high tide along the Atlantic coast of northeastern Florida, predicting an inundation of 2.5 to 3.5 feet above normally dry ground.
EXCESSIVE RAINFALL CAUSES WATERLOGGED STREETS IN FLORIDA, COASTAL FLOOD THREAT LOOMS
Significant beach erosion is also likely in this area, especially where dune structures are weak. Water levels may be delayed until Sunday within the St. Johns and lower Santilla River basins due to persistent northerly winds, according to the NWS.
Coastal flooding could remain a risk along some areas of the Southeast coast into Monday.