Landslides close roads, thousands without power as storm lashes California
Thousands of residents were told to evacuate due to concerns of debris flows, flash flooding
A powerful storm slammed into the West Coast Sunday, causing landslides that closed roads and knocked out power to tens of thousands of people.
Heavy rain began falling across California Sunday, and several areas picked up more than 5 inches of rain. Blue Canyon, a community located northeast of Sacramento, picked up more than 10 inches of rain on Sunday.
The downpours triggered flash flood warnings, forcing local officials to issue evacuation orders to thousands of residents.
Many residents in San Mateo and Santa Cruz counties were told to leave their homes because of the threat of debris flows in wildfire burn scar areas. People who didn't heed the warning and evacuate were warned to get to the highest level of their homes because it was likely too late to leave.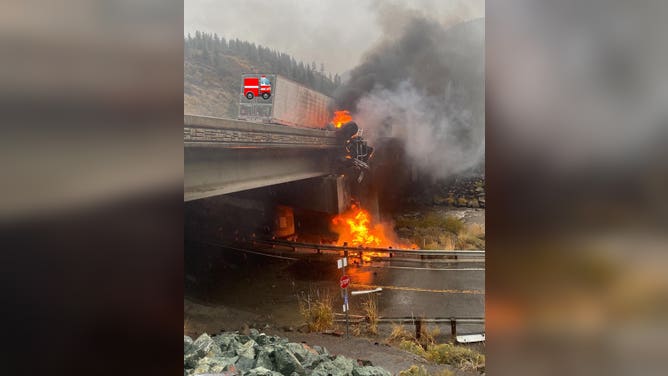 Several crashes were also reported because of the wet conditions on the state's highways and roads. A tractor-trailer slammed into a barrier and then burst into flames eastbound on Interstate 80 near Floriston.
The cab was left dangling off the overpass, but luckily no injuries were reported.
Fox Weather Correspondent Max Gorden was in Feather River Canyon, an area burned during the Dixie fire earlier this summer, on Monday. He said concerns are growing in areas destroyed by wildfires because of the risk of debris flows and mudslides.
When wildfires burn through forests, it destroys trees and other vegetation that can help soak up the rain. That can cause debris flows and mudslides that have occurred across the area.
Footage of Highway 70 in Plumas and Butte counties shows the destruction left behind when a landslide sent boulders and mud across the roadway.
Officials said it could take days to clear the debris from the road and deem it safe enough to reopen to traffic.
There's also a concern that all the recent heavy rain, with more on the way, could compromise the area, causing the entire hillside to give way.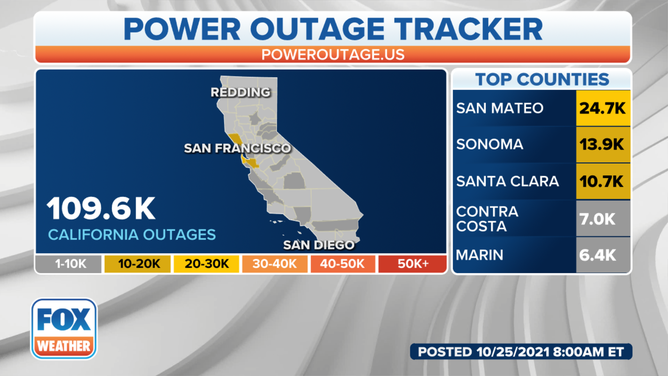 Strong winds brought down trees and utility lines across the state Sunday, too. Power was knocked out for tens of thousands of people. The San Francisco area reported the most outages at the height of the storm.
San Mateo County reported nearly 25,000 outages Monday morning, and Sonoma and Santa Clara counties reported between 10,000-15,000 outages.