Lake-effect snow dusts Great Lakes from Wisconsin to New York
Several locations have measured at least a half-foot of snow since Monday
The first accumulating lake-effect snow event of the season is dusting the Great Lakes snowbelts from northern Wisconsin to western New York.
Lake-effect snow develops when cold, dry air flows across the relatively warmer waters of the Great Lakes, picking up moisture and condensing into clouds. The clouds then produce snow or rain downwind of the lakes.
The heaviest snow from this early-season event is expected to fall downwind of lakes Michigan and Superior over portions of the Upper Peninsula of Michigan and northern Lower Michigan. Localized areas could receive 5 to 8 inches of snow into Wednesday morning.
Between 1 and 5 inches of snow is forecast over a broader area from northern Wisconsin to Lower Michigan, where the snow showers will be lighter and less persistent.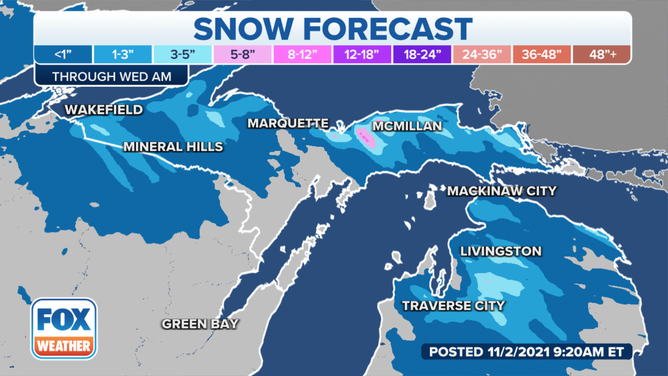 Lake-effect snow (mixed with rain) is also falling downwind of lakes Erie and Ontario in northeastern Ohio, northwestern Pennsylvania and western New York.
A time-lapse from the New York State Mesonet webcam in Harrisburg, New York, showed lake-effect snow off Lake Ontario dusting the ground at that location.
The Tug Hill Plateau east of Lake Ontario is expected to see the highest snowfall accumulations in this region. Between 5 and 8 inches is not out of the question in the higher elevations through Wednesday morning.
WHEN CAN YOU EXPECT THE FIRST SNOW OF THE SEASON?
Most other areas will have less than an inch of accumulation due to mixing with rain. The only exception is the Allegheny Plateau in southwestern New York, where 2 to 5 inches is predicted.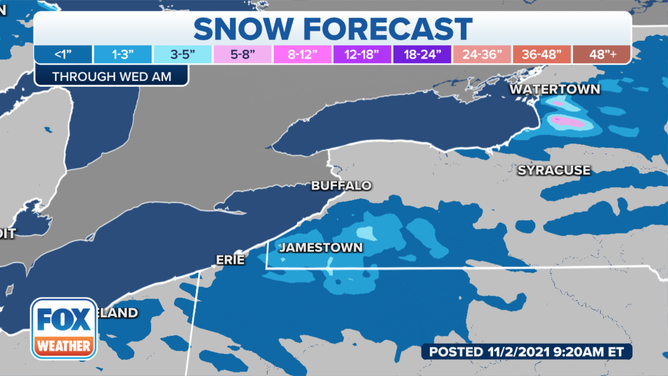 As of Tuesday morning, up to 7.7 inches of snow had already fallen in Watton, Michigan.
Several other locations in the upper Great Lakes had also measured at least 6 inches of snow.