'Kona low' continues to bring flash flooding, damaging winds to Hawaii
Some parts of the state could receive 2 feet of rain
The first week of meteorological winter brought record warmth to more than 1,200 locations in the United States – except for Hawaii.
The Aloha State will continue to experience heavy rain and strong winds all thanks to a storm known as a "Kona low."
According to the National Weather Service, the storm system is expected to linger west-northwest of Kauai Monday morning and will drift slowly westward through Wednesday.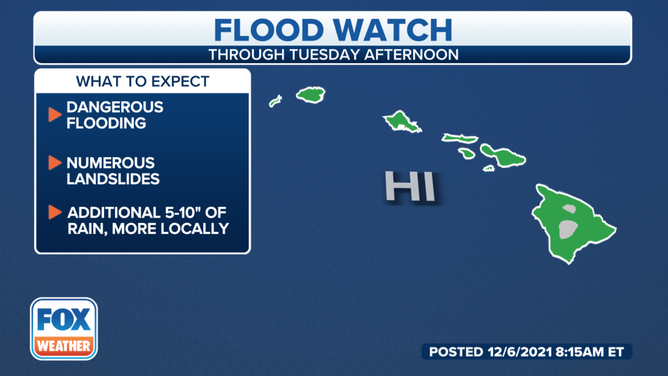 Tropical moisture from the Kona low will continue to produce bands of moderate to heavy rainfall across the state.
Forecasters said 2 to 10 inches of rain has already fallen in Maui County, and more rain is on the way.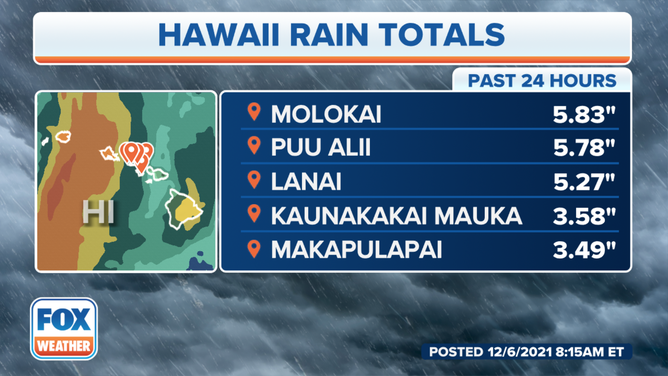 Widespread rainfall totals of 10 to 15 inches are expected, and some areas could receive up to 25 inches of rain before the storm system finally moves away from the island chain later this week.
How a tropical paradise is home to the rainiest spot in the nation
"Rain events of this magnitude can produce catastrophic flooding and affect areas that are typically drier, such as the south and western slopes of each island," the NWS said.
And because of the storm, all schools in Maui County were closed Monday.
Forecasters warn that many roads could become impassable due to severe runoff and flooding, and numerous landslides are expected in areas with steep terrain.
Add on the higher-than-usual astronomical high tides, and the Maui County Emergency Managers notified residents of coastal flooding, inundated beaches and tough-to-navigate harbors. The managers said the surf could be 20 to 28 feet high on the northern and western facing beaches of Maui and Molokai.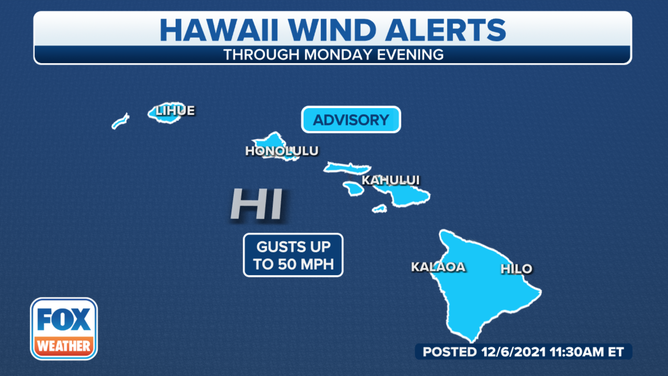 Strong winds are also a concern as gusts between 20 and 25 mph have been reported, and some locations have clocked gusts up to 50 mph.
Wind Advisories remain in effect for all the Hawaiian islands, including the summit areas of Maui and Hawaii counties. Forecasters said Oahu and parts of Molokai may be more vulnerable to the stronger winds.
On the Big Island of Hawaii, atop Mauna Loa and Mauna Kea above 8,000 feet, a blizzard warning was in effect but has since expired.
Sustained winds between 60-100 mph were forecast, and some gusts up to 135 mph were possible.
This was the first blizzard warning issued in Hawaii since 2018.
The NWS said conditions are expected to improve from east to west starting on Wednesday as the storm system moves away from the main Hawaiian islands.