Drought threatens drinking water supply to Central Pacific islands
Kiritimati Island is about 1,250 miles from the U.S. state of Hawaii
A small island nation chain in the Pacific that is used to worrying about inundation from sea level rise is finding itself running low on drinking water thanks to an ongoing drought that has likely been enhanced by La Niña.
The Republic of Kiribati is made of 33 islands that stretch across the Central Pacific and are home to around 121,000 residents.
The country's government recently declared a state of emergency because of the severity of the drought.
In an effort to help relieve stress on the drinking system, the U.S. Coast Guard Cutter Oliver Berry delivered water to the island of Kiritimati on Friday.

 "Our crew is excited and humbled for the opportunity to support the people of Kiribati," Lt. Micah Howell, commanding officer of the Coast Guard Cutter Oliver Berry, said in a statement. "Thanks to the coordination efforts of the U.S. Agency for International Development's Bureau of Humanitarian Assistance, the United Nations International Children's Emergency Fund, and the Kiribati Government, we are able to provide safe drinking water to the Island of Kiritimati at a time when it is needed most."
HOW TO WATCH FOX WEATHER ON TV
Kiritimati is about 1,250 miles southwest of Hawaii, and because of its isolation, the Coast Guard said strict COVID-19 protocols were in place to prevent any type of spread.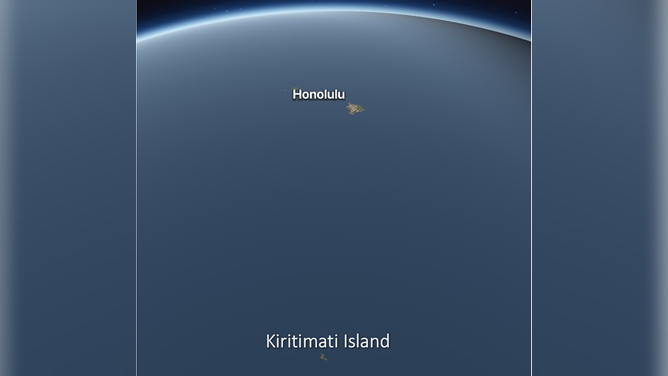 The United Nations says the island experiences prolonged droughts, especially during La Niña years.
The organization says there are no natural freshwater sources for the island's nearly 7,000 residents except for rainfall.
In addition to the donation of water, the U.S. Coast Guard crew says it is also helping to patrol the waters around Kiribati to deter illegal fishing and enhance regional security.
TROPICAL STORM DARBY FORMS IN EASTERN PACIFIC; COOL WATERS, UPPER-LEVEL WINDS LIKELY TO PROTECT HAWAII
The territories that make up the Republic of Kiribati are not the only islands dealing with drought conditions in the Central Pacific.
The Hawaiian Island chain has been dealing with an off-and-on drought since the start of the year.
More than 60 percent of the state is considered to be in a drought that is even extreme in some parts.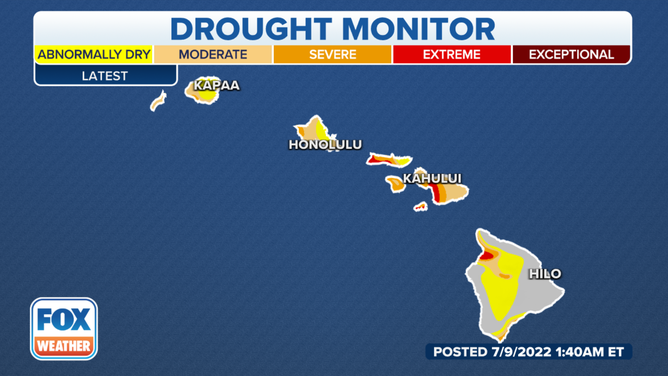 Some weather observation sites, especially on the eastern islands, report a rainfall deficit of more than eight inches.
The National Drought Mitigation Center says anytime an area is in an extreme drought crop loss is likely, water shortages are common, and some communities impose water restrictions.
Forecasters say there doesn't seem to be much change on the horizon with the general weather pattern.
La Niña could stick around through the end of the year, which usually means less precipitation than average in parts of the Pacific.