Indiana woman found dead after home washed away by floodwater
Police received a call after the southern Indiana woman was trapped inside her home. When they arrived, they said the house was washed away by floodwater.
JEFFERSON COUNTY, Ind. – A woman believed to have been washed away by floodwater was found dead Sunday in southern Indiana.
On Saturday evening, torrential rain led to flash flooding in Switzerland and Jefferson Counties.
Police received a call of a woman unable to exit her home due to flooding.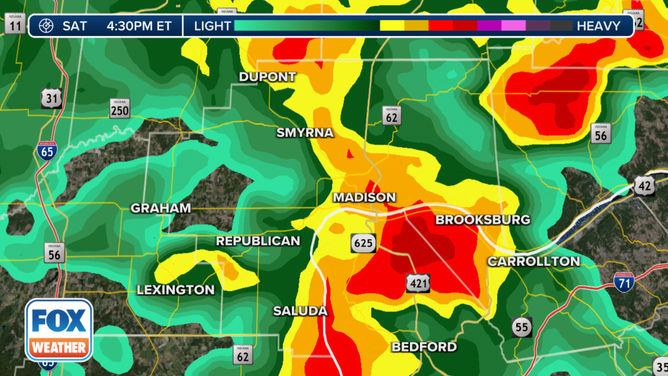 'LIFE-THREATENING' FLASH FLOODING SUBMERGES ROADS, CARS IN NORTHWEST GEORGIA
As officials approached the neighborhood, they said they had trouble getting there due to high water.
"Upon arrival, it appeared the property's structures had been washed away," Jefferson County Emergency Management said. "No residents were located."
Crews continued searching for the woman, along with four others reported missing.

After several hours, officials say they found the four others but had to stop the search for the woman due to darkness.
"The body of a female believed to be the missing individual was discovered a significant distance downstream from the address of the missing person," Jefferson County said Sunday. 
HOW TO WATCH FOX WEATHER ON TV
Multiple homes, roads and bridges received extensive damage due to the flooding, which a local rain gauge reported more than 9 inches fell in just three hours.
Flood Watches are in effect as flash flooding remains possible through Monday evening.