Voters in Ohio, Indiana may need to dodge severe thunderstorms on Tuesday
Strong to severe thunderstorms are expected in Indiana and Ohio on Tuesday
The midterm election season is here, and voters will head to the polls in two states on Tuesday to cast their ballots for whom they'd like to see in local, congressional and state leadership positions.
HOW TO WATCH FOX WEATHER ON TV
Conditions won't be ideal for anyone heading to the voting booth in Ohio and Indiana, as rain and thunderstorms are possible in both states during the day on Tuesday.
In fact, severe thunderstorms are possible in parts of southeastern Indiana and central and southern Ohio.
SEVERE STORMS THREATEN OHIO VALLEY ON TUESDAY BEFORE SHIFTING BACK TO THE PLAINS, MIDWEST AND SOUTH LATE WEEK
Here's a look at the forecast.
Indiana
It's expected to be a rainy, stormy day across much of the Hoosier State on Tuesday.
Temperatures will range from around 57 degrees to the north in South Bend to about 71 degrees to the south in Indianapolis.
Showers and thunderstorms, some of which could be severe, are expected.
If you're a voter heading to the polls and have questions about the primary, click here to check out the Indiana Secretary of State Election Divisions website.
CLICK HERE TO GET THE FOX WEATHER UPDATE PODCAST
Ohio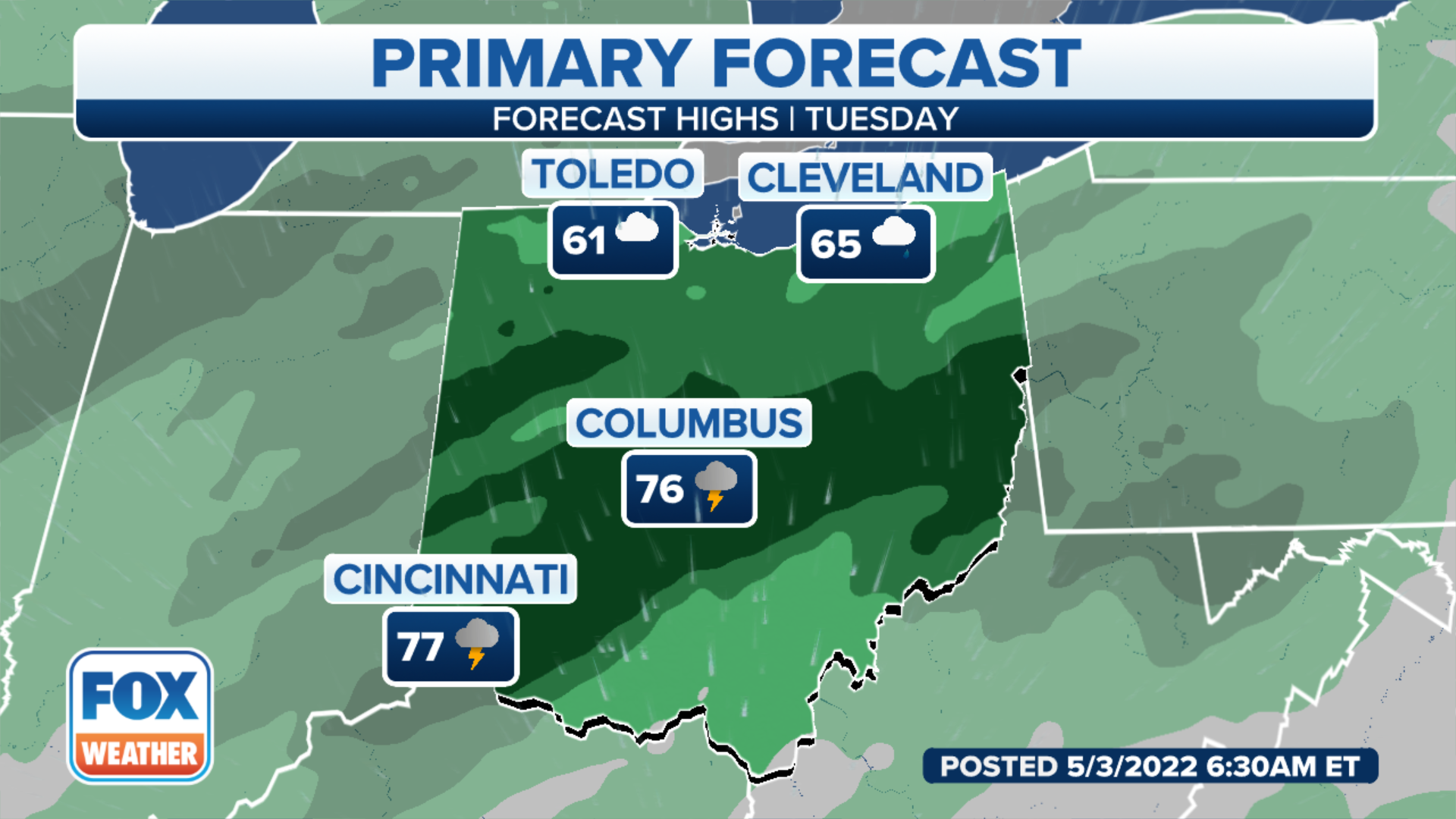 Temperatures in the Buckeye State will range from the 60s in the north, like Toledo and Cleveland, to the upper 70s in the central and southern parts of the state, like Columbus and Cincinnati. 
Like in Indiana, rain is expected across Ohio, as well as the possibility of strong to severe thunderstorms.
If you're a voter heading to the polls and have questions about the primary, check out the Ohio Secretary of State Elections and Voting website by clicking here.