Ice volcano at New York state park makes epic return
The Letchworth State Park ice volcano is made possible by a combination of weather and physics.
When temperatures stay below freezing, a wondrous winter sight appears in western New York: an ice volcano that can grow as tall as 50 feet, spewing water high into the air.
Considered the "Grand Canyon of the East," according to New York State Parks, Letchworth State Park is home to three Genesee River waterfalls. It becomes a winter wonderland offering snowmobile trails, tubing and snowshoeing during the winter.
It's also home to the Glen Iris Fountain, on the lawn of the Glen Iris Inn, which is open to overnight guests in the spring and summer months.
HOW ONE POINT ON A MAP CAN MAKE OR BREAK A NORTHEAST SNOWSTORM FORECAST
According to Letchworth Park History, the inn was the home of William Pryor Letchworth and at the center of the thousand-acre estate is the Glen Iris Fountain. The fountain has been running since the early 1860s.
With consistent below-freezing temperatures, the garden pond becomes an "ice volcano," slowly growing and continuously shooting water into the air during winter.
John Kucko took the photo below on a bitterly cold January morning when the wind chill was negative 21.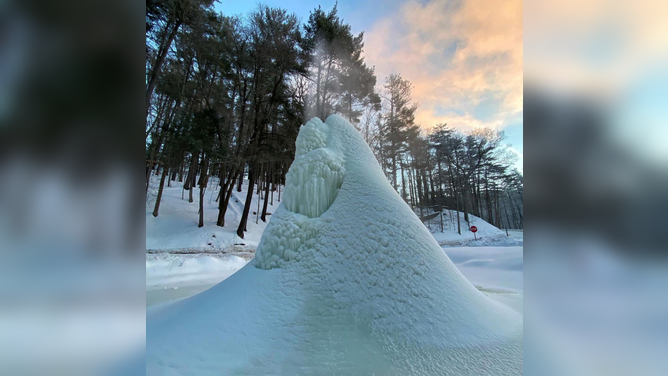 Climate data for Mount Morris, the nearest weather station, shows the area has had sub-zero temperatures for five days in January, including negative 8 degrees on Jan. 22 and 23 allowing the ice to continue to build around the fountain stream.
The photo below was taken last week and shows the growing volcano-shaped mound on the pond.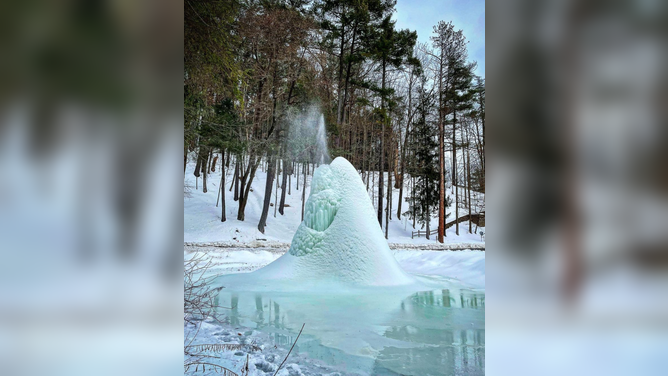 According to the park, it's a physics trick that the water continues to spew.
"Gravity pulls water from manmade Trout Pond, through a narrowing pipe and finally into a nozzle so tight that the pressure from the water coming downhill sends a spout flying continuously about 50 feet in the air," Letchworth State Park wrote on Facebook. "No pumps, no motors, no heaters. Just science!"
The ice around the fountain continues to pile up, sometimes growing as tall as 50 feet.
HOLY ICE BALLS! VIDEO CAPTURES RARE SIGHT ALONG MICHIGAN LAKE
This year, visitors to the park began documenting the growing ice mountain in early January. It's expected to continue to grow as snow and ice accumulate around the pond. A nor'easter forecast for this weekend will sweep across the Great Lakes with a blast of sub-zero temperatures, which is good news for the growing winter attraction at Letchworth State Park. 
Visitors should drive through the Castile gate at 6787 Denton Corners Rd. to see the ice volcano. However, park rangers warn to stay off the ice and view the winter wonder from the safety of the lawn.