'Hurricane hunters' showcase aircraft, missions to increase hurricane awareness
NOAA, the U.S. Air Force and FEMA experts and crew members met outside the nation's capital to highlight hurricane forecasting, emergency management and recovery efforts
Arlington, VA — As part of National Hurricane Awareness Week, the National Oceanic and Atmospheric Association (NOAA) hosted its 2022 Hurricane Awareness Tour at Reagan National Airport.
The tour included presentations from and interviews with hurricane experts, scientists and crew members of NOAA, the U.S. Air Force (USAF) and FEMA — organizations that work in tandem to develop weather forecasts, emergency management and recovery efforts when hurricanes strike.
U.S. Deputy Secretary of Commerce Don Graves lauded the organizations' multi-pronged approach to hurricane awareness.
"The NOAA and the Air Force scientists, pilots and support staff with us today are the true heroes that braved the storms to gather mission-critical observations that feed directly into NOAA's models, forecast products and services," Graves said.  
"These services are then relayed to our partners at FEMA, as well as to state, territorial, tribal and local emergency managers. We use this information to make decisions on evacuations, pre-positioning and resources, saving countless lives, money, time, protecting lives and property."
According to Graves, 4 of the 20 weather- and climate-related billion-dollar disasters that impacted the U.S. in 2021 were directly caused by hurricanes.
Under Secretary of Commerce for Oceans and Atmosphere Richard D. Spinrad stressed the importance of data in developing accurate forecasts and warnings.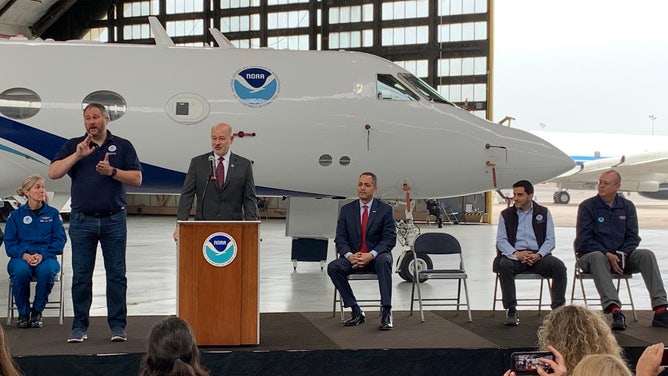 "We really have to prepare for the sheer power and the scale of the storms and expected changes in the years decades to come," he said. "We're always looking for ways to improve our forecasts and warnings, and some of our recent improvements include expanding our observational capabilities."
Spinrad noted the recently launched GOES-18 satellite, which joins the ranks of other GOES satellites in orbit that provide high-resolution images of weather patterns.
In addition to observing weather from space, Spinrad and his colleagues at the Hurricane Awareness Tour noted the critical nature of observations closer to the ground — specifically, by aircraft that fly over and through hurricanes.
Parked at the Reagan airport's Hangar 7 were four hurricane aircraft: NOAA's G-IV (also known as "Gonzo"), NOAA's WP-3D Orion (also known as "Kermit"), NOAA's Beechcraft King Air 350 and the USAF's WC-130J "Hurricane Hunter".

The G-IV flies around and ahead of a hurricane to gather data.
Then, the WP-3D and WC-130J fly through hurricanes to gather data.
All three aircraft deploy weather-gathering probes called sondes to collect the data.
The fourth aircraft at the Hurricane Awareness Tour was the King Air, which is dispatched after a hurricane to take post-event imagery.
"The capability to assimilate satellite data, the capability to assimilate data off these aircraft and from ships and from gliders out the middle of the ocean are what have enabled us to dramatically improve our capability to forecast the track and the intensity of these hurricanes," Spinrad said.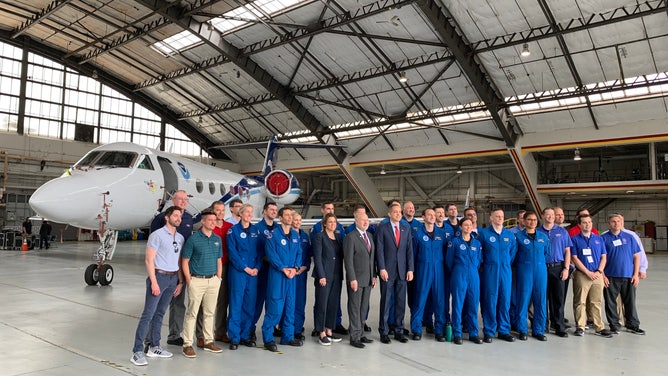 More information can also help emergency preparedness, according to FEMA's Deputy Associate Administrator for Response and Recovery David Bibo.
"Those storms are important reminders to all of us about the importance of the work the hurricane hunters do, and that we all must do to prepare for whatever may come," he said.
"We simply would not be able to do our jobs as emergency managers without the data and information that these heroes provide to us every time they go up in the air."
National Hurricane Center Director of NOAA's National Weather Service Kenneth Graham says the data collected by hurricane hunters is instrumental during hurricane season.
"Every single season, we have to get ready, and we're going to be hit," Graham said. "But let's do it. Let's get ready. Let's be excited. Let's communicate to the public to get them ready — and that's why we're here today."