GOES-T reaches geostationary orbit, renamed GOES-18
The satellite reached geostationary orbit 22,236 miles above Earth.

After launching on March 1, GOES-T has finally reached geostationary orbit.
NOAA says that they received confirmation Monday afternoon that the satellite had executed its final engine burn and reached its home 22,236 miles above Earth.
THE MORE YOU GOES: 7 THINGS TO KNOW ABOUT NOAA'S NEW WEATHER SATELLITE
Now that it has reached geostationary orbit, it has been renamed GOES-18.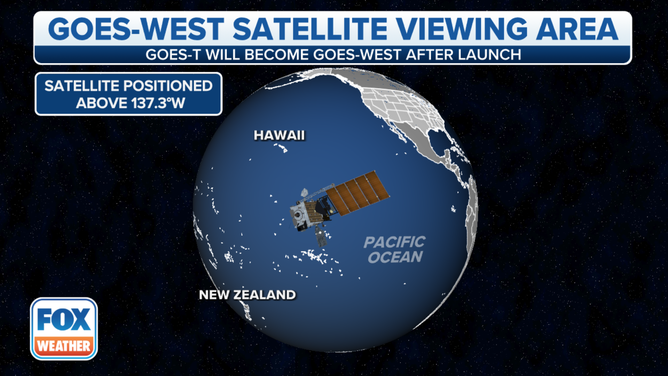 The satellite is the third in upgraded spacecraft part of the Geostationary Operational Environmental Satellites (GOES) program.
SEEN FROM SPACE: HOW GOES-T LAUNCH LOOKED FROM 22,300 MILES AWAY
It will monitor the western U.S., Alaska, Hawaii, Mexico, Central America and the Pacific Ocean.
The suite of instruments will track wildfires and provide warnings for severe weather. It will also improve space weather forecasting, giving signs of incoming geomagnetic storms.
HOW NOAA'S NEW GOES SPACECRAFT WILL IMPROVE SPACE WEATHER FORECASTING
The GOES program dates back to 1975 when the first satellite known as GOES-A launched from Cape Canaveral. The most recent satellites in the series started launching in 2016, providing higher-resolution images of the planet in near real-time.