Hurricane Andrew timeline: On this day, August 22, 1992
Andrew's top sustained winds were finally estimated to have reached 75 mph. There was still no reason to think that Greater Miami was the bullseye, but obviously we were on alert with a hurricane moving toward Florida.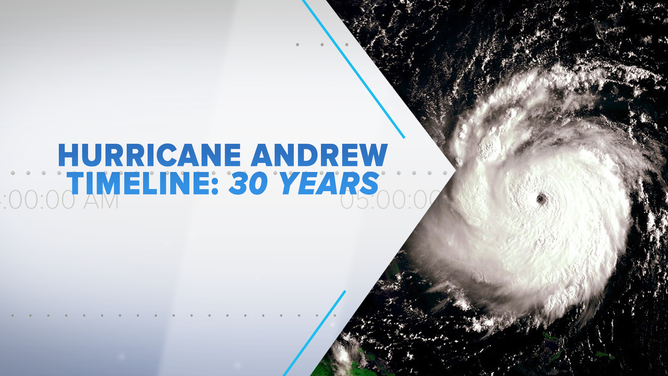 "....ANDREW BECOMES THE FIRST HURRICANE OF THE 1992 SEASON..." That was the headline on the 5:00 AM advisory from the National Hurricane Center on Saturday, August 22, 1992 – 30 years ago today.
Andrew's top sustained winds were finally estimated to have reached 75 mph. There was still no reason to think that Greater Miami was the bullseye, but obviously we were on alert with a hurricane moving toward Florida.
We in the weather business thought about hurricane forecasts differently in 1992 than we do today. We knew the errors were huge then, especially as you looked farther into the future. Three days out, the average forecast was off by some 340 miles. That's about the distance from Jacksonville, Florida, to the Keys.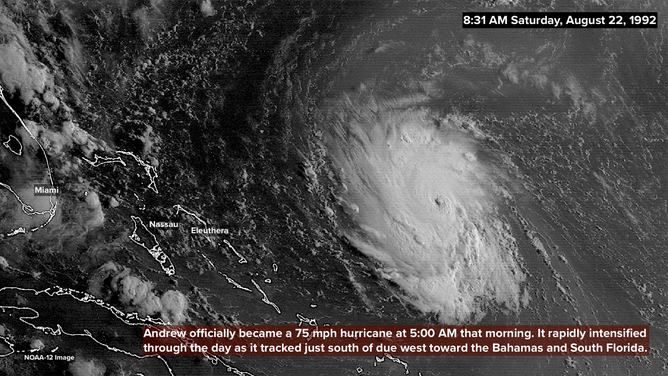 So we knew that any hurricane heading in our general direction could turn into a problem – with the emphasis on could. Most people who lived in South Florida in 1992 didn't think about hurricanes very much at all, however. It had been 13 years since the last significant hurricane threat and 27 years since a major storm.
Metropolitan Miami/Fort Lauderdale was a completely different place in 1992 than when Hurricane Betsy came through in 1965. At some level, everybody knew that a hurricane could hit, of course. But very few people had thought through what a strong hurricane would do to the modern city. If you studied Miami history, you couldn't help but imagine how bad it would be if one of the many South Florida hurricanes of the first seven decades of the 20th century hit again.
But even then, it was impossible to conceive of a storm like Andrew.
The Miami Herald that Saturday morning played down the threat with a small story at the bottom of the front page. The Palm Beach Post gave it a similar treatment. Of the major South Florida newspapers, only the Fort Lauderdale Sun-Sentinel gave the storm prominent treatment with the headline, "Andrew threat brewing." In the articles, the message from the National Hurricane Center was for people to be alert to developments "later in the weekend." Those newspapers were written and assembled the evening before, of course.
READ YESTERDAY'S POST FOR THE HURRICANE ANDREW TIMELINE: AUGUST 21, 1992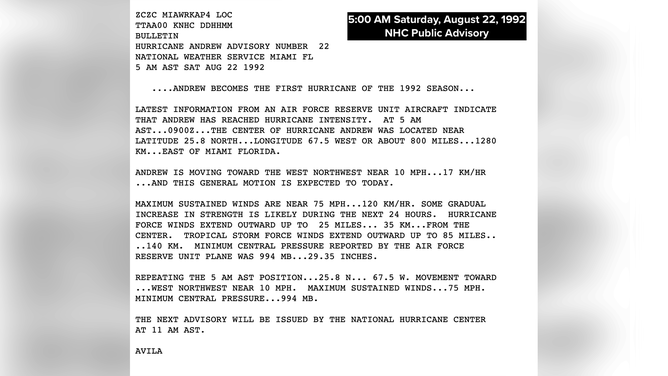 Early that morning, Hurricane Andrew was about 800 miles due east of Miami. It was heading a little north of due west. The Technical Discussion written by NHC forecaster Lixion Avila mentioned the strengthening high-pressure system to the north and the possibility of Andrew speeding up. But the consensus of the traditionally most reliable computer forecast models was that Andrew would maintain a slow and steady motion toward the Florida coast, lifting slowly north as it came.
The official forecast early Saturday predicted the storm would be located offshore of the Central Florida coast as a 100-mph hurricane three days later – early Tuesday. But as the day went on, it became clear that something else was going to happen.
Andrew kept leaning left of the forecast track and was increasing its forward speed. National Hurricane Center Director Dr. Bob Sheets wrote the 11:00 AM and 5:00 PM advisories himself that day. So you know he was getting concerned.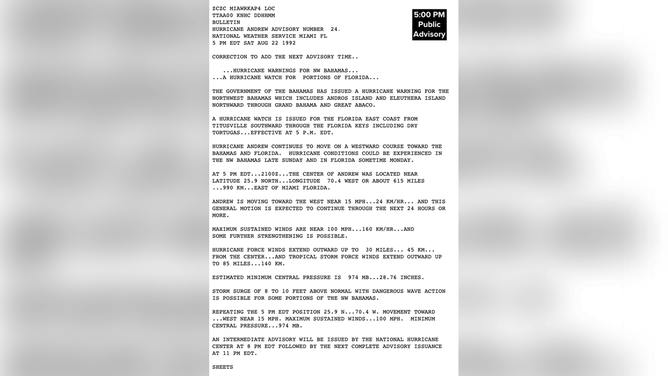 At 11:00 AM, the official forecast showed landfall in Martin County – one county north of Palm Beach. At 5:00 PM, the forecast aimed the storm at Boca Raton in southern Palm Beach County or Deerfield Beach in northern Broward County. Each new advisory forecast Andrew to make landfall farther south.
The crude computer models of the day that forecast how strong the storm was going to be steadily showed more intensification, though they were still far below the mark. The predicted landfall intensity in the 5:00 PM advisory was between 110 and 115 mph – still a significant hurricane. So it had our full attention.
A point about wind-speed forecasts, however. In 1992, wind speed estimates were lower than they are now by 10 to 15 percent. New science developed in the late '90s provided a greater understanding of the structure of a strong hurricane, which pushed the wind-speed estimates higher. Using the modern paradigm for converting wind measurements made by Hurricane Hunters to speeds at the surface of the ocean, those forecast winds would have been at or near Category 4 strength.
At 5:00 PM that Saturday, a Hurricane Watch was posted for the east coast from Central Florida through the Keys. The broad scope of the watch area was an indication of the high degree of uncertainty in the forecasts at that time.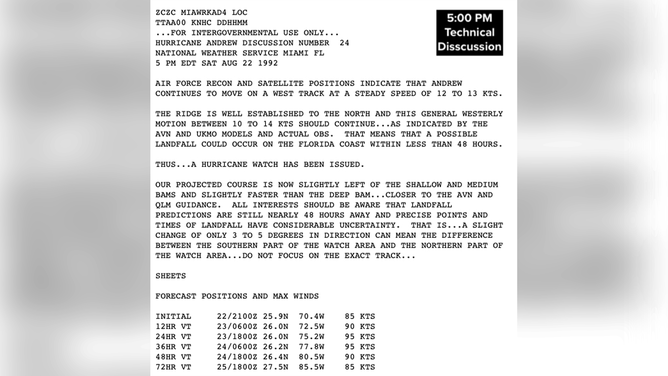 It was clear that Dr. Sheets wanted everybody's attention. He bluntly wrote in the 5:00 PM Public Advisory, "HURRICANE CONDITIONS COULD BE EXPERIENCED… IN FLORIDA SOMETIME MONDAY." And in the Technical Discussion, the non-public part of the 5:00 PM advisory, he wrote, "LANDFALL COULD OCCUR ON THE FLORIDA COAST WITHIN LESS THAN 48 HOURS."
At 5:00 PM, the top winds were already up to 100 mph. The storm was intensifying more quickly than forecast. Hurricane Andrew was about 600 miles east of Miami.
In 1992, we didn't have access to the spaghetti plots at the TV station, so the National Hurricane Center forecast was the only projection we paid attention to. In a way, that made things less confusing than they are today, now that anybody can make a forecast or a comment just sitting at home.
A Hurricane Watch was in effect for all of southeast Florida – that's how most people in Greater Miami found out that preparation was necessary. Sunday was going to be preparation day.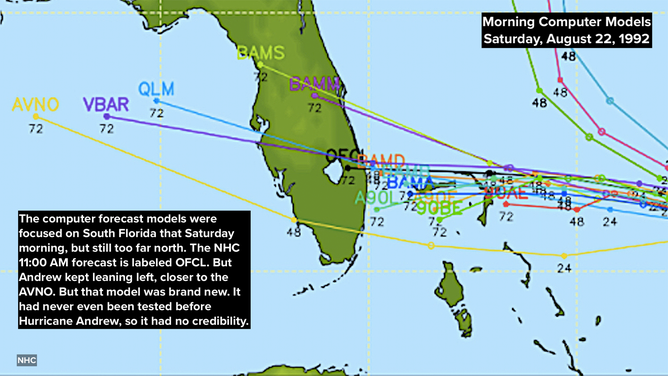 By 11:00 PM that Saturday night, Andrew's winds were up to 110 mph, and the National Hurricane Center forecast was locked in on southern Dade County. But remember, the forecast had swung from north of Palm Beach to South Dade during the day; we still weren't sure it wasn't going to swing back north. All of South Florida was on alert.
Hurricane Andrew was forecast to hit Monday morning as a Category 3. But NHC forecaster Miles Lawrence ended the Technical Discussion in the advisory with this warning, "(Andrew's winds) COULD GO EVEN HIGHER BEFORE AFFECTING LAND BUT THIS IS NOT REFLECTED IN THE FORECAST AT THIS TIME."
Our 11:00 PM news on WTVJ in Miami that Saturday night went on and on. Some people were already preparing, and the rest were making plans for the next day. We could have continued our coverage all night, but we had started at noon, and everybody was tired, including me.
At about 1:00 AM, I said, "Friends I'm going to go home now and get some sleep, and I suggest you do too. Tomorrow is going to be a very big day for our city, and I'm not sure we're going to get sleep tomorrow night."
By then, it was becoming clear that a hurricane was coming. But nobody could remotely imagine that Hurricane Andrew would hit with 165 mph winds just over 24 hours later.
Three decades ago, renowned hurricane specialist Bryan Norcross did a 23-hour marathon broadcast as Hurricane Andrew slammed into the Florida coast. His broadcast was the only one to stay on the air and many people's only link to the outside world during the worst of the storm.  He is credited with saving countless lives due to his life-saving advice. Now, 30 years later, Bryan will re-live the storm that devastated South Florida and look at the infrastructure changes that resulted. Watch The Wrath of Hurricane Andrew: Tragedy and Triumph on FOX Weather, premiering August 23rd and 24th at 10 P.M. EDT. 
HOW TO WATCH FOX WEATHER ON TV
FOX Weather Hurricane Specialist Bryan Norcross has a podcast, Tracking the Tropics with Bryan Norcross, available now on FOX News Audio. You can get it on your device by clicking here.