Holiday decorations, events could be challenged by severe weather in mid-South, Ohio Valley
The National Weather Service advises areas where winds could gust more than 30 mph to buckle up the holiday displays.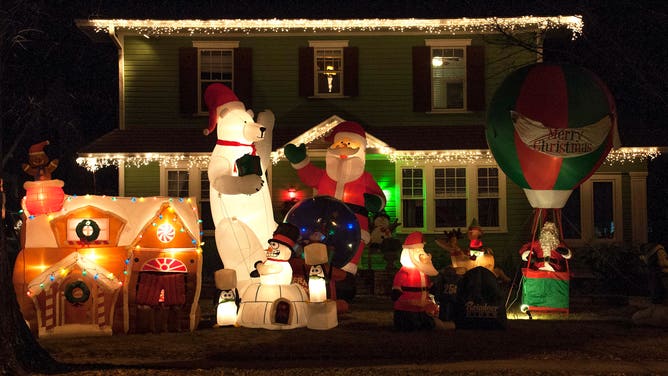 The system pushing its way through the mid-South and Ohio Valley on Friday will produce not only severe storms but also gusty winds hours before the main event.
Winds ahead of the rain and storms are expected to gust upwards of 30 mph over portions of the Southeast and upwards of 40 mph from Tennessee into the Ohio Valley.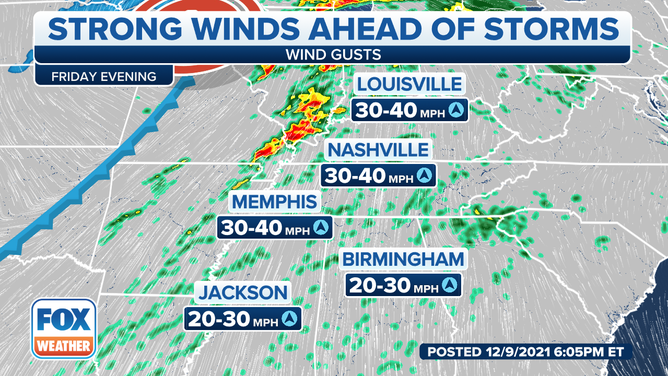 The National Weather Service Office in Louisville is advising everyone who might be in the path of the storm system to check on their holiday decorations before they become potential flying hazards.
Meteorologists say winds of 30 to 40 mph can easily lift and make airborne any inflatable that isn't properly tied down.
The experts at Christmas Central have several tips to keep those inflatable decorations from flying away.

They suggest using stakes, sand bags and even twine to keep Mother Nature from becoming the season's Grinch.
But if you want guaranteed success, you might have to temporarily store the holiday decorations until the threat of significant weather passes.

7 THINGS TO KNOW ABOUT SEVERE WEATHER THREAT TO MID-SOUTH AND SOUTHEAST
Outside of the gusty winds, cities such as Nashville and Memphis will be monitoring the threat of inclement weather.
Officials in Nashville will be watching the skies to make sure they can squeeze in the city's annual lighting of the Christmas tree on Friday evening before the rain moves in.
The event is expected to begin around 5:30 p.m. CDT, but a city representative warns the event is dependent on the weather. 
One of Memphis' largest holiday displays will also be monitoring for the threat of inclement weather. 
Shelby Farms Park's Starry Nights features more than 3.5 million lights as part of a drive-through holiday event.
Organizers say the nightly event will continue through the rain, but they could close the festivities if extreme weather conditions are expected. 
Before your family heads out for a holiday party or one of the many dazzling light displays, make sure to download the FOX Weather app to stay ahead of the storms.