7 things to know about severe weather threat to mid-South, Southeast
Severe weather threat from Friday night into Saturday morning
A storm system is expected to bring severe weather, including possible tornadoes, to the mid-South and Southeast Friday.
According to the latest models, cities in Tennessee, including Nashville and Memphis, have a very likely chance of severe weather, along with Louisville, Kentucky.
Ahead of the weather threat, here's what to know before the severe weather arrives. 
1. When is it expected to arrive?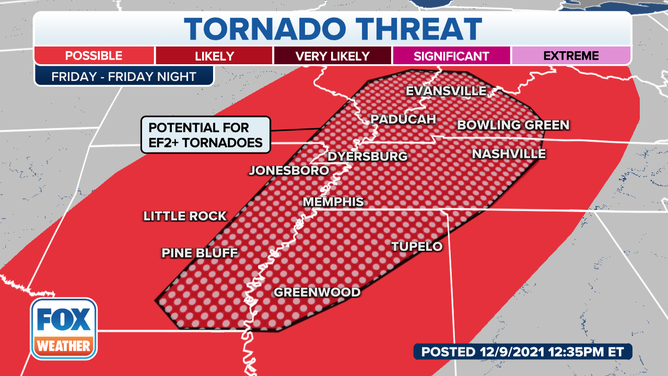 Forecasters at NOAA's Storm Prediction Center said severe thunderstorms, capable of spawning several tornadoes and damaging wind gusts, appear likely Friday afternoon and evening into Friday night from eastern Texas into the Ohio Valley. As the system continues moving, the threat will likely continue into Saturday morning. 
There's a higher threat for tornadoes, some of which could be strong, in eastern Arkansas, northwestern Mississippi, western Tennessee and western Kentucky. There's also a higher risk for tornadoes in southern Illinois, southern Indiana and southeastern Missouri.
2. Take these steps before you go to sleep
With the severe weather continuing overnight into Saturday, it's essential to have your phone charged and weather alerts turned on.
"Tennessee leads the country in nighttime tornadoes. We're No. 1," National Weather Service Warning Coordination Meteorologist Krissy Hurley said. "So having a severe weather event in the middle of the night it's not unusual."
Unfortunately, this is when most people are asleep with their phones on silent. 
"You need something that's going to wake you up. We have wireless emergency alerts that come on your cellphone, but if you have your cellphone on 'do not disturb' like a lot of people do, it's not going to wake you up," Hurley said.
Hurley recommends having more than one device, such as your cellphone and an NOAA radio to warn you if severe weather is approaching. 
Hurley also said residents should not rely on a siren sound to wake them up. Those are designed to warn people to shelter. If it's raining hard or there is a lot of wind, you likely won't hear the siren inside your home.
3. Prepare severe weather essentials 
Like a hurricane kit, there are some critical items to have during any severe water. A gallon of water per person is a good rule of thumb. Charge your cellphone to continue to get updates on the weather or have a battery-powered or hand-crank radio. Having flashlights, a first aid kit, and any medicines you might need should also be part of your storm preparations.
4. Plan where to shelter
If a tornado warning is issued. It's time to shelter. A basement is the best place to shelter. If one is not available, find a closet, bathroom or interior room of your home.
"You want to put as many walls between you and the exterior, the elements, where the damaging winds are," FOX Weather Meteorologist Ian Oliver explained. 
Hurley recommends having a shelter plan before you need it. Find the safest place in your home before tornado watches are issued.
5. Know the difference between a tornado watch and a warning
Tornado Watch: This means conditions are favorable for tornadoes to form. Monitor local weather reports and be prepared to take shelter if a warning is issued where you are.
Tornado Warning: This means a tornado has been indicated by radar or someone has seen it on the ground. Move to the lowest level of the building you're in, preferably a basement or storm shelter. Find a room in the center of the building and stay away from windows.
LEARN: What is a 'Particularly Dangerous Situation' tornado watch?
6. What to do if you are driving and there is a tornado
The best place to be in the event of a tornado is in an interior room or basement, but if you find yourself on the road with a tornado, you can take some steps. 
First, pull over and seek shelter. Look for a building or structure and move to the first floor away from windows. If no shelter is available, find the lowest point on the ground and lie down, covering your head with your hands. NOAA recommends getting as far away from your car as possible in that situation. Try to avoid places with trees or other objects that the tornado might pick up. 
Do not try to outrun the tornado. A tornado's path is unpredictable, and it can switch directions at random. 
MORE: This is what you should do if you are driving and there is a tornado on the ground
7. Prepare for damaging winds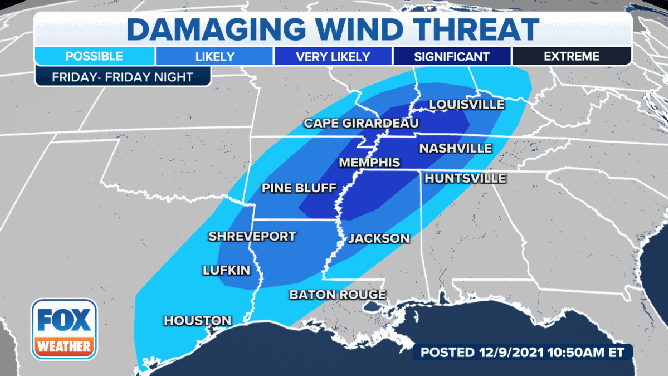 The primary threat from this storm system will be damaging winds with the possibility of tornadoes. Bring items inside that could blow away, including some Christmas decorations that are not secured.
Those stronger winds appear very likely from the lower and mid-Mississippi Valley into the lower Ohio Valley. That's also the area where the SPC has a higher risk for tornadoes.