Historic heat wave in Texas enters day 12 with hot temperatures expanding across Southwest
Thousands of power outages remain in Texas after severe weather and deadly tornadoes last week. The excessive heat could turn deadly, with many people having few options to escape the heat.
A historic heat wave baking Texas has entered its 12th consecutive day, and there's no end in sight as the dangerous temperatures begin to expand into other portions of the South and Southwest for at least the start of the new workweek.
Thousands of power outages remain in Texas after severe weather and deadly tornadoes last week. The excessive heat could turn deadly, with many people having few options to escape the heat.
Power outages improved from by Monday, however, energy officials are warning the heat wave will continue to set record power demand.
The Electric Reliability Council of Texas, or ERCOT, issued a Weather Watch in effect through June 30 asking Texans to voluntarily reduce energy consumption during higher demand periods. 
Austin Energy interim General Manager Stuart Reilly said in a news conference on Monday ERCOT is forecasting peak demand records every day this week. The power grid is expected to have enough supply to meet the demand, according to ERCOT.
Heat alerts expand across 9 states in South, Southwest
Heat alerts in effect on Sunday, June 25, 2023.
(FOX Weather)
---
More than 45 million people are now under heat alerts from the Southwest through the southern Plains and into the Mississippi Valley.
Of those, some 10 million people are under Excessive Heat Warnings in Arizona, New Mexico, Texas and Oklahoma, and more than 5 million are under Excessive Heat Watches in Louisiana, Mississippi and Alabama.
HEAT KILLS MORE AMERICANS THAN FLOODING, TORNADOES, HURRICANES OR LIGHTNING
Triple-digit temperatures likely in Arizona, New Mexico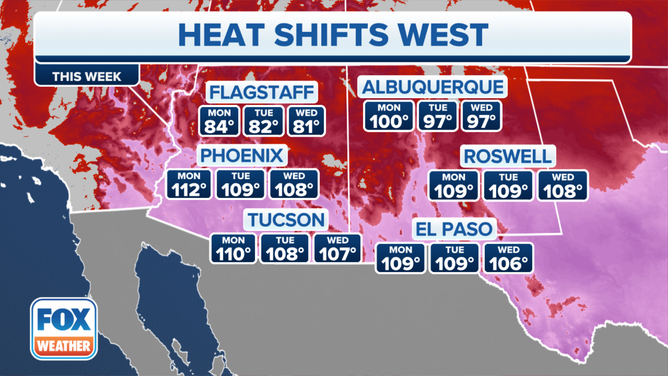 Texas, which has been dealing with these dangerous temperatures for nearly two weeks, won't be the only place where the excessive heat could lead to health emergencies such as heatstroke and heat exhaustion.
Millions of people in the Southwest, too, will have to take proper precautions to stay safe as the temperatures skyrocket.
Temperatures well above 100 degrees are forecast from Phoenix and Tucson in Arizona through Roswell in New Mexico.
The humidity will also make it feel hotter than it actually is, with "feels-like" temperatures also well above 100 degrees.
MINUTES MATTER: WHAT YOU SHOULD DO IF YOU SEE A CHILD LOCKED IN A HOT CAR
By Wednesday, the extreme heat will creep into the central Plains and mid-Mississippi Valley. The FOX Forecast Center is forecasting cities such as St. Louis, Memphis in Tennessee and Kansas City in Missouri to face high temperatures near 100.
No relief from the heat in Texas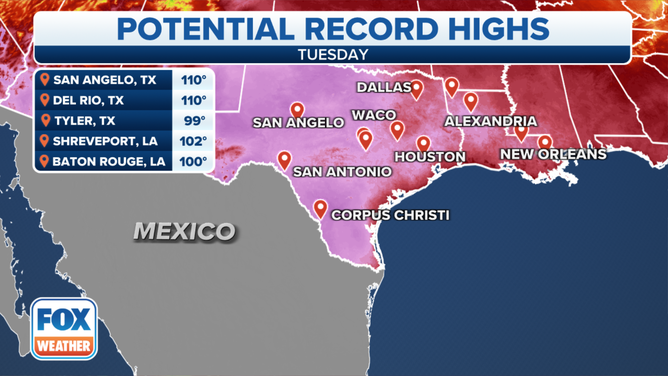 Much like it has been for 12 days now, temperatures will remain well above average and be dangerous for anyone outdoors exposed to the extreme heat for long periods.
Temperatures will be above 100 degrees from Dallas and Midland through San Antonio, Houston and Laredo.
The feels-like temperature on Monday will range from around 110 to 116 degrees statewide.
The extreme heat is causing events to be altered, including the Fort Worth Stockyards cattle drive. FOX 4 in Dallas says The daily afternoon walk is canceled through at least July 31.
More Texas records are potentially on the line this week. On Tuesday, records could fall in San Angelo, which just set new record-high temperatures last week. 
Temperatures have been so warm that the lowest temperatures of the day are also breaking records. 
Midland International Air and Space Port only dipped to 81 degrees on Sunday morning, breaking a 2003 record of 78 degrees for the lowest temperature on that day.
WHEN SECONDS MATTER: CHILDREN EXPERIENCE HEATSTROKE SYMPTOMS WITHIN MINUTES OF BEING IN A HOT CAR
There will be no relief from the heat as we enter into the new workweek across the South.
Triple-digit temperatures will also creep into portions of Louisiana on Monday, with Shreveport seeing a forecast high of 100 degrees and a feels-like temperature of 114.
New Orleans will also be baking under extreme heat, with feels-like temperatures of around 110.
HOW TO KEEP YOUR PETS SAFE AND HEALTHY AS TEMPERATURES RISE

By Tuesday, more areas of the South will be facing dangerously high temperatures.
Jackson, Mississippi, has a forecast high temperature of 96 degrees, but it will feel like it's around 106.
Feels-like temperatures between 110 and 115 degrees will again dominate the headlines in Texas on Tuesday.
Intense heat likely to linger into July
The long-range temperature outlook from NOAA's Climate Prediction Center.
(FOX Weather)
---
The FOX Forecast Center is tracking long-range forecast models indicating the overall pattern leading to this extreme heat will linger into early July. What makes this especially dangerous is the number of consecutive days with heat indices close to or above 100 degrees.
Drink plenty of water, and avoid caffeinated or alcoholic beverages. Officials have also asked people to limit their time outdoors and take frequent breaks in air-conditioned spaces or the shade if they must be outside. Experts encourage people to wear lightweight and light-colored clothing.