High winds, rain sweep through East on Monday before much colder temperatures arrive
More than 40 million people are under wind alerts Monday
A strong cold front is sweeping through the East with high winds and rain on Monday as severe thunderstorms threaten the South.
More than 40 million people are under wind alerts – either a High Wind Warning or a Wind Advisory – from the Plains to the Midwest to the Northeast. An 80-mph gust was clocked in northern Colorado on Sunday evening.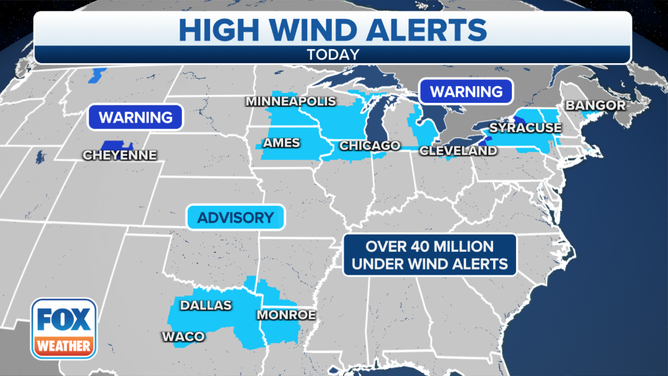 The strongest winds will likely impact parts of southeastern Wyoming, where 65-mph gusts are predicted to create dangerous crosswinds for lightweight and high-profile vehicles, including campers and tractor-trailers. High Wind Warnings are posted in this region.
In the East, gusts could reach 60 mph in parts of western and north-central New York, particularly east of lakes Erie and Ontario, where High Wind Warnings are also in effect. These strong winds are capable of blowing down trees and power lines and will make travel difficult, especially for high-profile vehicles. The National Weather Service office in Buffalo, New York, said it expects widespread power outages on Monday.
Elsewhere in the Midwest and Northeast, wind gusts are forecast to be in the 45- to 55-mph range, which can still knock down some tree limbs and blow around any unsecured objects such as holiday decorations. A few power outages are possible as well.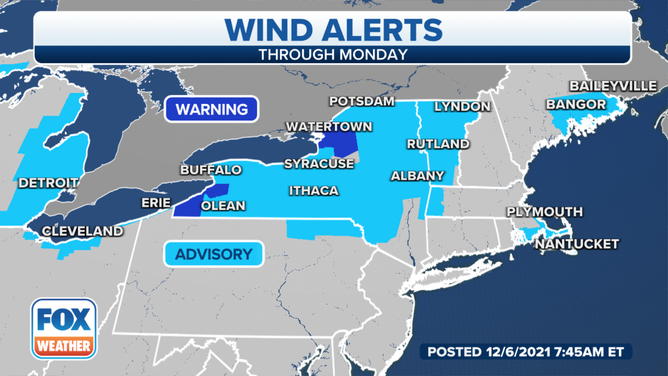 In addition to the high winds, the cold front will push an area of rain across the Northeast and mid-Atlantic on Monday.
No severe thunderstorms are expected in this region, but farther south, there's a threat for severe storms from eastern Texas to the Southeast. Damaging wind gusts, large hail and isolated tornadoes are all possible.
SOUTHERN U.S. COULD SEE MORE SEVERE STORMS, INCLUDING TORNADOES, AS COLD FRONT MOVES THROUGH MONDAY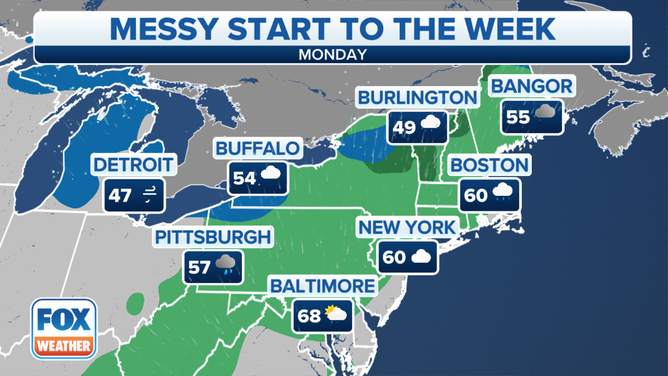 Rainfall amounts through Monday night will be less than a half-inch in most areas of the Northeast. However, locally higher amounts are possible in some spots.
The South has the best risk for higher rainfall totals upwards of a half-inch to an inch. Some areas in the lower Mississippi and Tennessee valleys could even see more than an inch of rain on Monday.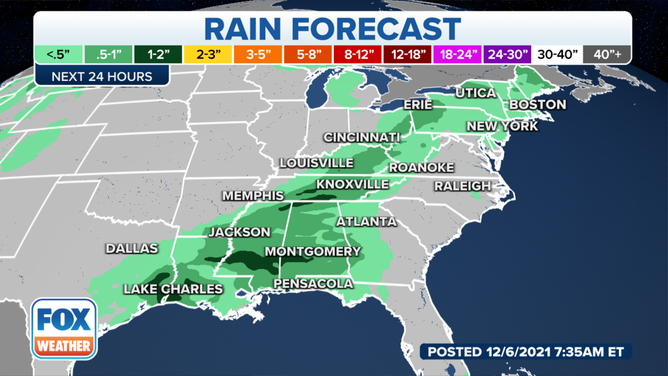 Back to the west, snow was continuing to fall Monday morning over parts of the upper Midwest, where more than a foot of snow piled up over the weekend.
WHICH IS THE SNOWIEST MONTH OF THE YEAR?
A Blizzard Warning remains posted for the Arrowhead of Minnesota, while a Winter Storm Warning is still in effect for parts of northern Wisconsin and the western Upper Peninsula of Michigan. Winter Weather Advisories cover a broader area from northern Minnesota to the western half of Lower Michigan.
As much as 16 inches of snow was measured in Finland, Minnesota, while 12.8 inches of snow was reported in Pinnacle, Montana, and 12 inches was recorded in both Brampton and Cornell, Michigan, over the weekend.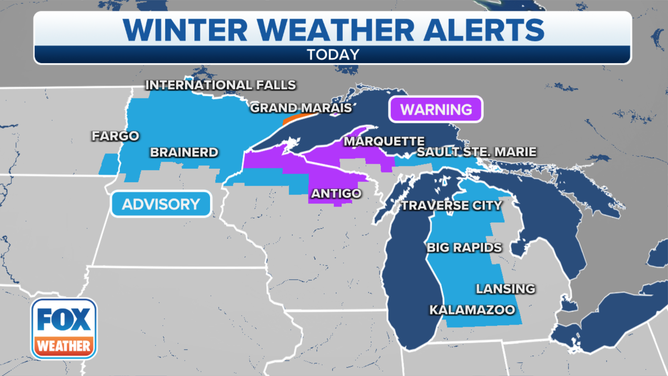 After a mild start to the workweek Monday, much colder temperatures will quickly arrive behind the cold front in the Midwest and Northeast.
Overnight lows are predicted to dip into the teens in parts of the upper Midwest and Ohio Valley Monday night, while lows in the 20s are expected across the interior Northeast.
The cold weather will stick around for much of the week ahead as well.