High Plains face critical fire weather fueled by wind, dry conditions
Major wind event Wednesday will elevate fire threat across the High Plains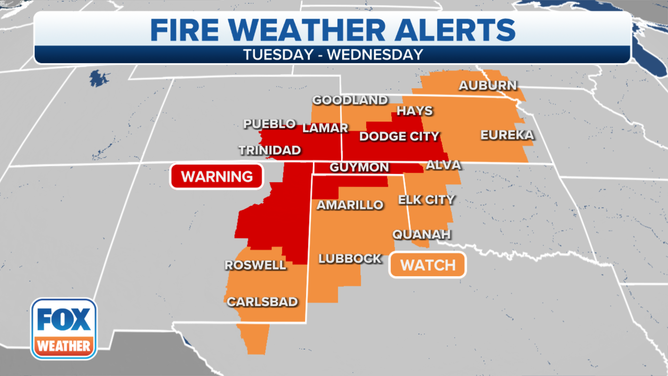 Dry and extremely windy conditions will fuel critical fire weather across parts of Texas, Oklahoma, Kansas and Colorado over the next two days, according to the National Weather Service Storm Prediction Center outlook.
According to the SPC, volatile fire weather is expected through Wednesday in the High Plains as a "potent mid-level shortwave trough" ejects into the area creating dangerously windy conditions combined with arid surface conditions.
The NWS has issued High Wind Warnings from Texas, Oklahoma and Colorado into Missouri, Iowa and South Dakota, with the potential for gusts over 70 mph.
MORE: 'Historic' damaging wind event, severe storms possible in central US Wednesday
 
On Tuesday, northeast New Mexico into southeast Colorado and northwest Oklahoma into west-central Kansas will be facing critical fire danger. On Wednesday, as the wind picks up, northern parts of the Texas panhandle, Oklahoma panhandle and western to central Kansas are under extremely critical fire weather risk.
Conditions will be hazardous in areas with no recent rainfall. Amarillo, Texas last recorded rain 63 days ago, and the grass is parched.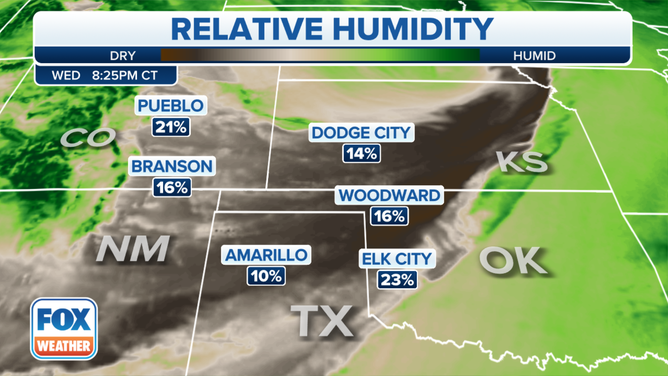 The NWS Office in Amarillo warns "potentially significant fire weather day may develop on Wednesday." The grass is extremely dry without rain, and wind gusts could peak over 70 mph.
Fire danger timeline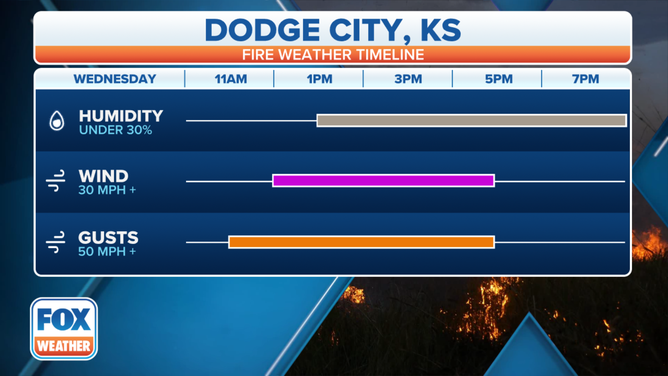 Across southwest Kansas, the fire weather conditions begin to elevate Tuesday afternoon. According to the NWS Office in Dodge City, gusty winds over 30 mph and low relative humidity will upgrade fire weather conditions to near-critical. Relative humidity will be between 10 and 15%.
From 9 a.m. to 5 p.m., much of Colorado is under a high wind warning Wednesday. Dangerous fire conditions are also possible. 
By Wednesday afternoon, extremely critical fire weather conditions will develop as relative humidity plummets down into the teens and high winds gusting between 60 and 70 mph.
The most extreme threat will last between 3 and 5 hours Wednesday afternoon, and conditions will gradually improve around sunset as the winds die down, according to the NWS Dodge City.