More than 88 million under wind alerts ahead of 'historic' event
Some parts of the central US could see gusts over 70 mph
A potentially "historic" damaging wind event could unfold across the central United States Wednesday before a round of severe storms could impact parts of the Upper Midwest.

High Wind Warnings stretch from the Desert Southwest to the Great Lakes, as forecast models show wind gusts of more than 70 mph are possible as a winter storm develops over the eastern Rockies.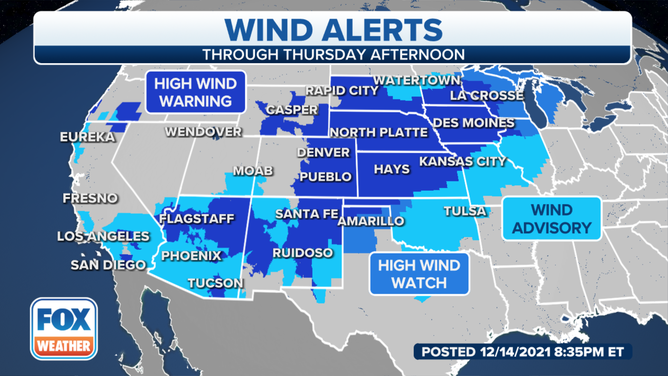 The National Weather Service in Amarillo, Texas, said damaging winds are likely starting Wednesday morning, especially in the northern parts of the Texas and Oklahoma panhandles, where the gusts could approach historic levels.

Gusts are expected to reach over 60 mph by late morning, with some 70-mph gusts possible.
Forecasters expect the strong winds in that area to occur between 10 a.m. and 3 p.m. Central time before they gradually decrease. Those winds could result in blowing dust, with the visibility dropping to near zero in some areas, according to the NWS.
Batten down the hatches: What you should know about High Wind Warnings
The threat for damaging winds extends into Kansas on Wednesday afternoon. Most areas in that state are expected to gust between 60 and 70 mph, with some locally stronger gusts possible before the winds begin to drop off later in the afternoon into Wednesday evening.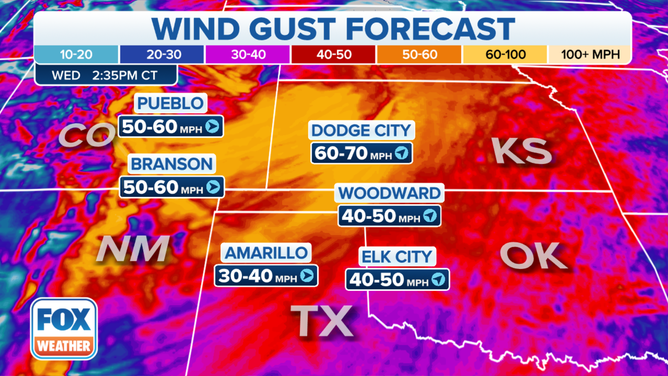 Colorado could also see some destructive winds as well. The NWS in Boulder says wind gusts of 60-80 mph are anticipated, but some of those gusts could reach 100 mph in and near the foothills of the Rocky Mountains.
In eastern Nebraska and southwestern Iowa, sustained winds of 25 to 35 mph, with gusts as high as 55 to 75 mph, are also possible, which could bring down trees and power lines across the region. Travel will also be hazardous for tractor-trailers.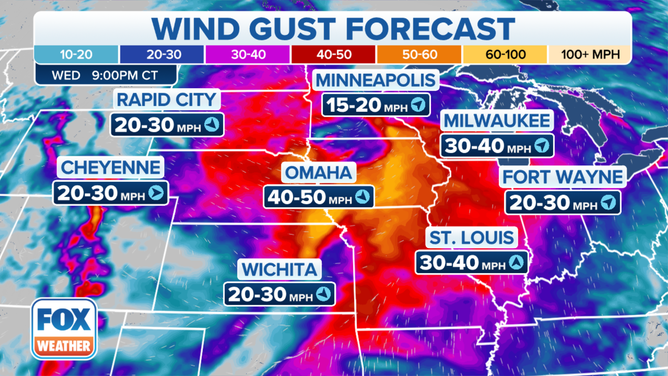 The NWS in Des Moines said this wind threat has the potential to be the strongest wind event in Iowa not associated with thunderstorms in several years.
"Many recall November 10, 1998, which was a long duration high wind event over Iowa but did not have the max wind this storm may have," the NWS said in its forecast discussion Tuesday morning.
Severe storm threat
In addition to the high winds expected Wednesday, there's also the possibility of strong to severe thunderstorms from parts of northwestern Arkansas and northeastern Oklahoma northward into Iowa and southern Minnesota. The greatest threat for severe weather will be from south-central Minnesota into central Iowa.
Storms will begin to form in eastern Nebraska during the afternoon and will quickly push into Iowa later in the afternoon into Wednesday evening.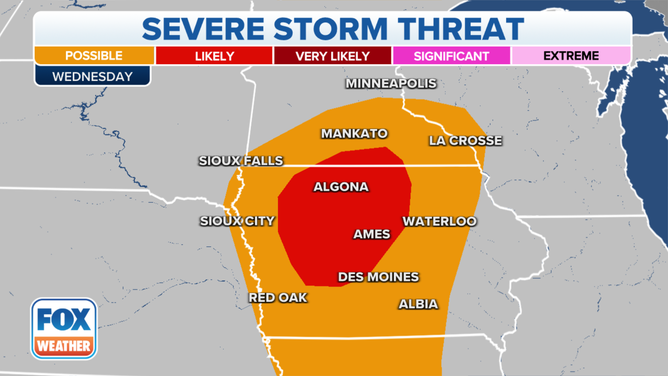 By about 7 p.m. Central, the line of strong to possibly severe thunderstorms will be located across southern Minnesota and Iowa. The strongest winds are expected to be along that line, which increases the chances for damaging straight-line winds as these storms move through.
These storms are expected to be moving quickly across the region, as the line could begin to exit eastern Iowa by 10 p.m. or 11 p.m. Central Wednesday night.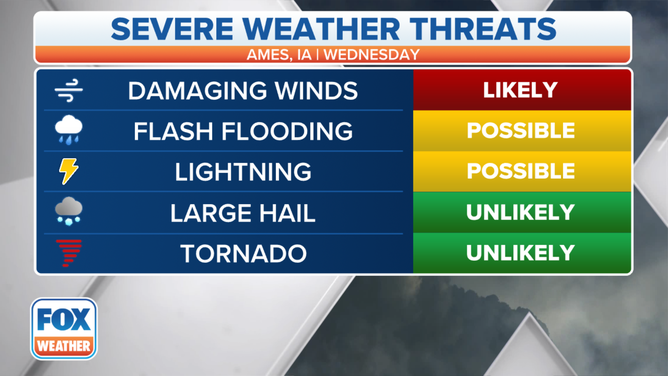 While the main threat from these storms will be the damaging winds, there is also the potential for flash flooding and plenty of lightning. An isolated tornado is also not ruled out.