Headed to the polls? Here's your weather forecast for Election Day
Expect cooler-than-average temperatures through most of the country on Election Day, with a few pockets of scattered showers in the Northeast and the Plains
NEW YORK – It's Election Day across the country. Let's look at how the weather is shaping up for those heading to the polls Tuesday.
Voters across the U.S. will decide on critical gubernatorial elections, mayoral seats and municipal elections directly impacting their communities. If you were thinking about going to vote, it is highly recommended that you do it earlier rather than later. Because the later it gets, the more likely it is that you could end up seeing some rain showers in parts of not only Virginia, but also New Jersey. 
FOX Weather is forecasting cooler-than-average temperatures through most of the country on Election Day, with a few pockets of scattered showers in the Northeast and the Plains.
COLD AIR INVADES U.S. TO START NOVEMBER
Northeast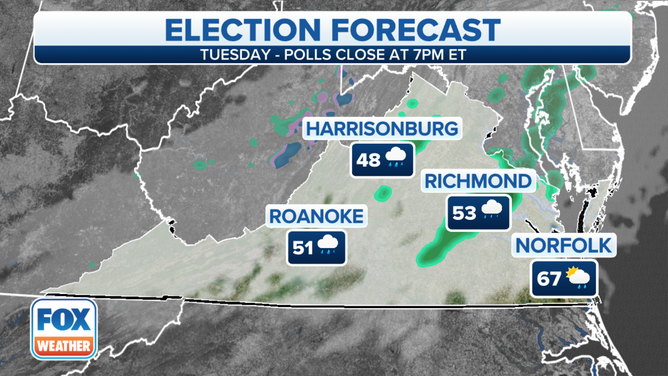 Along the coast, temperatures will be in the 50s from New York through Philadelphia. Even Richmond will have a chance of a spotty shower. You can expect showers in Syracuse, New York, and Pittsburgh as well. Detroit will reach a high of 46 degrees, and Cincinnati will hit 50 degrees with a mix of sun and clouds.
New Jersey is one of two states where gubernatorial races are on the ballot. Democratic Gov. Phil Murphy is seeking a second term, while Republican Jack Ciattarelli is vying to flip the state's top-elected position. All 120 New Jersey state legislature seats are also on the ballot, NJ.com reported.
Incumbent Larry Krasner is facing off against Charles Peruto Jr. in a bid to remain Philadelphia's district attorney.
In Miami, where Mayor Francis Suarez hopes to secure a second term on Election Day, voters who head to the polls will enjoy temperatures in the lower 80s.
Southeast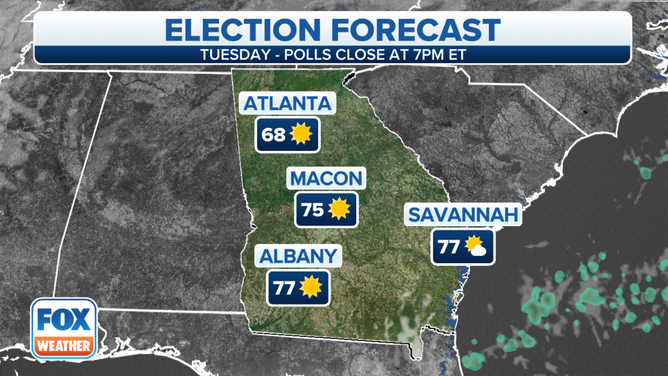 It will be another fantastic day for the Southeast on Tuesday, with temperatures ranging from 65 degrees in Raleigh, North Carolina, to the upper 60s for Atlanta, the mid-70s for New Orleans and the lower 80s for Central and South Florida.
However, over the next couple of days, cold fronts sliding south and eastward will take some of these temperatures from Jackson, Mississippi, to Raleigh and knock them down about 10 to 15 degrees.
After Atlanta Mayor Keisha Lance Bottoms decided not to run for re-election, the city hall's top seat is up for grabs. There are 14 people on the ballot running for office.
Central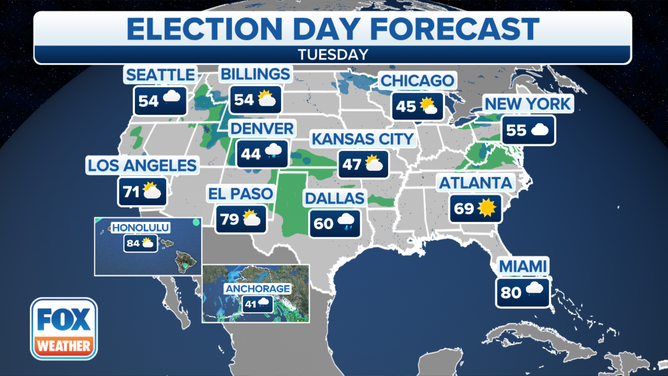 The cold air mass will really sink southward on Tuesday, with a high of 53 degrees in Memphis, Tennessee. It will also be 10 degrees below average in Dallas, with a high of 62 degrees and a chance for rain. In western Kansas, some of those rain showers could mix with wet snowflakes. 
In Minneapolis, where the mayoral race will be decided by rank-choice voting, highs will be in the lower 40s through Wednesday. 
WHEN CAN YOU EXPECT THE FIRST SNOW OF THE SEASON?
West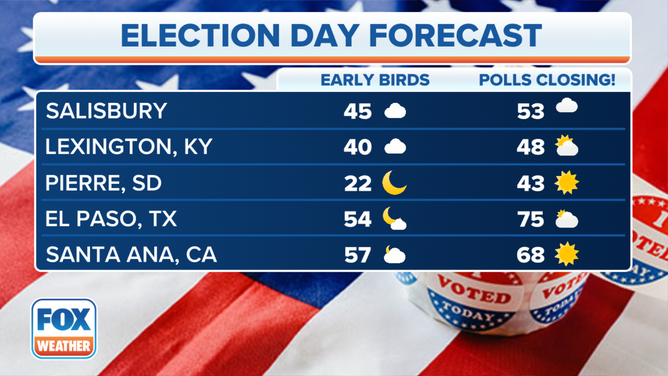 Get ready for more rain arriving across the Pacific Northwest, but more so later in the afternoon and throughout the evening Tuesday. Temperatures will be a bit cooler, with the upper 60s and lower 70s across California.
Don't worry: That marine layer will start to clear out, cloud cover decreasing in Los Angeles for the afternoon. The steady rain across Salt Lake City Tuesday morning will start to break apart, becoming more scattered in the afternoon. Cloud cover will be pretty thick across the state of Colorado.
Can weather impact voter turnout?
It's no surprise that weather can play a role in voter turnout. Absentee or mail-in ballots can help prevent low voter turnout in states where that's an option, but by now, those ballots will have been mailed in or need to be dropped off at your local election office. 
An off-year election cycle means millions of voters won't have a race to cast a ballot, but for those who do, experts say Mother Nature could have a say on what side wins.
Dr. David Richards, an associate professor and political chair at the University of Lynchburg, is watching the Virginia governor's race closely and said that the smallest impacts could significantly influence who will claim victory.
No matter what the weather is like on Election Day, political experts stress the final results ultimately depend on voters' enthusiasm to get to the polls. 
Download the FOX Weather app to help plan for forecasts on future election days.