Streaking in the 90s: Cities across US set records for heat waves of 90+ degrees
There were 37 cities across all four Lower 48 time zones have set all-time records for consecutive days at 95 or warmer this summer.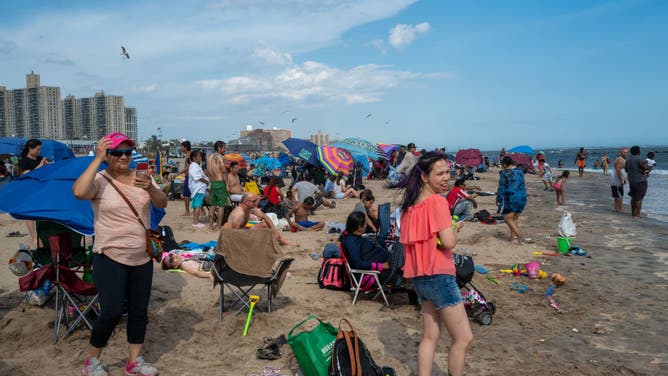 An extended heat wave gripping the Northeast over the past several days sets records for consecutive days with sweltering temperatures.
It came a week after a heat wave baking the Pacific Northwest toppled similar records. In Texas and other parts of the South, summer has been just one weeks-long (months-long?) blow torch.  NOAA recently announced July was the third-hottest in the nation.
It hasn't just been that the summer has had a few really hot days here and there, but periods of extended stretches of heat that have set records, such as consecutive days at or over 90 degrees… or even hotter.
HOW TO WATCH FOX WEATHER ON TV
And records haven't been bounded by geographical region, with multiple areas of the country sweltering at times.
Take a look at the impressive spread of records:
Consecutive days at 90 degrees or hotter
Huntsville, Texas leads the record streakers for 90+ days with 69, with Denton, Texas not too far behind with a record 63-day streak. Out east, Rocky Mount, North Carolina had a 26-day streak of 90s, while on the opposite coast, usually mild Seattle set their all-time record for consecutive days at or above 90 at six.
Other cities just missed their record with 60 straight 90+ days in Lakeland, Florida notching second place, as did Salt Lake City with a 41-day stretch and Burlington, Vermont at 6.
Consecutive days at 95 degrees or hotter
There were 37 cities across all four Lower 48 time zones have set all-time records for consecutive days at 95 or warmer this summer. Out west, Portland broke its 95+ day record with a week-straight of sweltering heat, while Reno made it more than three weeks (22 days) hitting at least 95. Houston stretched the heat even further, notching a record 40 days in row at or above 95.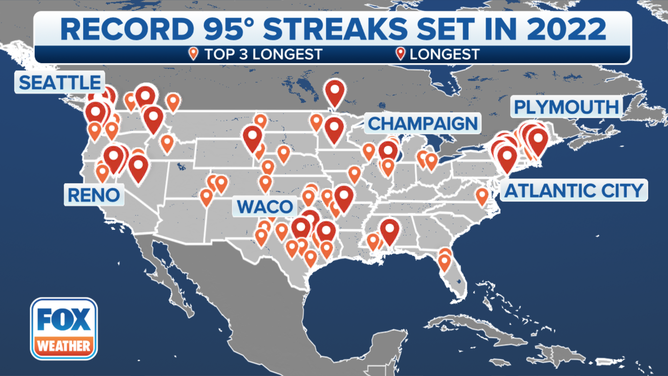 Waco, Texas managed to spend more than two months above 95 with a record 67 consecutive days reaching the mark, but only reaching 95 might have been welcomed relief there. More on why soon.
Several other cities endured multiple days of 95+, only to notch second place to show for it.  Some record runner-up streaks included Boston (6), New York City (5), Providence, Rhode Island (6), Lubbock, Texas (39), and Spokane, Washington (9).
Some large cities managed a third-place streak, including Sacramento (16), New Orleans (11), Oklahoma City (29) and Burlington, Colorado (11).
Consecutive days at 100 degrees or hotter
Those seemingly endless days in the 90s are hot enough, but some towns sweated through record triple-digit streaks!
San Angelo, Texas rattled off a whopping 36 straight days at 100 degrees or warmer, their all-time record. 100-degree temps are no stranger to Bakersfield, California in the summer, but getting 25 days reaching that mark in a row was a new experience for them. Muskogee, Oklahoma went more than two weeks over 100, netting 15 days in row.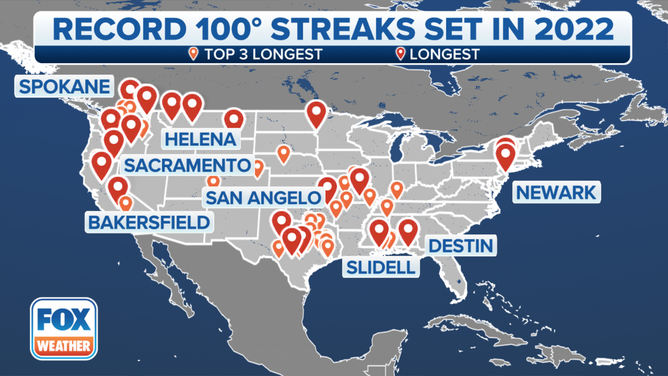 Several cities again came in second for 100-plus heat streaks; hardly a consolation for that amount of heat.  Both Austin and Huntsville, Texas had 21 straight days of 100, joining Fresno and Lancaster in California with similar streaks.
3rd-hottest July on record for U.S.
The relentless heat added up to the U.S. reaching its third-hottest July on record, according to NOAA.
The average temperature across the contiguous U.S. in July was 76.4 degrees F -- 2.8 degrees above average.  Only July 1936 and July 2012 were hotter.
Texas felt the brunt of the heat, reporting its hottest July, May-July and April-July on record, NOAA says. Near-record warmth also covered locations from the Pacific Northwest to the south-central U.S., and across parts of the Northeast.
Oregon had its fourth-hottest July on record, with Colorado, Florida, Louisiana, New Mexico, Oklahoma and Rhode Island sweltering through their top-five warmest Julys on record.