Heat relief on the way for millions across US after record-breaking temps scorch Midwest, South
A cold front pushing through the southern tier of states will break the heat wave and take temperatures closer to average.
After a relentlessly hot summer, southern states will finally get a bit of relief. A hint of fall drops temperatures for the last days of August.
"This should be the final day with heat headlines," wrote the NWS in New Orleans about Monday. "We will not be as hot with temperatures 'only' in the upper 90s to near 100 degrees." 
And Louisiana is not alone. A cold front is headed for the Gulf Coast which will spell out more seasonal temperatures to start the work week.
Southern states cool down.
(FOX Weather)
---
On Monday, nearly 17 million people will feel high temperatures 10 degrees or more above average. Tuesday, the number drops to 11 million, and by Thursday, the number drops to under 1 million.
The Midwest already felt the cooler air behind the front over the weekend. After Chicago hit 100 degrees on Thursday, the first time since 2012, and felt the highest heat index on record of 120 degrees, weekend highs dipped back to the mid-70s. 
But the South and Gulf Coast continued to sizzle. The Atlanta NWS office even had a little fun with the excessive heat. They taped crayons to cardboard to see if they would melt. And yes, they did.
Come Monday, Houston finally drops below 100. Jacksonville, Florida, won't get out of the 80s midweek. However, those cities will flirt with record highs on Monday, along with Orlando, New Orleans and Mobile in Alabama.
LOUISIANA GOVERNOR ASKS FOR PRAYERS AS WILDFIRES RAGE, THOUSANDS REMAIN UNDER EVACUATION ORDERS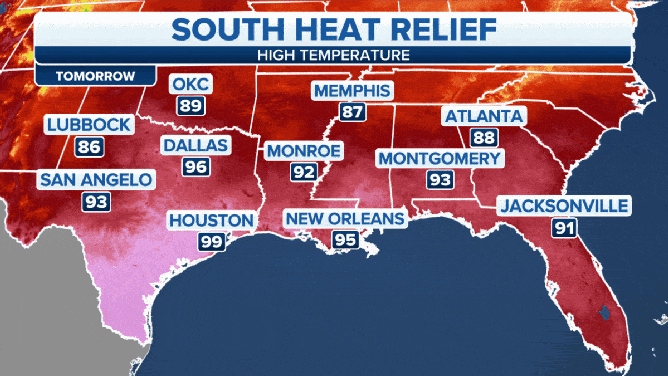 Highs start falling Monday, with humidity, though some may not notice it. Feels-like temperatures will still be in the triple digits for many. The NWS New Orleans said don't be surprised by Heat Alerts even with the cool down.
"Low-level moisture quality will increase, leading to higher RH (relative humidity) values across the forecast area due to moisture pooling along and just ahead of the frontal boundary," the NWS New Orleans wrote. "This could send heat index values into the excessive/dangerous thresholds again prior to any development of afternoon convection."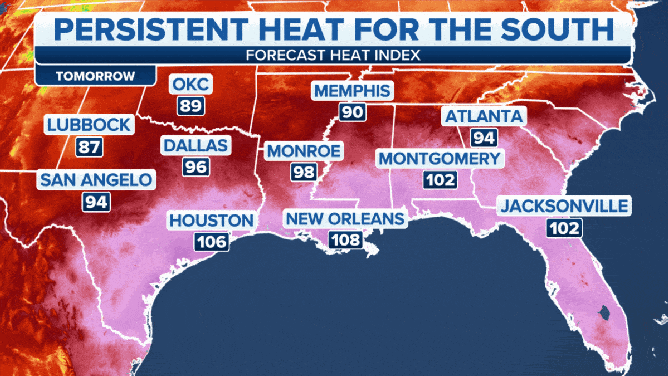 Clouds from Tropical Storm Idalia will also knock Florida, Georgia and Alabama temperatures down on Wednesday.