Hawaii under Flood Watches as several inches of rain soak the tropical islands
Flood Watches remain in effect for most of the islands into Monday afternoon as a strong area of low pressure soaks the state from east to west. Some areas are reporting 4 to 8 inches of rain so far, with over 20 inches in some of the mountains of Maui and Molokai.
HONOLULU – Hawaii is famous for its sunny and warm beaches, but Mother Nature still has something else in mind Monday as the islands continue to get hit with heavy rain and high winds to kick off the week.
Flood Watches remain in effect for most of the islands into Monday evening as a strong area of low pressure soaks the state from east to west, dropping several inches of rain on some of the islands, or in a few cases, more than 2 feet of rain.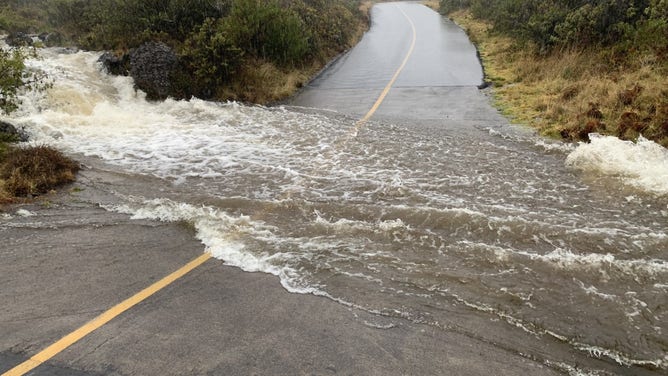 Rainfall totals widely vary depending on terrain and whether it faces the wind, but on Maui and Molokai, some storm totals have reached 17 to 25 inches on the windward side of the mountains. Kahului and Wailuku reported 3 to 6 inches over the past 72 hours.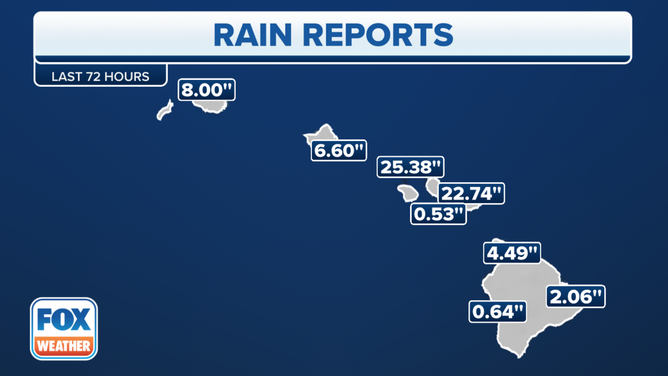 "Heavy rain throughout Friday across windward Maui closed roads, flooded low-lying areas and reportedly contributed to at least one serious injury," according to Hawaii's Emergency Management Agency. 
The injury was to a Maui County firefighter, who was caught in a 4-foot-wide storm drain while responding to flooded homes and was carried 800 yards to where the drain emptied into the ocean, according to Maui News, quoting a county spokesperson. The firefighter was reportedly in critical condition.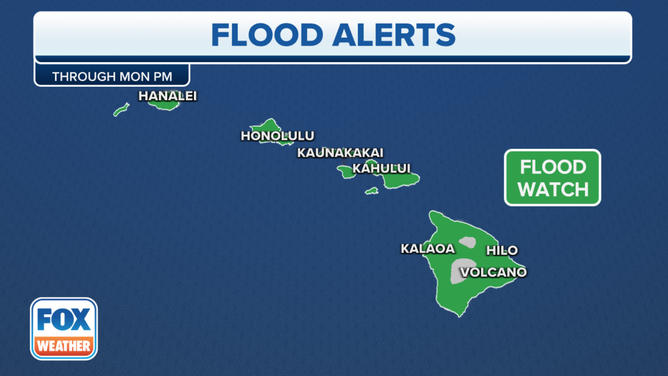 On Molokai, similar 24-hour rain totals of 4 to 8 inches have been observed, with the rain gauge at 3,800 feet atop Puu Alii recording over 25 inches in 72 hours. Homes were flooded in the Kawela Gulch area, according to the National Weather Service office in Honolulu. All schools on the island were closed Monday. 
Heavy rains spread to the western islands as the storm progressed. On Kauai, the Kuhio Highway was shut down near Hanalei on Monday as water covered the roadway amid torrential rains falling at rates of 1-3 inches per hour. Flash Flood Warnings were in effect for the northern half of the island through mid-morning. 
Wind Advisories are also posted for Oahu, Kauai and Niihau through Monday morning for gusts to 50 mph.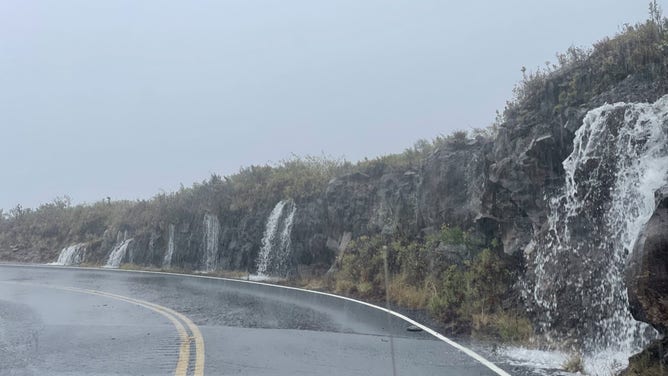 "This weather pattern presents several different hazards at different places within the state, and we're urging our residents and visitors to be careful and prepared," Luke Meyers, Administrator of the Hawaii Emergency Management Agency, said in a news release.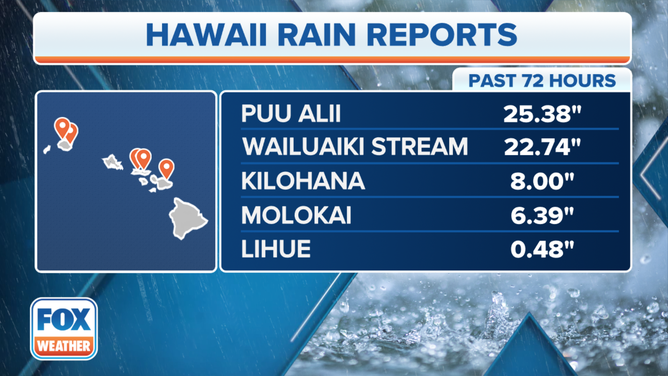 The storm was even bringing winter weather and near-blizzard conditions to the Big Island's tallest peaks. 
Winter Storm Warnings were in effect until Monday evening for periods of heavy snow accumulating over 12 inches and wind gusts up to 60 mph at the summits of Mauna Loa and Mauna Kea.
HURRICANE INIKI 30 YEARS LATER: HOW A MONSTER STORM IN HAWAII IMPACTED FILMING OF JURASSIC PARK
"Travel could be very difficult to impossible," the NWS said. "Snow will significantly reduce visibility at times."
Drier weather will return to the region later Tuesday and the rest of the week for more typical beach weather.