Gusty winds, heat escalate fire conditions across Southwest
An expansive area of critical fire weather conditions is expected to develop Friday and Saturday that could hamper any progress being made on active wildfires
After somewhat of a lull in fire weather conditions earlier this week, widespread critical fire danger has returned to the Southwest.
HOW TO WATCH FOX WEATHER ON TV
An expansive area of critical fire weather conditions is expected to develop Friday and Saturday that could hamper any progress being made on active wildfires.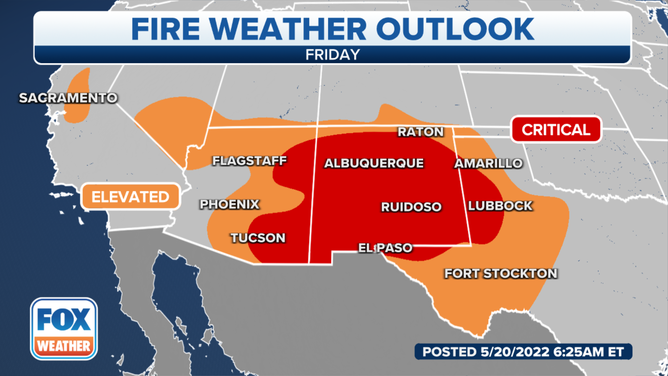 New to the outlook since Thursday includes elevated fire weather conditions in California. Gusty northerly to easterly winds Friday across the interior of Northern California are expected, the National Weather Service said. These winds will create fire weather conditions for most locations below 2,500 feet. The strongest winds will be from Friday morning into early afternoon.
HOW THE LAY OF THE LAND AFFECTS WILDFIRE BEHAVIOR
The NWS in Albuquerque, New Mexico, said critical to locally extreme fire weather will continue Friday with strong west-southwesterly winds, low humidity, well-above-average temperatures and an unstable air mass. Any fires will spread rapidly and become hard to control.
MAKING SENSE OF WILDFIRE JARGON
Dry conditions and strong winds will bring dangerous fire weather conditions to almost all of northern Arizona on Friday where Fire Weather Warnings have been posted from 10 a.m. to 8 p.m. local time.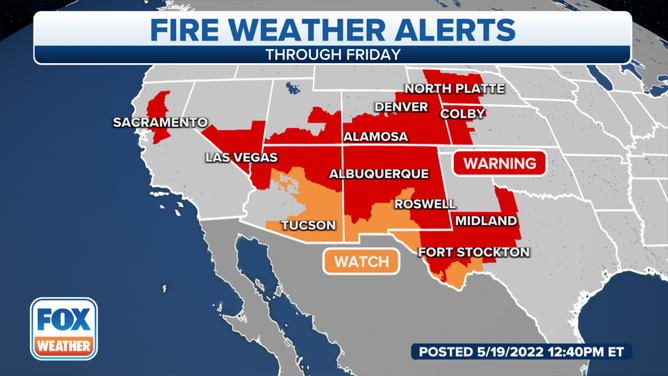 Strong southwesterly winds will develop across the state on Friday with gusts 40 to 55 mph. Driving may become difficult, especially for high-profile vehicles. Areas of blowing dust and poor visibility are also possible across northeastern Arizona.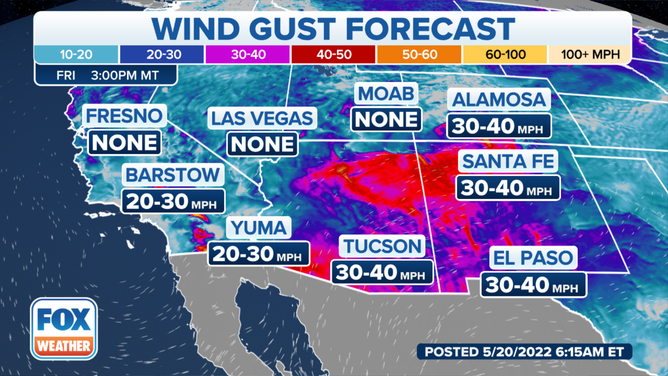 The air quality will remain a concern for the Southwest and Southern Plains over the next few days.
CLICK HERE TO GET THE FOX WEATHER UPDATE PODCAST
Officials are warning anyone living or working in areas with an increased risk of wildfires to try and limit any activities that could cause a spark leading to a fire and to dispose of cigarettes properly.