16 million along Gulf Coast under threat for severe storms on Father's Day
More than 16 million Americans from Arkansas and Louisiana to Florida are at risk of seeing more severe thunderstorms on Father's Day
Severe thunderstorms swept across portions of the Plains and Mississippi Valley Saturday and early Sunday morning knocking out power to more than half a million people from Oklahoma to Mississippi as millions along the Gulf Coast brace for another round of severe weather on Father's Day.
Sunday marks nine straight days of widespread severe weather reports across the South, which include deadly tornadoes, large hail reports and damaging wind gusts.
Hundreds of damage reports have been received from the severe weather that swept through the Plains and Mississippi Valley on Saturday.
In Oklahoma, damage assessments are underway in Tulsa after the powerful storms tore through that city.
The NWS in Tulsa issued a destructive Severe Thunderstorm Warning for the Tulsa area early Saturday morning, and a 100 mph wind gust, which is as strong as a Category 2 hurricane, was reported.
The storms even knocked out power to Tulsa International Airport (TUL) when the storms rolled through, but airport officials say the power has since been restored.
The Oklahoma Department of Transportation tweeted Sunday morning and advised motorists to remain home if possible on Father's Day or use extreme caution when driving through the Tulsa metro as first responders and officials continue to assess and respond to storm damage across the region.
The storms were so powerful in Norman, Oklahoma, that a police K-9 went missing when one of the kennels blew open. Police had posted to Twitter that they were searching frantically for K-9 Odin after the storms and safely located him early Sunday morning. 
The storms continued to cause damage as they pushed off to the east, including numerous reports of trees and wires down in Arkansas, Louisiana and Mississippi.
More than 14 million at risk of severe weather on Father's Day
The severe weather risk on Sunday, June 18, 2023.
(FOX Weather)
---
More severe weather is expected across the South and along the Gulf Coast on Sunday, with more than 14 million Americans from Arkansas and Louisiana to Florida seeing the highest risk.
The risk of severe weather is at a level 3 out of 5 on the NOAA Storm Prediction Center's severe weather risk scale across southeastern Arkansas and northeastern Louisiana and across most of Mississippi, southern Alabama and extreme western portions of the Florida Panhandle.
A current look at active Severe Thunderstorm Watches on Sunday, June 18, 2023.
(FOX Weather)
---
Any of the thunderstorms that develop on Sunday will be capable of producing large hail, damaging wind gusts and tornadoes.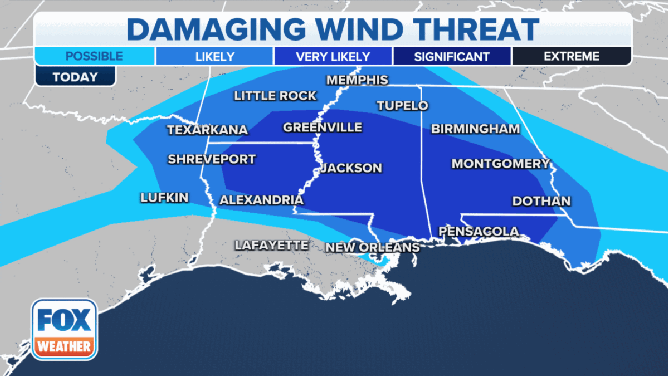 The area where those threats are highest stretches from southeastern Arkansas and northeastern Louisiana through Mississippi, southwestern Alabama and the Florida Panhandle.