Ground stops at East Coast airports likely to have ripple effect across the country
More than a foot of snow has fallen across some parts of the mid-Atlantic
A winter storm producing heavy snow across the mid-Atlantic has led to ground stops at airports in Washington, D.C. and Baltimore that will likely have a ripple effect across the country.
Problems began at Reagan National Airport in Washington, D.C., just after 8 a.m. Monday when the Federal Aviation Administration grounded departing flights because of the snow. That ground stop has been extended several times and will likely remain in effect until at least 4 p.m. Eastern.
And while the ground stop is in effect, crews have been hard at work trying to clear runways and taxiways of snow and ice to be ready when the stop is lifted. However, the damage has been done.
Nearly 650 flights have been canceled due to the winter storm, and more than 50 have been delayed. Those numbers are likely to increase as Monday continues and snow continues to fall.
First winter storm of 2022 dumping heavy snow across mid-Atlantic on Monday
Earlier on Monday, a ground stop was also issued for Baltimore-Washington International Airport and has since been lifted. However, delays are anticipated as planes waiting to depart will need extra time to be sprayed with deicing fluid to remove snow and ice.
Delays have also been reported at Philadelphia International Airport and Dulles International Airport in Virginia, so aircraft can go through deicing before departing. Atlantic City International Airport was closed Monday due to the storm.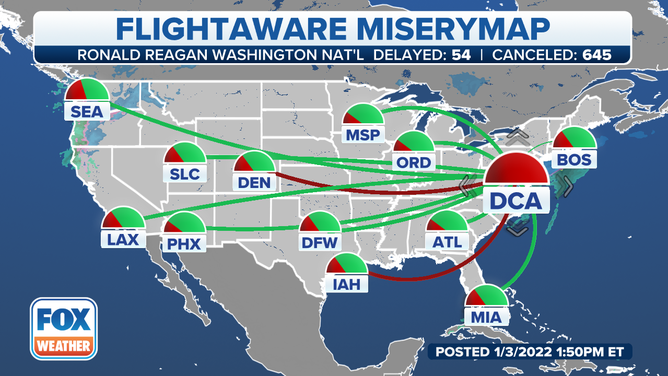 Those flight disruptions in the mid-Atlantic will likely cause problems at airports across the country. For instance, flights at Reagan National Airport that weren't allowed to take off to destinations like Miami, Houston, Los Angeles and Seattle earlier in the day prevented thousands of passengers from catching connecting flights or getting to their final destinations.
Those delays and cancelations also mean aircraft won't be arriving at other airports to pick up passengers. So even in places where the weather isn't an issue, they, too, will likely run into problems getting people onto flights.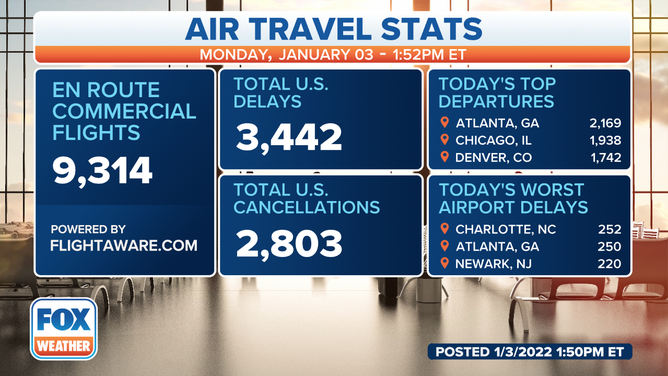 On Monday afternoon, more than 9,000 flights were in the sky above the United States. So far, nearly 3,000 flights have been canceled, and more than 3,400 have been delayed.
The worst delays have been reported in Charlotte, North Carolina, Atlanta and Newark.
This latest disruption to travelers comes after Fox Business reporter Jeff Flock reports 2,700 flights had been canceled on Saturday with more than 9,000 delays. Sunday was about the same, with 2,600 cancelations and 8,700 delays.
Flock reports Skywest was the airline hit hardest by the cancelations. More than 1,000 flights were canceled because of weather and staffing issues. Southwest wasn't far behind with just over 900.
Both American Airlines and Delta reported nearly 400 cancelations.
Travelers are urged to check with their airline before heading to the airport in case flights have been delayed or canceled.