Surveillance videos show tornado's fury in southern Ohio
The National Weather Service said the tornado was on the ground from around 3:06 p.m. to 3:14 p.m.
GOSHEN TOWNSHIP, Ohio – Surveillance video captured the moments a EF-2 tornado damaged a police station Wednesday afternoon in a suburb of Cincinnati.
The Goshen Township Police Department is located in the heart of the town and is next to a fire station that partially collapsed during winds estimated to be around 130 mph.
"Seconds before touchdown, it was just another work day. There wasn't even a tornado watch in effect. As the tornado warning came out, Service Director Meadows looked out his window to see the tornado on the ground. Administrative personnel made it halfway down the stairs as windows exploded," Chief of Police Bob Rose posted on Facebook. "Officers in the police department didn't have time to get to the basement, taking cover in rooms with no windows and a closet."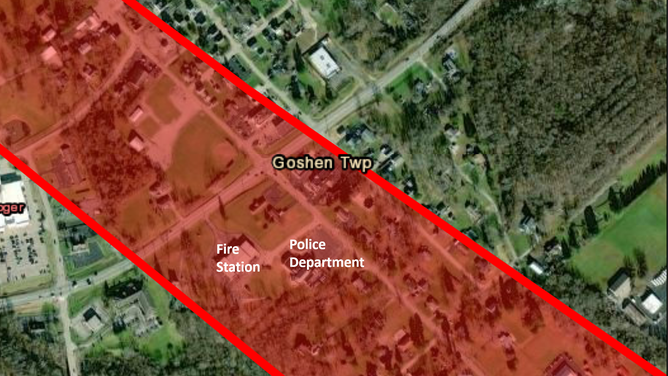 Surveillance video captured stunning images from the building's lobby when entrance doors slammed open and shut during the winds.
The scene outside resembled moments that are in movies, with debris flying through the air and little visibility due to the winds and rain.
TORNADO RECOVERY: HOW TO STAY SAVE POST-DISASTER
The twister was on the ground for around 8 minutes, and officials estimate hundreds of homes and businesses were damaged.
"As soon as the twister passed, everyone immediately began responding to an overwhelming number of emergencies. One entrapment after another rang out by dispatchers who did an outstanding job with hundreds of phone and radio calls in minutes," Rose wrote.
Despite little warning, there were no deaths from the tornado, and only two people reportedly received storm-related injuries.
HOW TO WATCH FOX WEATHER ON TV
Duke Energy is still working to restore all the power lost during the storms.
The utility says more than 104,000 outages were reported in Ohio and Kentucky after the severe weather.
Restoration efforts could last at least through Sunday in the hardest-hit areas.
The township says it is working on logistics for residents to use dumpsters for debris during the clean-up process.
"We have a long way to go to restoring normalcy to our community, but we will get there. Goshen is such a wonderful community with a fitting motto, 'Love where you live,'" Rose posted.