Mother killed, daughter injured after winds topple tree onto South Carolina home
The woman was sitting on the front porch with her 58-year-old daughter when straight-line winds toppled a tree, authorities said
GAFFNEY, S.C. – A South Carolina mother was killed, and her daughter was injured after a tree fell on a home during a thunderstorm Thursday afternoon.
Cherokee County Coroner Dennis Fowler identified the victim as 78-year-old Thelma Jordan Carroll, of Gaffney.
HOW TO WATCH FOX WEATHER ON TV
The woman was sitting on the front porch with her 58-year-old daughter about 5 p.m. when straight-line winds toppled the tree, authorities said. It fell on the porch causing the roof to collapse on them. Carroll was pronounced dead at the scene. 
THE 5-POINT SEVERE THUNDERSTORM RISK CATEGORY SCALE EXPLAINED
Four children were inside the home and were able to crawl to safety through a window.
"The tree was rotten on the inside near its base which weakened it with the heavy wind gusts," Fowler said.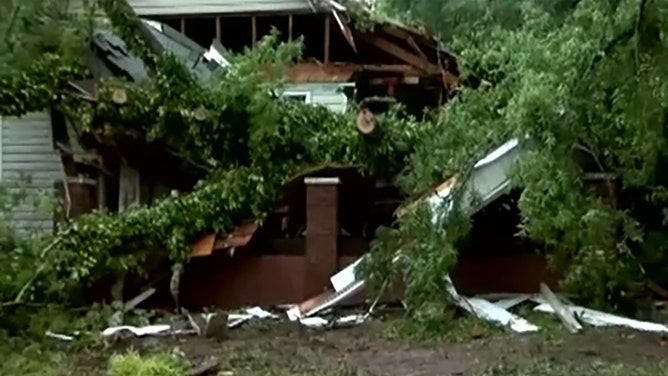 It took fire and rescue personnel along with a towing company more than two hours to free Carroll's daughter who was trapped under the debris. She was taken to an area hospital. Details about the extent of her injuries were not immediately released.
WATCH VS. WARNING: HERE ARE THE DIFFERENCES BETWEEN THESE WEATHER TERMS THAT COULD SAVE YOUR LIFE
"This is an absolute tragedy and our prayers are with this family," Fowler said.
An autopsy will be performed Friday to assist with the coroner's investigation. 
Emergency services said the house was the only one damaged. The National Weather Service said they plan to survey the damage in Gaffney to confirm if a tornado was in the area.
CLICK HERE TO GET THE FOX WEATHER UPDATE PODCAST
Be sure to download the FOX Weather app for the latest forecast and weather alerts for your exact location, plus the 24/7 livestream of America's Weather Team.