From thundersnow to ice, Kansas City experiences weather bingo during winter storm
Near white-out road conditions in Kansas City Metro area
KANSAS CITY – A massive winter storm moving across the Plains and Midwest has created a weather bingo scenario in Kansas City. From thundersnow, sleet, blowing snow, ice, freezing rain, and gusting winds, the Kansas City metro area had seen it all by Thursday morning. 
A Winter Storm Warning is in effect until 6 p.m. CT from Woodward, Oklahoma and moving northeast up to Detroit. Winter weather alerts include Kansas City, St. Louis, Chicago, Detroit and Buffalo, New York.
WEATHER WIRE: Behemoth winter storm to blanket millions in multiday extreme weather threat
Residence in Kansas City woke up to thundersnow Thursday morning. FOX Weather Watcher C.T. Thongklin captured the thunderstorm and snow combo from Kansas City, Missouri. 
Overnight temperatures were above freezing in Kansas City, but temperatures dropped 20 to 30 degrees in Kansas and Missouri throughout four hours. 
THUNDERSNOW: WHAT CAUSES LIGHTNING AND THUNDER DURING A SNOWSTORM?
FOX Weather correspondent Max Gorden was in Kansas City as the winter storm moved over the area. He captured the wintry scene below.
Early in the morning, freezing rain and sleet turned to snow as the cold settled in over the Plains and Midwest.
According to the National Weather Service Office in Kansas City/Pleasant Hill, a wintry mix turned to heavy snow with the possibility of 4 to 8 inches with wind gusts up to 40 mph.
STRONG WINTER STORM SPREADING HEAVY SNOW, ICE, FLOODING RAIN AND HIGH WINDS FROM PLAINS TO MIDWEST, NORTHEAST
By noon, Kansas City, Missouri broke a nearly 130-year record for snowfall. The Kansas City Airport picked up 6.4 inches of snow breaking the previous record of 6 inches set on Feb. 17, 1893.
Thursday also marks the snowiest day in Kansas City since Feb. 4, 2014, according to FOX Weather meteorologist and senior weather producer Greg Diamond.
The snow was enough that someone was traveling by skis through the streets of downtown Kansas City.
Hazardous road conditions with blowing snow and limited visibility caused crash reports to start rolling into highway patrol early in the day.
The Kansas City Sheriff's Office warned drivers to stay off the road if possible. Snowplows were struggling to keep up with the incoming snow.
"Our crews are having difficulties clearing roadways due to crashes and stranded vehicles. We need a clear path to clear a path for motorists. Be safe. Be smart," the Missouri Department of Transportation wrote on Twitter.
Dozens of crashes were reported in the Kansas City metro area along I-70, I-29 and I-35, according to FOX 4 Kansas City. 

Traffic headed toward Kansas City International Airport on I-29 was at a standstill. Nearly 20 flights out of KCI had been canceled. Travelers should check with their airline before heading to the airport Thursday.
KCI received 3 inches of snow by 7 a.m., and it was still "coming down in buckets," according to the NWS.
The NWS Kansas City office reported heavy snow was coming down in Pleasant Hill by late morning. 
Meanwhile, in Wichita, Kansas, the snow started coming down around 4 a.m. creating near white-out conditions for drivers.
FOX Weather Watcher Roger Martin shared this scene below of the road conditions around 9 a.m.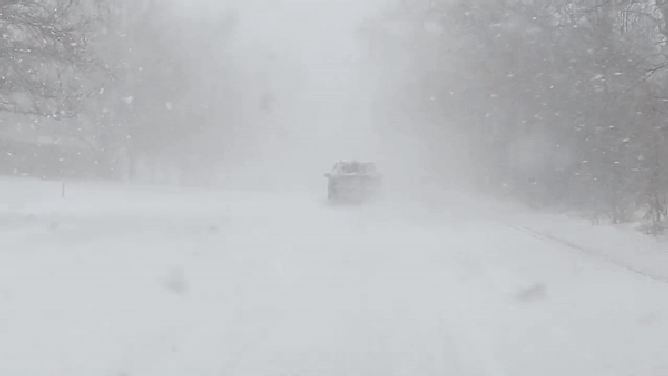 By late morning, another band of heavy snow was moving into Wichita, potentially bringing 1 to 2 inches of snow per hour.
Be sure to download the FOX Weather app for the latest forecast and weather alerts for your exact location, plus our channel's 24/7 livestream.