Freezing rain, icy roads cause dozens of crashes along Northeast I-95 corridor
Numerous crashes have been reported because of the icy roads in Connecticut, New Jersey, New York and Pennsylvania
Freezing rain caused an icy Wednesday morning commute along the Interstate 95 corridor of the Northeast from Pennsylvania to New Hampshire.
The National Weather Service has issued Winter Weather Advisories for parts of nine states, including parts of the New York City and Philadelphia metro areas.

Numerous crashes were reported in portions of New Jersey, Pennsylvania, New York and Connecticut on Wednesday morning because of the icy roads.
The National Weather Service office in Gray, Maine, warned freezing rain was also creating slick driving conditions in southern and central New Hampshire. Freezing rain is likely in northern New England for most of the day until temperatures warm above freezing.
SNOW, SLEET, FREEZING RAIN AND HAIL: WHAT'S THE DIFFERENCE?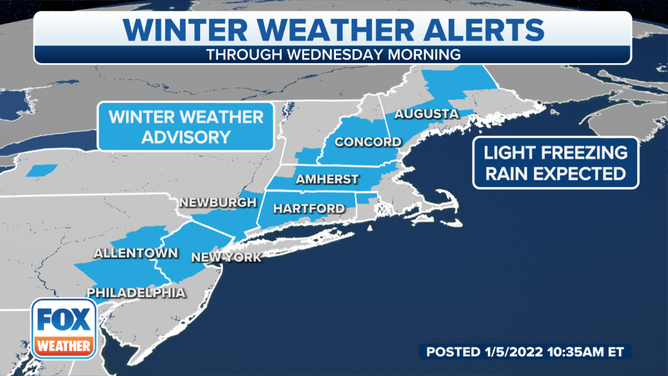 The Goethals Bridge from Staten Island into New Jersey was closed in both directions early Wednesday due to a crash, according to New York City Emergency Management. The bridge later reopened, but drivers should expect continued delays.
A multi-vehicle crash also blocked all lanes of Interstate 287 westbound in North Jersey between the Hutchinson River Parkway (exit 9) and Interstate 684 (exit 9A).
Additionally, more than two-dozen cars were involved in crashes or slid off the road in South Brunswick Township, New Jersey, the local police department reported.
New Jersey Department of Transportation officials said crews were working to clear multiple crashes on the Pulaski Skyway in both directions. Drivers were asked to avoid the area.
The speed limit on the Garden State Parkway was reduced to 45 mph while New Jersey Transportation Authority crews spread salt on the road.
In Philadelphia, officials were on the scene of a 20-car pileup involving a SEPTA bus, according to FOX 29. The crash shut down the Passyunk Avenue Bridge in both directions.
7 THINGS YOU NEED TO KNOW ABOUT WINTER DRIVING
Freezing rain also led to icy roads and multiple crashes in southern New England.
In Connecticut, the department of transportation activated road crews at midnight, but pre-treatment doesn't stick to dry roads and washed away. CDOT is recommending essential travel only.
Fairfield police urged travelers to use extra caution after several crashes occurred on the icy roads. Fairfield Public Schools were also on a two-hour delay due to the road conditions. Easton police said the roads were not drivable, reporting numerous accidents have occurred in Easton and every surrounding town.
Multiple crashes were also seen on traffic cameras near Bridgeport, Connecticut, early Wednesday morning.
Troopers responded to multiple crashes in the Hartford, Connecticut, area as icy conditions were reported Wednesday morning. Parts of Route 9 northbound were closed due to spinouts. 
Areas seeing freezing rain Wednesday morning can expect roadways, sidewalks, bridges and overpasses to become icy and remain slippery until temperatures rise above freezing Wednesday afternoon. The glaze of ice will make both driving and walking dangerous.
This freezing rain event comes just a day after hundreds of drivers were stranded for almost 24 hours in northern Virginia on I-95 due to a snowstorm in the mid-Atlantic.
Snow could mix in with the freezing rain in parts of Massachusetts, New Hampshire and Maine, so expect slick roads in those areas as well.