Freezing rain to create dangerous travel conditions in the Northeast
Meteorologists advise residents, especially in the interior regions of the Northeast, to use extra caution on the roads
A wintry mix of snow, sleet and freezing rain will create dangerous travel conditions in the northern mid-Atlantic and Northeast on Sunday.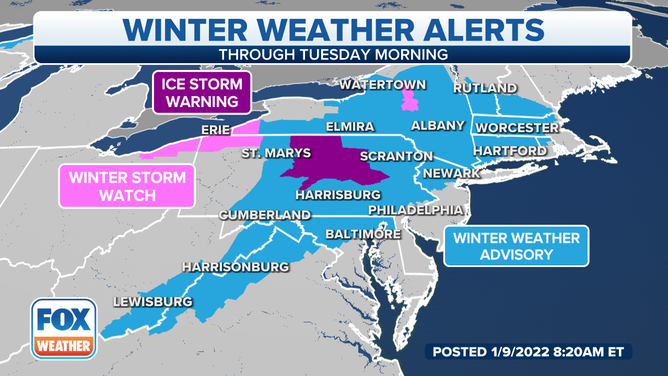 FOX Weather forecast models show the threat for icing from central Pennsylvania into New York and New England. As a result, winter weather alerts have been issued across the region.
Ice storm warnings were issued in parts of central Pennsylvania until Sunday afternoon. Winter weather advisories stretch from West Virginia and Virginia into northern New England.
A winter storm watch is in effect for northeastern Ohio, northwestern Pennsylvania and western New York.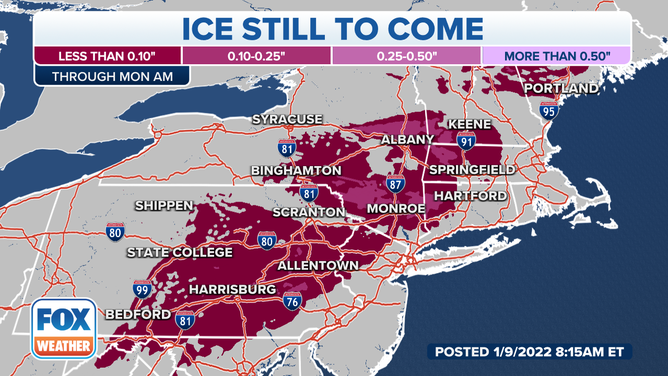 Light ice accumulations of less than 0.10 inches are expected for most places, but there's a greater risk for accumulations of 0.25 to 0.50 inches in areas of central Pennsylvania, the Catskill Mountains in New York, western Massachusetts and southwestern Vermont.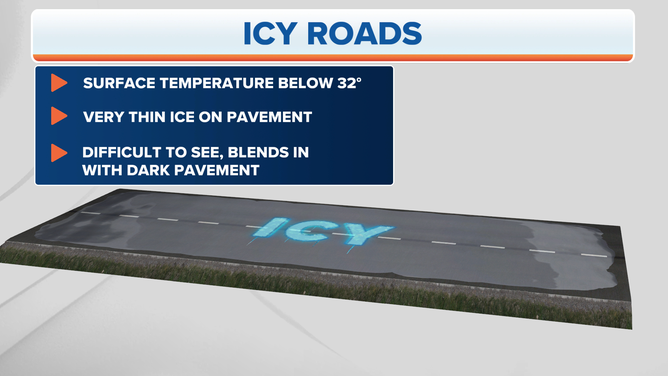 Any untreated roadways and sidewalks will likely turn icy where freezing rain and sleet are falling. Meteorologists advise residents, especially in the interior regions of the Northeast, to use extra caution on the roads because of the hazardous driving conditions.
The storm system is expected to move offshore Monday, but the threat of black ice will continue to cause some travel troubles in the Northeast through the early part of the week.
Lake-effect snow will develop behind this system Sunday night into Monday over the Great Lakes snowbelts in northeastern Ohio, northwestern Pennsylvania and upstate New York.