For future stories to grandkids: Here's how long your Northeast town was in a blizzard Saturday
For example, Boston was in a blizzard for 7 hours and 39 minutes, according to the National Weather Service
BOSTON -- For those that got to experience the Blizzard of '22 first-hand, they're already crafting the stories to tell their descendants of how they spent hours in the ferocious wintry conditions.
But now, they'll be able to tell exactly how many hours the blizzard lasted… provided they don't cheat and embellish the story for dramatic purposes.
National Weather Service meteorologists pored over the observation data counting how long many towns experienced blizzard conditions, defined as falling or blowing snow that reduces visibility to 1/4 mile or less, with wind gusts measured at least 35 mph, and those conditions must last for at least three consecutive hours.
MORE: What Makes a Blizzard Different from an Ordinary Snowstorm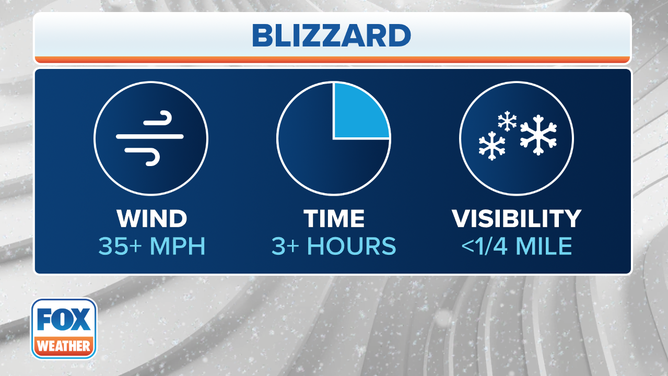 A wide swath of Rhode Island and Massachusetts easily reached those criteria. Boston was in a blizzard for 7 hours and 39 minutes, according to the National Weather Service in Boston, with Providence, Rhode Island in the wintry soup for 5 hours and 18 minutes.
Marshfield, Massachusetts came in as the "Blizzard King" with a whopping 12 hours stuck in winter's ultimate fury. (Technically, Marshfield was in a blizzard for 10 hours and 40 minutes, but was given a 20-minute break before blizzard conditions resumed for another hour and 20 minutes.)
There were a couple of near misses too or towns that likely had blizzards but lose the official designation on a technicality. For example, Nantucket had blizzard conditions for 4 hours and 32 minutes, but not three consecutive hours, according to the NWS.
New Bedford reported 2 hours and 30 minutes of a blizzard, but there were three hours of observations that were missing.
Chatham was rolling along reporting blizzard conditions for 36 minutes until the power went out and observations ceased.
Falmouth reported blizzard conditions for nearly an hour until their visibility readings stopped reporting. On the other hand, Smithfield also had blizzard conditions for over an hour until their wind gauge stopped reporting, leaving both towns with a proper way to officially verify a blizzard.
Note that amount of snowfall doesn't count in a blizzard, but many of these areas had at least 12-24 inches of snow with towns in southeastern Massachusetts reaching 30 inches, so it definitely looked the part.
MORE: Top Snow Totals From Blizzard of '22 
Wind gusts blew well past 35 mph across the coastal areas, reaching 70-87 mph along Cape Cod and Nantucket.
Blizzard conditions were also confirmed in Delaware, along New Jersey's shores and along Long Island, but specific timing has not been given.
Just be warned that this story will live on in the archives in case your grandkids do a little digging to verify the grand tales of the Blizzard of '22, so don't exaggerate too much.
Also: There were no reports of anyone walking barefoot.