Flash Flood Watches issued for nearly 2 million as tropical moisture from Pamela extends from Texas to Midwest
Flash Flood Watches are posted from southern Texas to southeastern Oklahoma, northwestern Arkansas and southwestern Missouri
Tropical moisture is teaming up with a strong jet stream disturbance punching out of the Rockies to bring a significant flash flood threat from Texas to the Midwest on Thursday.
Flash flooding was ongoing in parts of the Austin and San Antonio areas Thursday morning. Multiple high-water rescues were reported in Guadalupe County, just east of San Antonio. The National Weather Service said 3 to 8 inches of rain had fallen in some areas since Wednesday afternoon.
This same disturbance spawned a few severe thunderstorms Wednesday night in South Texas, where one tornado was reported just south of Aguilares about 10:30 p.m. Central time, according to NOAA's Storm Prediction Center. There were no immediate reports of any damage from the possible twister.
A cold front associated with the jet stream disturbance is enhancing tropical moisture streaming northward out of Mexico, where Pamela made landfall as a hurricane Wednesday morning. Widespread showers and thunderstorms with heavy rainfall will continue into Thursday night.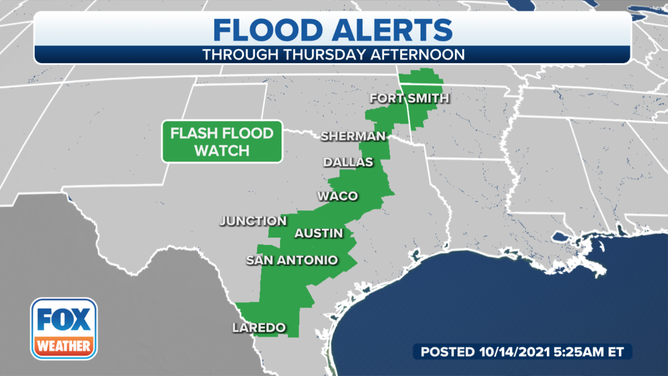 The National Weather Service has issued Flash Flood Watches from the Rio Grande Valley of southern Texas to southeastern Oklahoma, northwestern Arkansas and southwestern Missouri. This includes Austin and San Antonio, Texas, Fort Smith, Arkansas, and Springfield, Missouri.
Pamela's remnants were moving into eastern Texas Thursday morning and will reach the mid-Mississippi Valley Thursday afternoon, shifting the axis of heavy rain away from the hardest-hit areas of central Texas.
The greatest flash flood threat Thursday is across southeastern Texas, but some flash flooding is also possible farther north into the mid-Mississippi and lower Ohio valleys.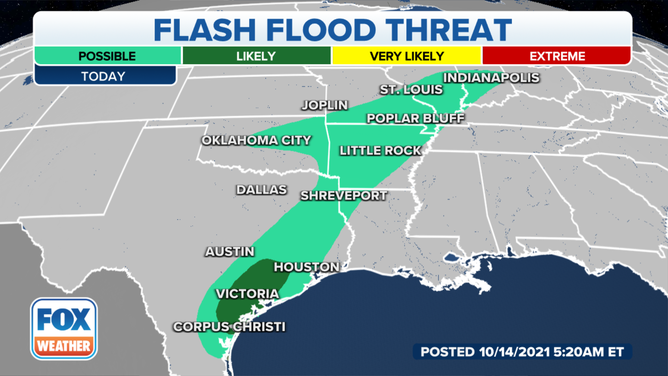 An additional 1 to 3 inches of rain is likely from southeastern Texas to the mid-Mississippi and lower Ohio valleys through Friday.
Locally higher amounts of 3 to 6-plus inches are possible over southeastern Texas, where tropical moisture is most abundant and localized rain rates of 2 to 3 inches per hour are possible.