First named storm of Eastern Pacific hurricane season likely to develop off Mexico
Agatha is the first name on the 2022 list for the Eastern Pacific season, which began May 15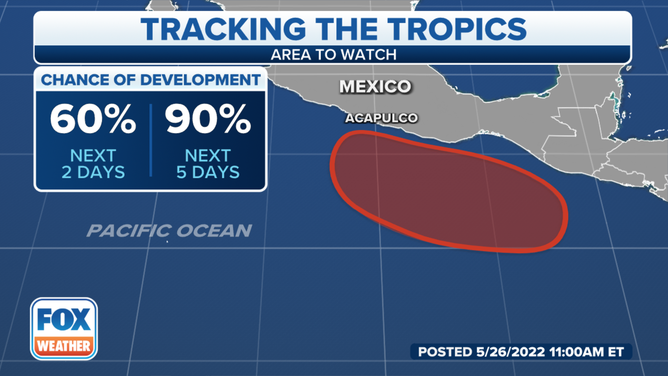 A system of showers and thunderstorms off the west coast of Mexico could become Agatha – the first named storm of the 2022 Eastern Pacific hurricane season – by late this weekend.
The National Hurricane Center in Miami is tracking the system about a few hundred miles south-southeast of the Gulf of Tehuantepec. Forecasters said the shower and thunderstorm activity has increased, becoming more concentrated.
HOW TO WATCH FOX WEATHER ON TV
The system is moving west-northwest at 5 to 10 mph.
The NHC's two-day outlook gives the system a 60% chance of tropical development in the next 48 hours and 90% over the next five days.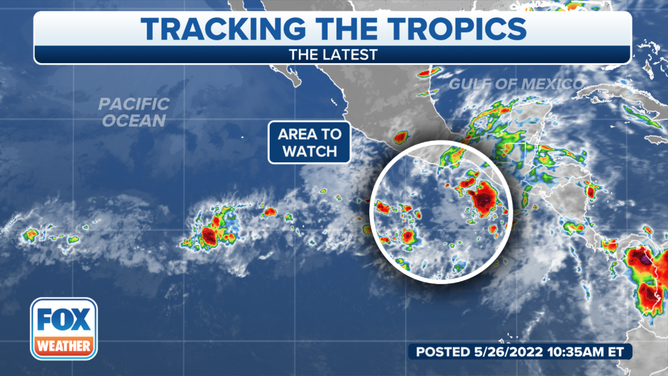 If it develops, the system could become Tropical Storm Agatha, the first name on the 2022 list for the Eastern Pacific season which started May 15.
SEVERE STORMS POSSIBLE THURSDAY ACROSS PACIFIC NORTHWEST
The NHC is also monitoring activity in the central-eastern Pacific which will likely drop off the tropical outlook in the next few days. Forecasters said current environmental conditions do not support further development and the formation chance is near 0% over the next 48 hours.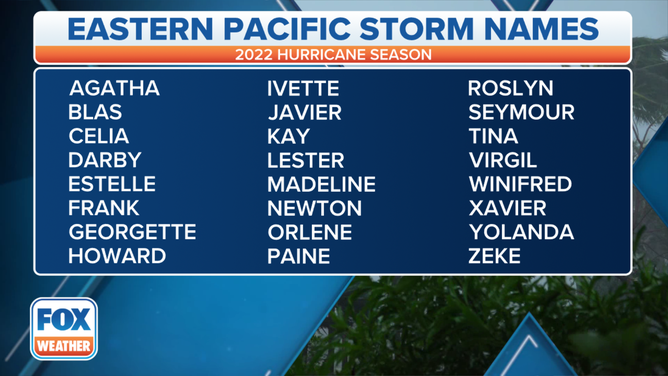 The Eastern Pacific Hurricane Season runs until Nov. 30. 
According to historical hurricane data, the average first named tropical system forms on June 10. 
How about the Atlantic?
Meanwhile, in the Atlantic and Gulf of Mexico, tropical cyclone activity is not expected within the next five days. The Atlantic Hurricane Season begins June 1. This year could be the first time since 2014 that the Atlantic does not have a named storm before the start of the season. 
CLICK HERE TO GET THE FOX WEATHER UPDATE PODCAST
The National Oceanic and Atmospheric Administration issued its Atlantic Hurricane Season forecast earlier this week, predicting another above-average hurricane season. 
NOAA's Climate Prediction Center forecasters predict 14 to 21 named storms, six to 10 hurricanes and three to six major hurricanes (Category 3 or higher on the Saffir-Simpson Hurricane Wind Scale). These numbers are greater than the 30-year averages (1991-2020) of 14 named storms, seven hurricanes and three major hurricanes.
If the outlook verifies, this will mark the seventh-consecutive above-average Atlantic hurricane season, NOAA administrator Rick Spinrad said.