Fire threat continues after evacuations lifted in Oklahoma
A firefighter was killed over the weekend while battling a fire in Comanche County
While evacuations were lifted overnight in Southwest Oklahoma, the wildfire fire threat continues into Monday as dry and windy conditions persist.
Over the past week, firefighters have been battling multiple large wildfires in Comanche and Kiowa counties that have consumed thousands of acres of land.
On Sunday, residents in the Lasso Loop area were told to evacuate immediately. Later in the day, emergency management officials gave residents the OK to return to their homes. 
A firefighter died Sunday while battling a large wildfire in Comanche County, the Comanche County and Lawton Emergency Management Office announced.
EASTLAND COMPLEX FIRE BURNS MORE THAN 54,000 ACRES IN TEXAS
The Oklahoma Forestry Services moved suppression groups to Weatherford and Altus on Sunday to get ahead of the fire danger.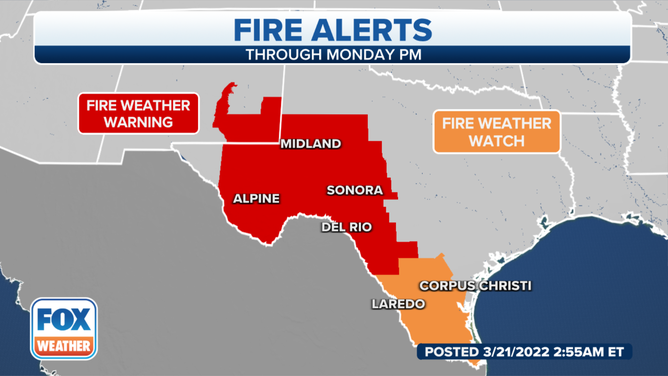 The National Weather Service in Lubbock, Texas, has issued fire weather warnings from noon to 8 p.m. CDT for southwest Oklahoma and South and West Texas. Southwest winds between 20 and 30 mph with humidity at 15% paired with parched grass and brush could lead to rapid-fire growth. 
MULTIDAY SEVERE WEATHER OUTBREAK, INCLUDING POTENTIAL FOR STRONG TORNADOES, BEGINS MONDAY IN THE SOUTH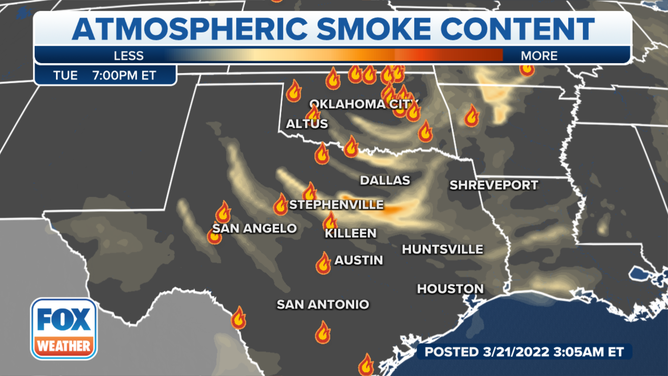 Smoke will continue to impact southwest to northwest Oklahoma as fires burn across Texas.
As of Monday morning, more than 161,000 acres have burned from wildfires across multiple states, including Texas and Oklahoma.
A burn ban remains in effect for most of southern and western Oklahoma, according to the forestry service.