Experts believe the western fire season will be more active than normal but will fall short of records
On average, 8.1 million acres burns each year across the country
Experts at the National Center for Atmospheric Research believe that the western wildfire season will burn more acres than average, but fall well short of topping some of the worst years in history.
NCAR scientists examined precipitation, temperatures, moisture and the drought status to develop its first-ever prediction for the summer fire season.
Experts predict western wildfires will burn around 3.8 million acres, well sort of the region's 8.7 million acres burned during the record summer of 2020.
HOW TO WATCH FOX WEATHER ON TV
"What our research shows is that the climate of the preceding winter and spring can explain over 50% of the year-to-year variability and overall trend in summer fire activity," said Ronnie Abolafia-Rosenzweig, lead author and scientist of the study, said in a statement. "This gives us the ability to predict fire activity before the summer fire season begins."
A lack of rain and snowfall during the winter contributed to worsening the West's multi-year drought that shows no signs of letting up.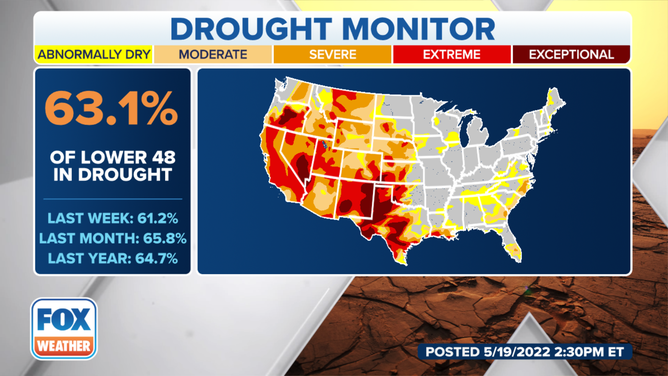 The majority of the region is experiencing drought conditions that are considered to be extreme or even exceptional.
"We found that April snowpack has a persistent influence on the land and atmosphere during the summer," Abolafia-Rosenzweig said. "If you have a large snowpack in April, it will take longer to melt and there's a more persistent transfer of moisture from the land to the atmosphere during late spring to summer. But in the case of a lesser snowpack, you'll have both a drier land surface and a drier atmosphere in summer, which results in conditions that are more conducive for the spread of fires."
INCREASED FIRE THREAT FOR PARTS OF PLAINS, SOUTHWEST TO CONTINUE INTO SUMMER
If the experts' prediction is accurate, fires in the West could rank as eighth-worst in recent memory, around 38 percent higher than the average.
Western wildfires are responsible for most acres destroyed by blazes each year across the country.
According to a recent congressional report, 23,000 wildfires burned 6.2 million acres in the West in 2021, compared to over 35,000 fires that burned only around 1 million acres in the East.
The year finished below the five-year average of 8.1 million acres.
BOEING 757 PASSENGER AIRCRAFT TO BE REPURPOSED INTO A FLYING FIRE TRUCK
NCAR hopes to expand future forecasts which could eventually help authorities better assess seasonal fire risks and responses.