FEMA registers over 5,500 victims of Kentucky tornadoes
FEMA works with Kentucky to clean up and eventually rebuild after deadly tornadoes.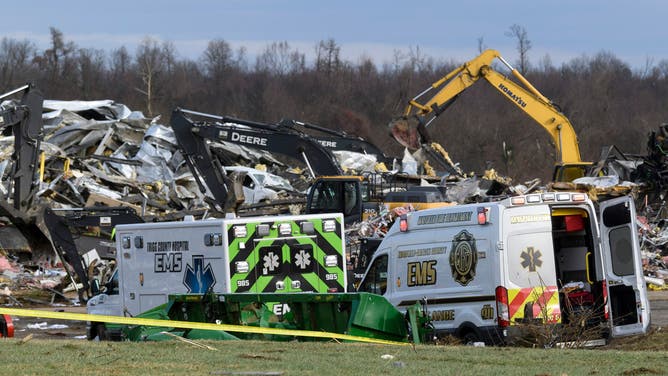 FRANKFORT, KY. – "I think it's one of the biggest, most robust responses that we have seen," said Kentucky Governor Andy Beshear during a press conference Thursday about FEMA efforts to clean up and rebuild after December 11th's deadly tornadoes. "They are walking house to house, though the houses aren't standing, and they are already processing claims online."
NWS SURVEYS FIND SUPERCELL SPAWNED 2 DEADLY EF-4 TORNADOES
"We've already had 5,500 registrations in the system and I can't believe this, but they've already made payments from FEMA," added Beshear.  "We've got at least $550,000 that has gone out the door. We're on day six."
Over 400 FEMA responders are working in the Commonwealth right now.  Michael Dossett, director of the Kentucky Division of Emergency Management said he expects the number to rise to 700 next week including teams from the USDA, Environmental Protection Agency, the Department of Defense, Army Corp of Engineers, the Department of Energy, and the Federal Law Enforcement Bureau.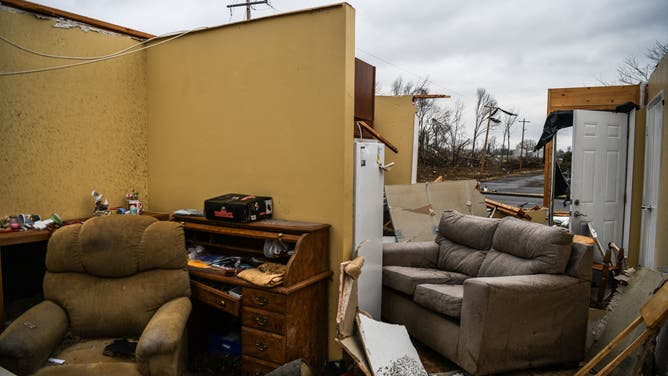 FEMA response so far
Four Urban Search and Rescue Teams from Indiana, Ohio, Tennessee, and Missouri are searching through rubble with cadaver dogs.
They supply 30,000 meals every three days along with cots, generators, toddler kits, pandemic shelter kits, tarps and water
FEMA set up three mobile registration centers for residents and business owners to apply for federal assistance as well as having employees canvassing neighborhoods assisting residents with claims.
"We have more people helping than live in these towns," said Beshear.  "There are so many people helping. I mean, we've got 1,200 National Guard and state employees and you look at 10,000 people typically in Mayfield, 3,700 in Dawson and 370 in Bremen. Then put all the FEMA people on top and all the rest we have. We have about as many people helping as we do that live in these places and God bless them."
During a tour of tornado-ravaged towns, President Joe Biden told Beshear on Wednesday that FEMA will cover 100% of the cost for debris removal, emergency protective measures and repair and replace damaged facilities for the first 30 days of recovery. 
FEMA generally covers 75% of costs leaving the remaining 25% to be covered by state, county and local coffers.  After 30 days, cost-sharing goes back to the 75/25 split.  Beshear said that commitment equates to, "hundreds upon hundreds of millions of dollars."
The Kentucky Department of Insurance said they received 9,145 claims and have also set up four pop-up offices in affected towns.
The Federal disaster declaration also allows Kentuckians to get up to a $6,000 sales tax refund for building materials bought to repair or replace structures.
Additional help for Kentucky victims
672 National Kentucky National Guardsmen are on scene to help the search, rescue and clean-up efforts. Beshear said they would transition to aiding law enforcement to aid the Kentucky State Police and local law enforcement to make wellness checks, direct traffic and stop looting.
"And if you are somebody out there that would even consider looting someone's home, that's lost everything. Shame on you. We will find you. We will arrest you as absolutely despicable," remarked Beshear.
Almost 600 state employees are also going door to door doing wellness checks.
Kentucky's state parks currently house 615 displaced residents and 176 first responders who are guaranteed a four-week minimum stay up from the initial two weeks.  Ten shelters house about 500 displaced Kentuckians.
Team Rubicon, a non-profit that deploys volunteer first response teams, has been placing tarps on homes and belongings to protect from the incoming rains.  Dossett explained, "And what they do is they essentially help the homeowner gather all their belongings and then they tarp all the belongings."
Mayfield, Bowling Green, and Dawson Springs are preparing for two inches of rain over the next three days.
AFTER THE TORNADO: DEVASTATION IN KENTUCKY
600 Kentucky Transportation Cabinet employees are still clearing roads.  "All state routes are passible," said Beshear.  "70% of county and city routes in and around Mayfield are now passable."  In Mayfield alone, the Transportation Cabinet removed 1,300 loads of debris.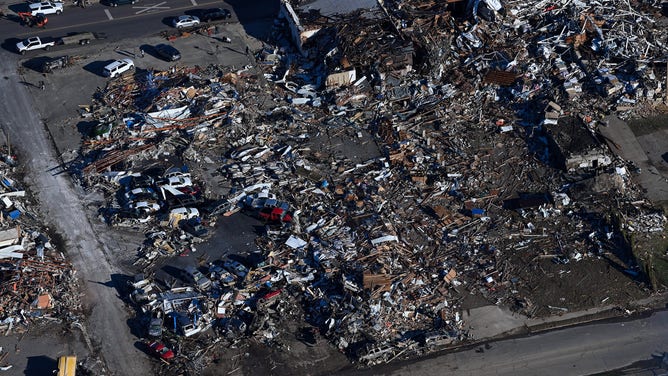 "Debris removal is one of the most important pieces because this is part and parcel for rebuilding, not just the city infrastructure, but for all of our homeowners," said Dossett. "This is a long, long recovery."
Next steps
"One of the next areas we're going to look at, which is really important, is how we can help some uninsured homeowners," said Beshear.  "Like Dawson Springs, it hit neighborhoods of people that were already struggling to get by. It's not that they didn't want to have homeowner's insurance, it's that they couldn't afford it."
FEMA individual assistance is capped at $37,900 stated Basher, "that's not going to be enough to rebuild."
After covering funeral expenses, he said his administration will look into disbursing funds from the Team Western Kentucky Relief Fund to the uninsured to rebuild.
HOW TO HELP TORNADO RECOVERY EFFORTS ACROSS MID-SOUTH
 "We are still hurting and it continues to be very painful, but we are not broken.  We are not broken even when it feels like it," said Beshear.  "We will clear this chaos and death from our towns and we will rebuild our structures and our lives."