How to help tornado recovery efforts across mid-South
Blood donations and volunteers needed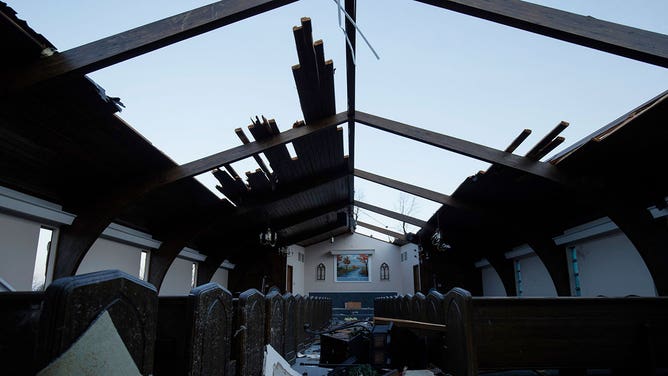 Recovery for the six states along the path of a brutal storm system is just getting underway after a series of tornadoes devastated communities across the mid-South.
Beginning Friday evening, a strong storm line swept across states in the mid-south, including Arkansas, Missouri, Illinois, Kentucky and Tennessee. The storm initially developed around Little Rock and made its way into Kentucky, displacing thousands of people and knocking out power. 
At least 64 are confirmed dead in western Kentucky, where more deaths are expected. At least six were killed at an Amazon factory in Illinois, and three were killed in Tennessee. At least one person died after catastrophic damage at a nursing home in Arkansas.
The full extent of the damage and the death toll remains to be seen as crews are still searching for survivors at multiple sites. As recovery work gets underway, there are ways to help, even if you don't live near the disaster area.
Kentucky Gov. Andy Beshear announced Saturday he had established the Team Western Kentucky Tornado Relief Fund to assist people impacted by the severe weather system. Donations can be made online or by mailing a check to Kentucky Finance and Administration Cabinet.
By Tuesday morning, more than $9 million had been donated to the Western Kentucky Tornado Relief Fund. Beshear said the first decision he made with the money was to cover the cost of burial services for all the tornado victims. Each victim's family will receive $5,000.
Kentucky has opened some of its state parks to people who need a place to stay.
Beshear said the parks need help from volunteers to handle the extra work.
"We need some volunteers to help us staff the state park," he said. "We need people to wash dishes and clothes."
Anyone who wants to help can contact Assistant Director of Kentucky State Parks Andy Kasitz at 502-418-3581 or email Andy.kasitz@ky.gov.
Fundraising website GoFundMe is working to verify fundraisers designed to help tornado victims and relief efforts. By Saturday evening, eight fundraisers were started by individuals or organizations.
Most of the GoFundMe efforts are for Mayfield, Kentucky, where a tornado has decimated much of the town, including a candle factory where dozens have died.
American Red Cross and The Salvation Army helping across multiple states
The American Red Cross and The Salvation Army are helping those in need across four states. 
CEO for the Kentucky Region of the American Red Cross Stephen Cunanan said the priority right now is making sure people have a place to stay and keep them warm.
Cunanan said donations to the Red Cross will help provide food and other supplies to tornado survivors.
According to the Red Cross, blood donations are also needed as many people were injured, and rescue efforts are still underway. Find a blood drive in your area here.
The Salvation Army has activated its Emergency Disaster Services personnel to help survivors and first responders affected by the tornadoes. 
The Salvation Army said mobile feeding units are being prepared to serve survivors and first responders. Each mobile feeding unit can serve between 500 to 1,500 meals per day.
To help their efforts, donations can be made online at helpsalvationarmy.org or by phone, 1-800-SAL-ARMY (1-800-725-2769).
Toy drive for youngest tornado survivors
Kentucky First Lady Britney Beshear started a toy drive for children impacted by the tornado. Toys and gift cards are needed for infants to teens.
"For many of us, the holidays are a time for being at home surrounded by family and friends. But this year, many in Western Kentucky have suffered a tragedy. They've lost everything, including their homes and maybe even someone they love," Beshear said in a statement. "With your help, we can make this season a little easier for those who are hurting by donating a toy, book or gift card to bring them some hope and joy during the holidays.
Donations can be mailed to KY Venues at 937 Phillips Lane Louisville, KY 40209 or at one of the following locations.
Help for Kentucky agriculture community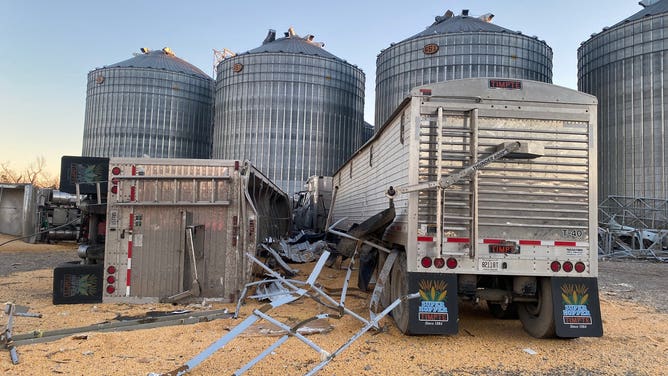 Farmers in Kentucky and Arkansas suffered devastating losses during the tornado outbreak. The extent of the damages is still being determined, but the impacts will be far-reaching, even outside the farms directly impacted. 
The Kentucky Department of Agriculture partnered with the Kentucky Farm Bureau Federation to launch a fund for farmers impacted by the tornado outbreak. The money collected will be administered through grants.
To donate to the Kentucky Agriculture Relief Fund, click or tap on this link.
How to avoid charity scams
The Better Business Bureau Wise Giving Alliance is actively reviewing fundraisers and nonprofits in the wake of the tornado outbreak to make sure people's hard-earned money does not go to scammers.
There are red flags to look out for before donating your dollars. Be cautious of organizations that popped up overnight following a disaster and only rely on verified charities.
The BBB has a list of accredited charities assisting with tornado relief efforts. Feed the Children, CARE USA, GlobalGiving Foundation and the International Medical Corps are just a few of the groups that have stepped up to help.
More organizations are being added as the BBB checks they meet its Standards for Charity Accountability.
Other efforts to help tornado recovery
The Henderson Water Utility Co. said an emergency supply relief drive was started to help families and first responders in Western Kentucky. The drive collects essential supplies to help with cleanup efforts and basics for displaced residents, including water, hygiene products, gloves, baby supplies, batteries and more. Donations can be dropped off at the National Guard Armory at 735 North Elm Street, Henderson, Kentucky.
The University of Kentucky Athletics Department will host a telethon on Tuesday, Dec. 14 from 4 to 8 p.m. to raise money for the American Red Cross to benefit the victims of the western Kentucky tornadoes. Donations can be made by calling 1-833-510-0030 or online by clicking this link.
Arkansas Baptist Disaster Relief volunteers are responding to storm damage in Northeast Arkansas. For more on how to get involved, visit abscdisasterrelief.org.
The Kentucky Baptist Convention has started a fund for tornado relief. Donations can be made at www.kybaptist.org. According to the fund, 100% of donations go toward disaster relief, supporting volunteers as they "provide Help, Healing, and Hope to those affected." FOX Weather will update this story as more resources and information are verified.