Feeling like winter in most of US as coldest air of season settles in
The coldest temperatures will be found across the northern tier and into the upper Great Lakes, with highs only reaching into the teens and 20s
FARGO, N.D. – Jack Frost is certainly nipping on the nose throughout the north-central and eastern U.S. as cold air moves into those areas, bringing some of the season's coldest temperatures so far.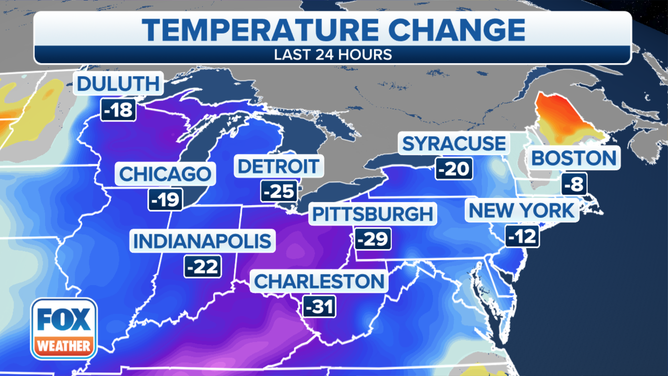 The winter air mass Tuesday was ushered in behind a potent cold front exiting into the western Atlantic and a storm system moving farther north into eastern Canada.
The coldest temperatures will be found across the northern tier and into the upper Great Lakes, with highs only reaching into the teens and 20s.
The National Weather Service in Green Bay, Wisconsin, said it was a bit chilly for Tuesday morning's weather balloon launch, with a wind chill of minus 17 degrees.
Fargo, North Dakota, saw its first subzero temperatures of the season Monday morning, accompanied by wind chills as low as minus 26 degrees.
WHAT DOES THE WIND CHILL MEAN?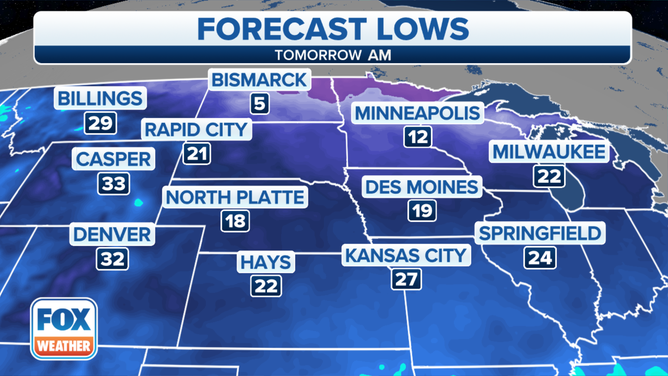 Light snow is possible into the upper Midwest as well, due to a weak low-pressure system entering the region, the NWS said. Cold westerly winds will also lead to lake-effect snow showers downwind of the Great Lakes.
By Wednesday morning, an upper-level disturbance swinging through the Ohio Valley will produce the chance for light snow showers to develop in the Ohio Valley and northern mid-Atlantic region.